Winter can most definitely be frigid and bone-chilling. But for those who don't mind a little discomfort, it can also be the perfect invitation to hit a hiking trail or two. While cozying up with a soft blanket, a cup of cocoa in hand, and an inviting book sounds super enticing; there's something unique about getting out of your comfort zone and braving nature when you least feel like it. Plus, spending time out in nature and moving your body has been proven to help counteract the winter blues, so there's another reason if you need more motivation. From the deserts of Utah to the alpine beauty of Colorado, these spectacular hiking destinations are a must on your travel wish list if getting outside is a priority this year.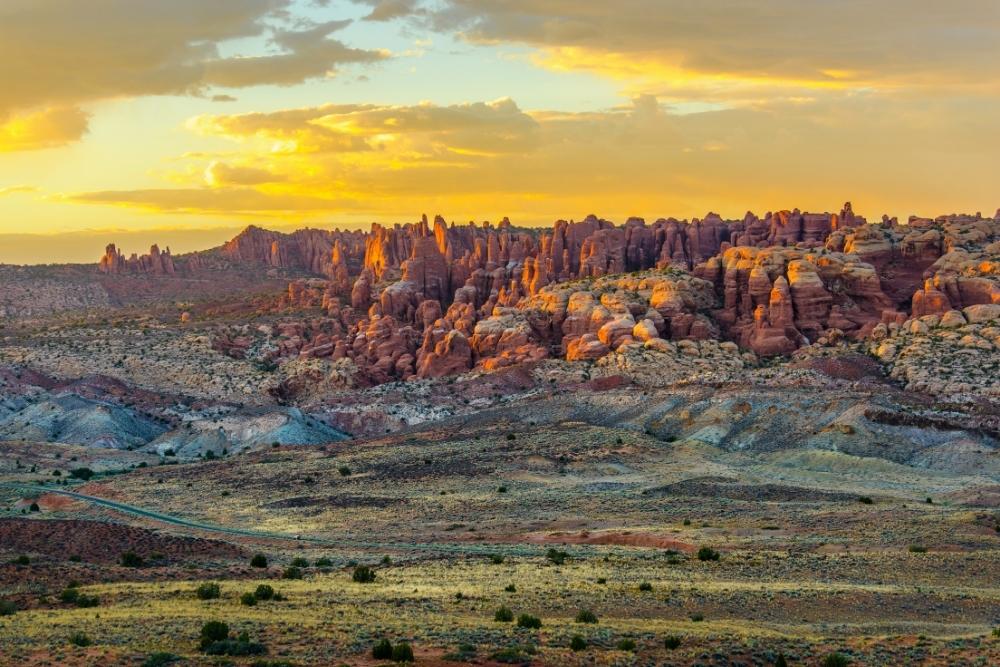 Before we dive into these 9 fantastic winter hikes, let's first touch on some winter hiking gear essentials. One of the most critical factors when hiking in the winter is staying dry. Make sure you dress/pack in layers so you can either put on or take off as you trek along. Invest in a quality pair of insulated hiking boots, warm socks, and a lightweight day bag. Lastly, the winter sun can be pretty bright and blinding, so pack polarized sunglasses.
1. Arches National Park, Utah
Home to more than two thousand natural archways, otherworldly-looking rock formations, and enormous red rock mesas, a hike through Utah's desert dreamland, Arches National Park,  will make you feel as though you've landed right on Mars. A winter trip to Arches National Park is an absolute treat despite the chilly temperatures. Picture a snowy, red rock desert wonderland treat. It's a sight that is simply quite unforgettable.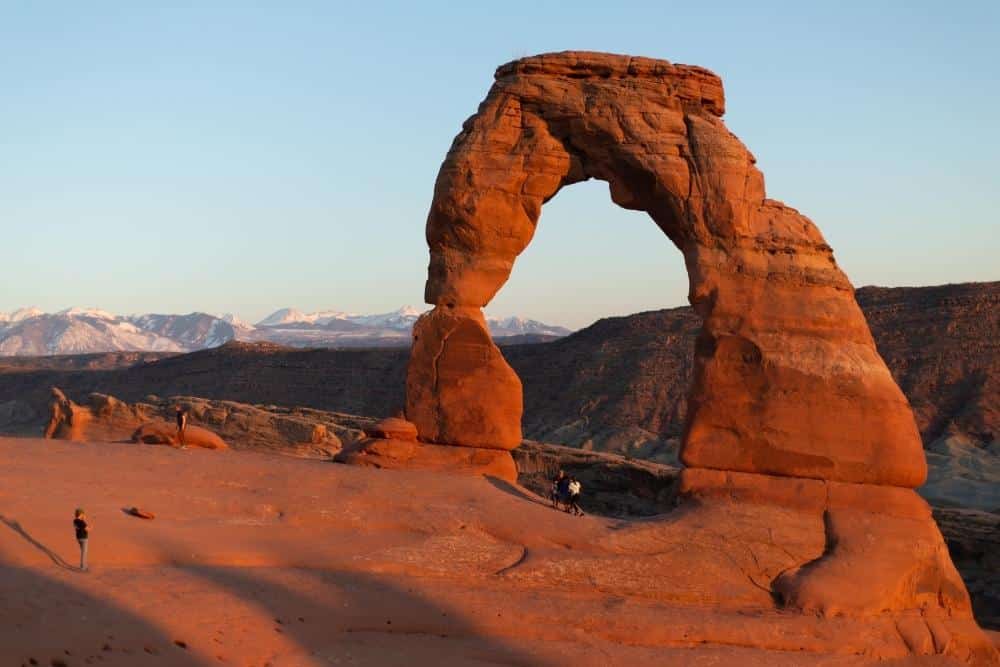 With temperatures of summer reaching the hundreds and the crowds of fall and spring jamming the trails, a visit to Arches in winter means getting to experience the best of both worlds: seeing an extraordinary side to the park and getting to have some of the best viewpoints pretty much all to yourself.
Best Hikes In Arches National Park:
Delicate Arch Trail
Devils Garden
Landscape Arch Trail
Fiery Furnace and Surprise Arch
Park Avenue Trail
Hiking in Arches National Park during the winter season is a dream. Picture towering redstone arches dusted with soft white snow, creating epic opportunities for photographers to capture unique and impressive photos. The park embraces winter with a peaceful, tranquil spirit that is absolutely infectious. Visiting Arches National Park during winter is a must.
2. Turtlehead Peak, Nevada
If you're daring and craving an adventure, then make sure you stop at Turtlehead Peak in Nevada. The 4.6-mile hike takes approximately three and a half to four and a half hours to complete. And though it's incredibly strenuous, as it's a hike etched into steep red rock cliffs, the view at the top is insane and well worth the effort. We promise!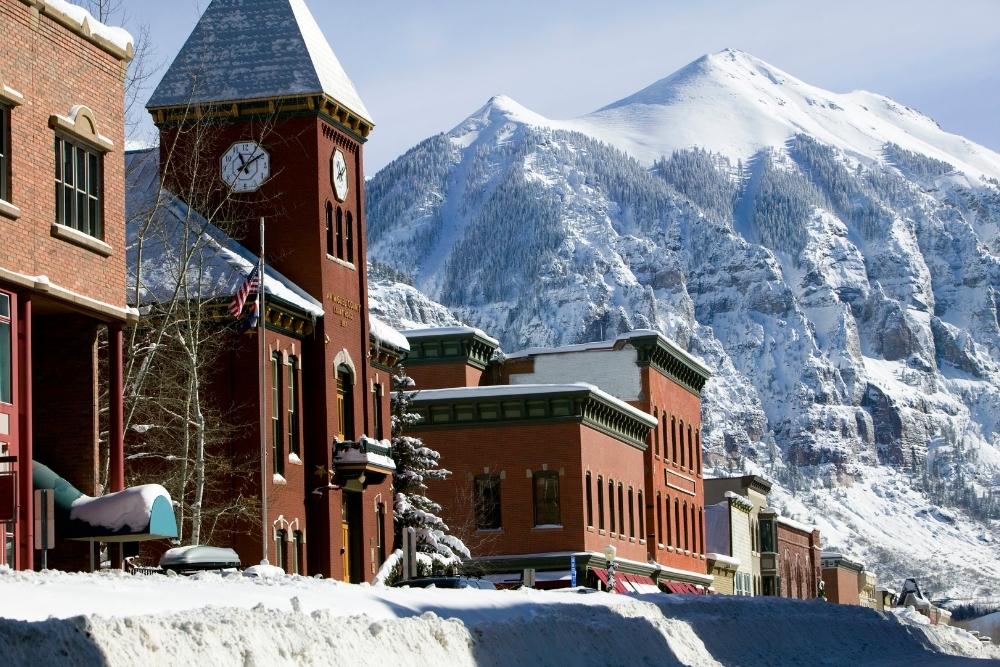 3. Telluride, Colorado
Telluride may be famed for its snow, but it remains mysteriously sunny for around 300 days of the year. This picturesque mountain town in Colorado boasts jagged peaks, lush alpine valleys, and some of the best hiking trails in the world. While some trails close due to avalanche danger, a few are deemed safe enough to enjoy even during the snowy season. 
Plus, once you're done hiking, you can soak in the beauty of Telluride's downtown, hit the slopes on a ski adventure, or relax your muscles at the many hot springs surrounding the area!
Best Hikes in Telluride, Colorado:
Bear Creek Trail
Jud Weibe Memorial Trail
Lewis Mine Hike
Ajax Peak
4. Ousel Falls, Big Sky, Montana
Ousel Falls in Big Sky, Montana, is a short but sweet hike. Hikers trek across three bridges before being greeted with the final hurrah – the 100-foot waterfall. During winter, the waterfall transforms into a striking ice tower, creating a sight you need to see to believe. It's a relatively easy hike that is quite accessible during the winter. In addition, it's only 1.6 miles round trip, so it's easy to fit into your busy day!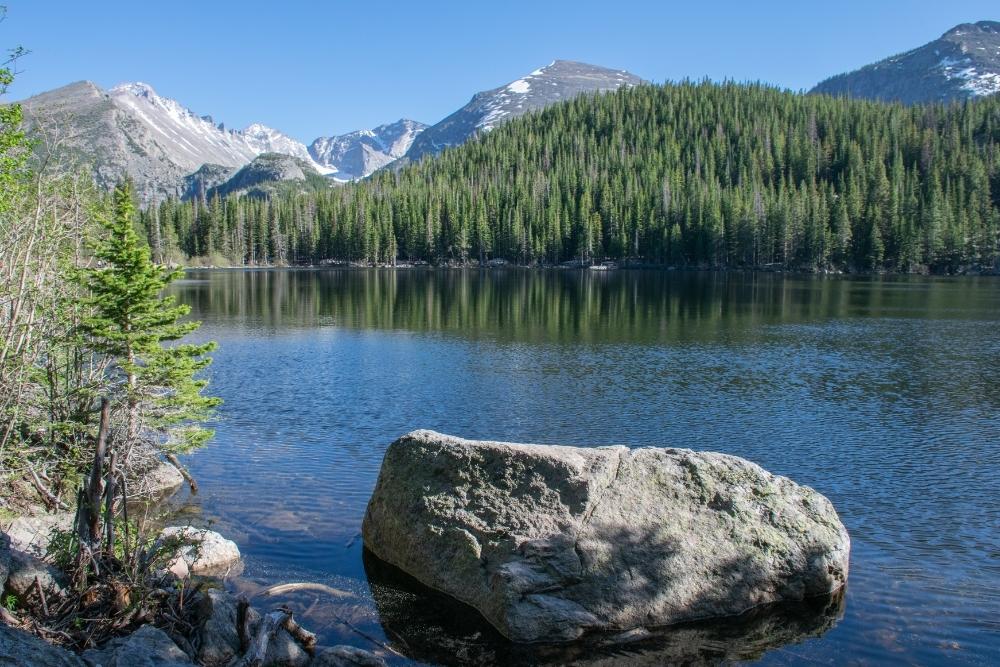 5. Rocky Mountain National Park
While Rocky Mountain may be a top-rated summer destination, there's absolutely no reason you shouldn't visit this enchanting national park during the winter months. The layers of snow add an extra touch of beauty to its alpine goodness, and the colder temps mean the crowds disappear. 
Pack lots of layers, snowshoes, microspikes, and check the avalanche forecast before hitting the trails. Before you know it, you'll be all set for an absolutely epic winter hiking adventure!
Best Hikes in Rocky Mountain National Park:
Bear Lake
Alberta Falls
Alpine Ridge Trail
Emerald Lake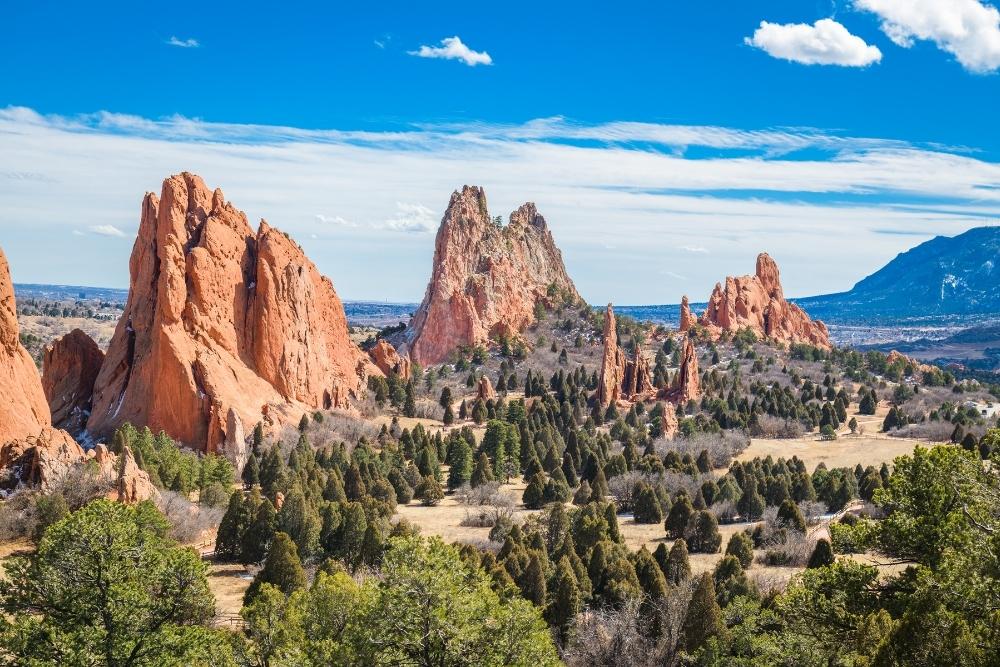 6. Garden of the Gods, Colorado Springs
Officially designated a National Natural Landmark, the Garden of the Gods is an environment you need to see to believe. The outstanding geological formations create a scene that is quite unreal. Imagine dramatic sandstone formations freshly painted with sparkling snow and amplify them even more. See, the Garden of the Gods is outstanding. The environment receives approximately 57 inches of snow each year and offers an enormous amount of exciting recreation. From hiking to rock climbing, a winter stop in Garden of the Gods is an absolute must.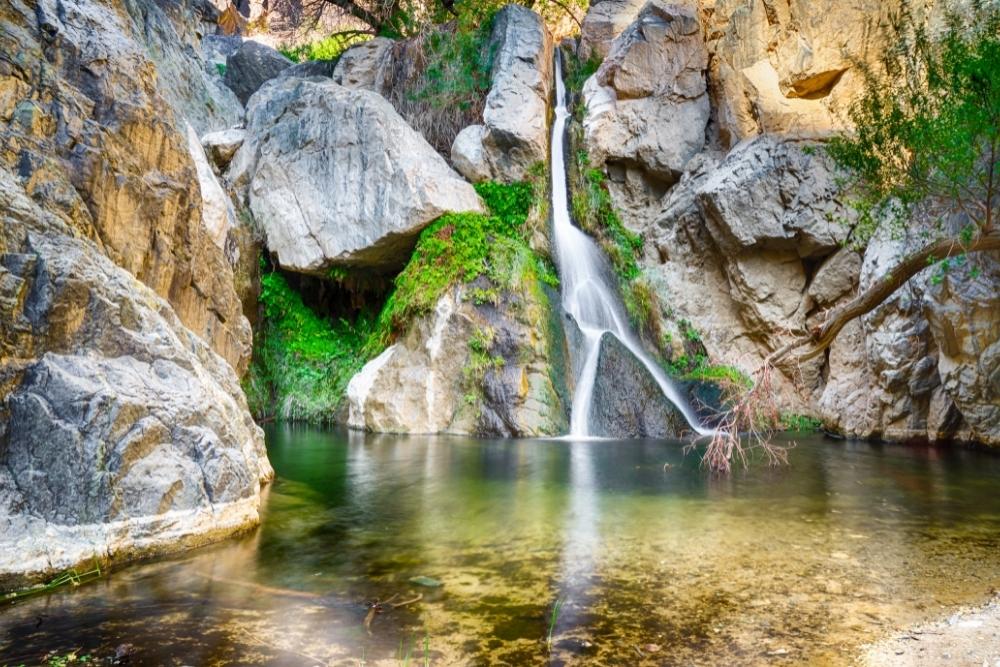 7. Death Valley National Park, California
With temperatures surpassing the hundreds during the summer months, going for a hike in Death Valley isn't exactly a walk in the park. Come winter, though, the weather cools off, making the perfect time to experience the desert magic of this epic national park in California.
Despite its somewhat morbid name, Death Valley brims with life and colors, and hitting its trails means stumbling across eerie-looking trees, hills and rocks splashed with colors, and enormous salt flats are far as the eye can see. Death Valley National Park straddles the California-Nevada border, lying slightly east of the Sierra Nevada mountains. It is the hottest and driest national park in the country and is home to a massive variety of plants and animals.
Best Hikes in Death Valley National Park:
Zabriskie Point
Mesquite Flat Sand Dune
Darwin Falls
Artists Drive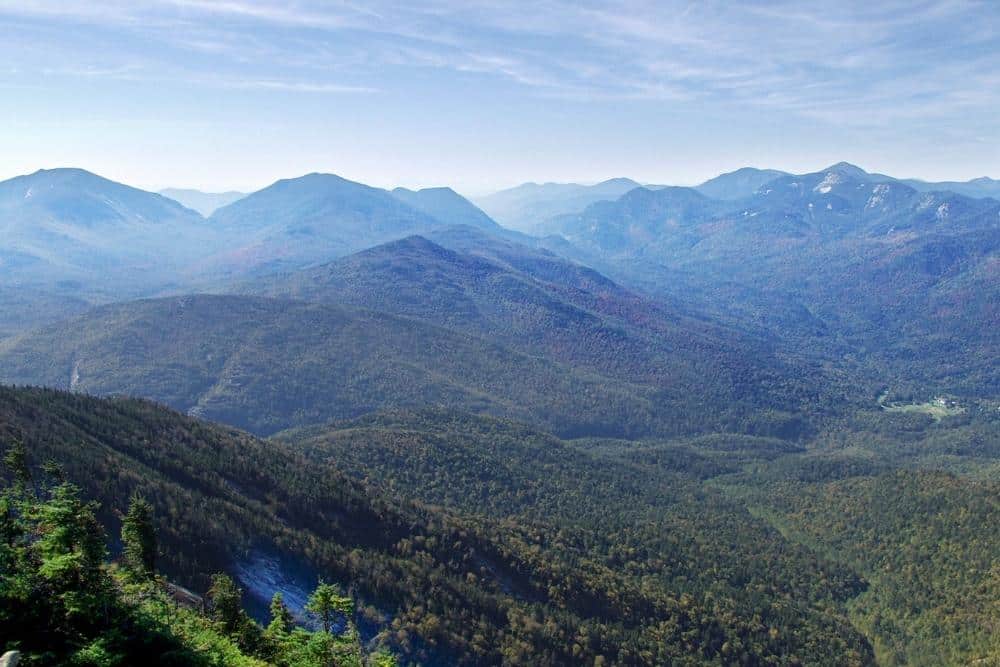 8. Cascade Mountain, Adirondacks, New York
Hiking Cascade Mountain is great for beginners and seasoned hikers alike. The hike is relatively simple, but offers sweeping mountain views. In addition, the trail is very well-marked and easy to follow. 
9. Sequoia National Park, California
Located on the dramatic slopes of the Sierra Nevada Mountains in California, Sequoia National Park is icnonic for being the home to most of the world's sequoias. These are the most gigantic trees on the planet.
While visiting this gem of a park is astounding year-round, there's something insanely beautiful about seeing the contrast of the brilliant white snow against the bright red sequoia barks.
Best Hikes in Sequoia National Park:
Moro Rock
Tokopah Falls
Marble Falls Trail
Lakes Trail
Have you visited any of these incredible hiking destinations in the United States? We'd love to know more about your experience and your favorite winter trails, so make sure you share them in the comments section!
---
— Update: 14-02-2023 — cohaitungchi.com found an additional article 11 of the Best Winter Hikes in the US from the website www.wanderingsunsets.com for the keyword winter hikes us.
This post may contain affiliate links, which means I'll receive a commission if you purchase through my link, at no extra cost to you. Please see my legal page for more details.
There is something especially dramatic about the outdoors in the wintertime and although it can be tempting to stay cozy at home, getting outside is great way to blow away the cobwebs. If you are looking for some inspiration, here are some of the best winter hikes in the US, whether you want to embrace the winter wonderland or escape to warmer climates.
For more hiking and outdoor inspiration, see these US National Parks that are open in winter.
Best Winter Hikes in the US
1. Donut Falls, Utah
If you're looking for a place that has a high concentration of winter hikes that are easily accessible, look no farther than the Wasatch Mountains around Salt Lake City Utah. For a quick and easy hike that's really impressive, Donut Falls is one of the best winter hiking trails in Utah. The trail is located up Big Cottonwood Canyon and makes a great addition to a day of skiing Utah's legendary powder.
Read more Top 12 Hikes in Maui to Take your Breath Away
At only 3.1 miles roundtrip, the Donut Falls trail is an easy to moderate trail that doesn't have a lot of elevation gain.  The trail is wide enough in most places that kids can even be pulled in sleds for a majority of the way. The hike will take you through the forest, where you'll cross the stream, and at the end, you'll head down to the river. Donut Falls gets its name as the waterfall goes straight into a Donut Shaped Rock. While you can get down to the river, use extra caution in the winter as the rocks are incredibly icy from the spray of the waterfall.  
If you're looking for parking near the Donut Falls trail during the winter, the parking lot at the trailhead is closed, so plan on parking in the large parking lot along the side of Big Cottonwood Canyon, at the trailhead turnoff. There is also a large open area with a few hills at the beginning of the trail, so bring some sleds and plan on staying a while after your hike.  
Note: Avalanche danger is always a real risk when hiking in any mountain areas during the winter.  Check all avalanche advisories and weather conditions before you go.
By Jessica Averett from Skiing Kids
2. Turtlehead Peak, Nevada
One of the most strenuous hikes in the Red Rock Canyon National Conservation Area outside of Las Vegas, Turtlehead Peak requires good physical shape and superb orientation skills.
While the hike is only about five miles, it's considered strenuous because of the 2,000 feet elevation gain and challenging terrain with a poorly marked trail that has steep ledges as you get closer to the top. For these reasons, I don't recommend attempting this trail on your own if you are a beginner hiker. If you still want to try it, bring someone who has more experience in hiking. 
Summer is generally not a good time for long-distance hikes at Red Rock because of the triple-digit heat in Las Vegas. Winter, however, brings milder weather and plenty of sunshine, with temperatures hovering in the high 50s and low 60s', ideal weather for a strenuous, exposed hike such as Turtlehead Peak. 
This challenging hike is well worth the effort. And not only because you will escape the crowded hikes down below, but also because you will be able to enjoy the incredible view of the Red Rock Canyon Below you and the entire Las Vegas Valley along with the world-famous Las Vegas Strip in the distance. 
By Daria from the Discovery Nut
3. Lost Palms Oasis Trail, California
Joshua Tree National Park is one of the most interesting hiking destinations on the planet. Just two and a half hours outside of Los Angeles, it is a great location to escape the city and seclude yourself in the desert.

The Mojave Desert and Colorado Desert both sit within park boundaries, so hikers can experience vastly different landscapes, and even hike in two different deserts, in one day in Joshua Tree. The iconic Joshua Trees live in the northern end of the park, in the Mojave, and the Colorado Desert features cholla, barrel, and other cacti in its hotter and drier climate. 
Because of this hot desert environment, Joshua Tree is best visited in winter if you plan to hike. Lost Palms Oasis Trail is a great winter hiking option, located in the Colorado Desert. It is a moderate hike, covering 7 miles of rocky peaks, with lots of cacti marking your path.
The hike is an in-and-out style trail, with the culmination of the hike leading to a true oasis in the desert. Towering palm trees shoot up out of the desert floor, and a pool of water sits at the bottom of a hill. Hikers can climb down and enjoy the cool water and shade before heading back out. The oasis is a beautiful and unexpected sight to see in the desert. Pack plenty of water and start the trek early, even in winter! You can see a lot on a day trip to Joshua Tree but it's best to stay overnight to enjoy to gorgeous sunset colors.
By Monica from This Rare Earth 
4. Trans-Catalina Trail, California
If an island escape sounds like your dream winter hike, then you should definitely add backpacking the Trans-Catalina Trail to your calendar during the cold months. This hike traverses Catalina Island, which is located just off the coast of southern California. The mild winter weather in that region means you won't be freezing as you hike and camp along the 39-mile trail.
Backpacking the Trans-Catalina Trail can take anywhere from 3-5 days, depending on how hard you want to push. Along the way, you will be rewarded with beautiful landscape views, stunning sunsets over the ocean, and even sightings of the herd of buffalo that roam the island.
Some advanced planning is required for this hike, but it is definitely worth it. You'll need to book a ferry ticket to and from Catalina Island. The main port town on the island is Avalon, but some ferries run to the town of Two Harbors as well. You'll also need to make campground reservations for each night of your backpacking trip, which means you have to figure out your itinerary ahead of time.
Despite the logistics to deal with, backpacking the Trans-Catalina Trail is an awesome experience and a perfect winter hiking escape!
By Allison from She Dreams of Alpine
5. Coopers Rock, West Virginia
Cooper's Rock State Forest, outside of Morgantown, West Virginia, is home to Cooper's Rock. The locals are very proud of Cooper's Rock because it has a gorgeous view of the foothills of Appalachia and a portion of the Cheat River.
While it's beautiful at all times of the year, it's even more gorgeous when the leaves change colors or the snow has just fallen. Although the forest is home to over 50 miles of trails, most of which permit cross-country skiing, it's also perfect for less adventurous hikers.
There is actually a road that takes you almost all the way to Cooper's Rock overlook. The road closes during the winter months, but hikers can choose to walk along the road rather than a wooded trail. This option is actually quite popular on snowy days!
It's about 6 miles round-trip, but not very strenuous, so many people of all ages enjoy bundling up and walking to the snowy overlook. Since the trail is mostly parallel to the road, you can even go back and forth to see which path you enjoy more. Another selling point is that Morgantown doesn't get very cold, even when it snows.
This is the perfect winter hike for someone who's not sure about winter hikes! Morgantown is home to West Virginia University and has many competitive hotels to choose from. You can maintain brand loyalty  
or try something new and stay less than 20 minutes away from Cooper's  
Rock.
By Raquel from Meals and Mile Markers
6. Silver Falls State Park, Oregon
The Trail of Ten Falls at Silver Falls State Park in Oregon is an ideal hike for lovers of waterfalls. The seasonal rainy weather in the Pacific Northwest makes this one of the best winter hikes in the United States.
Oregon, particularly the portion of the state to the west of the Cascade Range, has beautiful summers. Temperatures rarely get too hot, and sunshine is abundant. However, the lack of precipitation in the Summer means a lot of streams and rivers shrink, and many waterfalls dwindle to a trickle.
Simply put, the constant rain in winter makes the Trail of Ten Falls an excellent hike. It's a chilly hike, but snow is very uncommon and usually doesn't stick around for long. The waterfalls are also absolutely roaring during this time of year.
The hike is fairly easy for the most part, with little more than a few hills to climb, but it's worth it. Among the ten waterfalls, there are three that hikers can walk behind for an incredible view of the power of nature at work.
Silver Falls State Park is pretty easy to reach from Portland. The drive takes a little over an hour, and there is a sizable parking lot. The trick is to arrive early, as the park gets busy in the middle of the day, especially on weekends. Don't forget a rain jacket, even in the event of a rare sunny day, hiking behind waterfalls is a damp affair.
By John Paul from The Hangry Backpacker
7. Tallulah Gorge, Georgia
North Georgia has many waterfalls scattered throughout the mountains, but one of the best is Tallulah Gorge especially in the winter when fresh snow coats the gorge. Tallulah Gorge is a valley with rushing water flowing through with a few waterfalls and epic views of the surrounding mountains. There are many paths and hikes along the gorge namely the main path that has over 1000 stairs!
Starting at the visitor's center, you'll be at the top of the gorge where you can catch a view of the main waterfall. Afterward, descend the first set of stairs (about 600) that take you to a beautiful suspension bridge that sits above the water! You can continue to the other side of the gorge up the additional 400 steps for more views.
In the winter, make sure you wear good boots since the stairs can be slippery when wet. It is a very challenging feat to conquer the stairs but it's such a beautiful area, it's worth it!
Located up Route 23, Tallulah Gorge isn't really near any major city, but you can turn your visit into a Georgia waterfall day trip by visiting Toccoa Falls nearby. Clarkesville and Demorest have a couple Airbnb's and Toccoa has homey accommodations like the Simmons-Bond Bed and Breakfast or the Glen-Ella Springs Inn. Alternatively, head to Helen, Georgia to experience the unique Bavarian-style village!
Read more 17 Amazing and Best Hikes in the Catskills
By Alanna Koritzke from Periodic Adventures
8. Fort Snelling State Park, Minnesota
Winter hiking in Minnesota is just that. It's cold and snowy and slippery and exhilarating. And loving that is what makes Minnesotans Minnesotans.
The stellar Minnesota State Parks system has specifically groomed winter hiking trails in 16 of its 75 parks, including all the parks in the Twin Cities area. Our favorite for a winter outing is Fort Snelling State Park, which is in Saint Paul at the confluence of the Mississippi and Minnesota Rivers and is part of the Mississippi National River Recreation Area of the US National Park Service.
The primary path in the park is on Pike Island at the rivers' junction. It's a 3 mile trail that circles the island following the banks of the rivers. You can follow the Minnesota down to the confluence and return along the Mississippi – or vice versa. Either way, the trail is level and kept well groomed by the state and by the traffic of outdoorsy Twin Cities residents.
It's certainly possible to walk it in good boots, or you can wear snowshoes if there's been a fresh snowfall.
If you prefer, the island also features a cross-country ski trail that runs down the center of the island. Hikers are not allowed on that trail in the winter; it's well kept and reserved for skiers. Be sure to check the Minnesota State Parks website for maps before you go.
By Tom from MN Trips
9. Pipwai Trail, Hawaii
If you are looking to escape the snowy roads and frigid temperatures that old man winter brings, book your flight to Maui ASAP! With miles of beaches, perfect weather, and the MOST EPIC hike, you will not regret your decision.
Although Maui is full of adventurous things to do, hiking the Pipwai trail tops the list. The Pipwai Trail is a moderately difficult 3.4 mile (round trip) located near Hana, Maui.
Before you even reach this amazing hike, you will need to drive the famous Road to Hana. The journey along this road will take you 55 miles through the lush Maui rainforest. You will encounter over 600 hairpin turns, many one-lane bridges, and SO MANY waterfalls. The drive can be a bit terrifying, but it is SO worth it.
After reaching the town of Hana, you will enter Haleakala National Park and get started on your hike. Throughout the hike, you will meander through a magical bamboo forest and end up at a 650-foot waterfall. It's truly an out of this world hike!
Insider tip: I suggest driving straight through the Road to Hana and stopping at Pipiwai trail FIRST. This way, you will beat the crowds and not feel rushed enjoying the trail. On your way back, you can stop at the rest of the viewpoints along The Road to Hana. 
By Jordan from The Homebody Tourist
Hawaii is also known for its beautiful sunsets and if you're island hopping, make sure you visit one of these epic Kauai sunset spots!
10. Angel's Landing, Utah
One of the most amazing hikes in winter is the impressive Angel's Landing Hike in Zion National Park=. The challenging and prolific hike takes you up high out of the canyon providing panoramic views over the desert-like landscapes of the park. Starting off from the Grotto Trailhead, the route climbs up 1500 feet over a 2.4-mile trail, with some very steep inclines as you work your way up.
As you wind your way along the trail, there are plenty of lookout points where you can take a break to rest your legs and marvel at the views. The final section of the hike is one of the most dramatic and exhilarating, as you walk up the ridge of the mountain to its peak. In some sections, the trail is more exposed and the drops on either side can be viewed (or cause extreme vertigo!), so is therefore not suitable if you are afraid of heights.
At the end of the incline, you will be welcomed by some of the most jaw-dropping views in the entire park. While the hike is only 5 miles in total, it can take up to 6 hours to complete due to the steepness of the walk, especially when visiting Zion National Park in winter, and a relatively good level of fitness will be needed to complete it.
During the winter months in Zion, the trail can experience some snowfall or ice patches, so it is recommended to bring additional grips for your feet. If the weather is particularly bad, you may need to reconsider attempting the Angel's Landing Hike.
By Megan from Megan & Aram
Related Post: Why I Can't Wait to Visit Zion National Park in Winter
11. Manoa Falls, Hawaii
Manoa Falls is located on the Island of Oahu,Hawaii , only 5 miles from Waikiki Beach and 6 miles from Honolulu. The hike is just over 1.5 miles round trip so it's suitable for most hikers with a great payoff at the end, Manoa Falls.
This 150-foot waterfall is a beautiful sight. The trail is rather easy but has a more uphill gradient as you get closer to the falls. At this time the path becomes narrower and it's much easier to pass in the early mornings when there is less traffic. There's a small parking lot near the trail entrance, for a small fee, which is another reason to arrive early. 
The hiking path has a nice variety of trees and in one area you will pass under some trees with winding branches. It's a fun stop and nice photo opportunity to get within the trees. The trail tends to be muddy so it's a good idea to wear hiking boots or old sneakers. This will also help for the areas of the trail that are narrow or steep.
While this is a fairly easy hike it can be challenging for younger children who aren't used to hiking. Just remember to take breaks when there are clearings to do so since you will need to keep moving at the narrow pathways. Also, make sure to pack plenty of water and a snack.
The hike should take less than a few hours including plenty of time to enjoy the falls. If you start at sunrise you can avoid the crowds and make it back with plenty of time to enjoy the rest of your day at the beach.
By Nicole from Affordable Family Travel
Do you prefer the bracing cold for your winter hikes or a summer US hiking experience? And if you're looking for more outdoor inspiration, check out my ultimate USA Outdoor bucket list!
---
— Update: 14-02-2023 — cohaitungchi.com found an additional article The 6 Best Winter Hiking Spots in the USA from the website www.sixt.com for the keyword winter hikes us.
When the weather turns cold in much of the United States, and in other countries, you might be wondering where you can find winter hiking destinations with comfortable temperatures. Luckily, there are some places in the southern reaches of the USA that are ideal for doing some outdoor activities in the winter months without wearing 10 layers of clothing.
Big Bend National Park, Texas
This park, located in southwestern Texas along the Mexican border, is not as well known as others in the southern part of the US. And that means that in the winter you will not face crowded hiking trails while you (hopefully) soak up some sun. If you need a vehicle to get there, you can rent a car from SIXT in San Antonio or Dallas. There are several hiking routes to choose from, including the 2 below:
Lost Mine Trail: This 4.2-mile out and back trail is very popular in warmer months but less so in winter. This moderately difficult trail has a steep climb in the middle but then evens out at the end where you get great views of Pine Canyon and beyond.
South Rim Trail: This loop trail is 11 miles long and moderately difficult. You get nice views and wildflowers during some part of the year. Hikers have reported that the first 4 miles of the trail are difficult, but the rest of the way to the rim is easier.
St. George, Utah
This town in southern Utah is a great place to go for some winter hiking. Its proximity to Zion National Park and other great hiking trails, plus mild weather that's generally snow-free, makes St. George an ideal destination.
Johnson Canyon Arch Trail: At the southern edge of Snow Canyon State Park, this easy 2-mile round trip trail has red rock walls and an arch when you reach the end.
Temple Quarry Trail: Just outside of downtown St. George, you can find this 2.21-mile easy out and back trail that is perfect for the whole family.
Owen's Loop Trail: This trail ranges from easy to moderately difficult, and can be accessed from the Brooks Nature Park trailhead, Pioneer Hills Trailhead, and Owen's Loop Trail step-over. The length varies depending on which trailhead you use.
Zion National Park: It's less than a 1-hour drive from St. George to Zion. Because of its low elevation, you will rarely see snow here on the canyon floor in the winter, but you should always check the weather and road conditions before heading out for a hike there.
Rent a car at one of our Las Vegas locations and it's less than a 2-hour drive to St. George.
Haleakalā National Park, Hawaii
Yes, now you have an excuse to go to Hawaii in the winter. The Haleakalā National Park on Maui is on the site of a dormant volcano and offers fantastic sunrise views to those who rise early enough. Just be aware that hiking groups are limited to less than 12 people within the park. And in the winter there can be snow at higher elevations (yes, even in Hawaii!).
Keonehe'ehe'e (Sliding Sands): The trailhead for this 11-mile hike is at the Haleakala Visitor Center. You can see several points of interest along the way, like Pele's Paint Pot about 5.7 miles in. Hikers have noted that it can be muddy and wet, and also cold and windy, so bring some waterproof gear along.
Pā Ka'oao: If you want something simple, you can take this 0.4-mile route from the visitor center to view the volcano's crater.
Read more 11 of the Best Winter Hikes in the US
The drive from our location at the Kahului Airport to Haleakalā takes about 50 minutes.
Canaveral National Seashore, Florida
People generally don't think of Florida when they think of hiking, but it's an enjoyable place to enjoy the outdoors in the winter. The Canaveral National Seashore sits on a barrier island near Titusville, roughly a 40-minute drive from Orlando. You can go swimming here, look for birds and wildlife, or just walk along the 25 miles of protected beach. If you want actual hiking trails, you should head to Merritt Island National Wildlife Refuge within the park.
Allan D. Cruickshank Memorial Trail: This 4.8-mile-long trail is flat and mostly goes along a canal or other body of water. This is a great spot to go birdwatching.
Pine Flatwoods Trail: The 1-mile trail also gives you the option of adding on a hike to the Mosquito Lagoon, making it 2.1 miles in total. You will see a mix of vegetation somewhere between forest and desert.
Castle Windy Trail: If you have kids with you, there are several hikes that are less than 1 mile. Like this trail, that is 0.8 miles long and goes from Apollo Beach to Mosquito Lagoon. Along the way, you will see a "dump" for shells used by the Timucuan Indians who lived here between 600 and 1400 AD.
Mojave National Preserve, California
If you're on your way from Las Vegas to Los Angeles (or vice versa) this is a perfect place to stop for some outdoor activity. The Mojave National Preserve, containing the Mojave Desert, sits between interstate highways 15 and 40. Just beware that although this is a desert, it can be cold in the winter, especially at higher elevations.
Teutonia Peak Trail: This 3.2-mile-long out-and-back trail starts near Cima, CA, and is moderately difficult. Along the way, you will see a garden of Joshua Trees and at the end, you are rewarded with great views.
Kelso Dunes Trail: If you can handle walking on sand, this 2.7-mile out-and-back hike is for you. It's recommended to have hiking sandals as hiking on the dunes can be tricky otherwise.
Hole-in-the-Wall Rings Trail: You can do this hike through some unique rock formations as a 1.5-mile loop or a 0.5-mile out and back. The rock-mounted ring bolts on the first portion of the hike give this trail its name.
South Mountain Park, Arizona
Sitting just south of downtown Phoenix, this winter hiking destination is very accessible. There are roughly 30 trails in the largest municipal park in the US that offer some urban hiking options and great views of Phoenix. Note that all of the trails are rocky and steep and you may encounter rattlesnakes and other desert creatures.
Holbert Trail: The 2.4-mile one-way hike is moderately difficult and features rock art as it climbs to the upper areas of the park.
Javelina Canyon Trail:
Mormon Loop Trail:
---
— Update: 14-02-2023 — cohaitungchi.com found an additional article 10 Best Winter Hikes Across America from the website www.thetravel.com for the keyword winter hikes us.
Serious hikers are unfazed by whatever obstacles they may encounter. Not even the inclement weather. They will never pass up the next opportunity to go on a hike through some of the snowiest and most enchanted scenery the nation has to offer.
These hardened hikers should be aware of the fact that the United States is undeniably at its most stunning in the winter when it transforms into a veritable wonderland of peaceful, snow-filled landscapes. The following is a list of some of the most remarkable magical winter hikes that can be found around the United States of America, which will make people fall in love with the notion of adventure.
10 Rock Bluff Run Trail, Nebraska
Although winter hiking in Nebraska may not be the first thing that springs to mind, the Rock Bluff Run Trail is a fantastic option. In spite of its relatively short length (just 6 miles), this path is among the most challenging in the state due to its 1,100 feet of elevation climb. Hikers will traverse open fields and woodland meadows on this outing. At the trail's end, they may take in breathtaking panoramas of the Missouri River and its bluffs.
9 Sentinel Meadow & Cook's Meadow Loop, Yosemite National Park, California
Yosemite National Park is fantastic in the winter because there is plenty of snow for trekking and playing in, and since the park is virtually empty. Hiking in Yosemite National Park in the winter is a must-do activity. When snow blankets the park's vegetation, the park's monoliths, such as Half Dome and Yosemite Falls, stand out even more dramatically. Experienced climbers will take years to reach the summit of Half Dome, but those without that level of training can still enjoy the view from the Sentinel Meadow and Cook's Meadow Loop.
8 Mazama Ridge Snowshoe Trail, Mount Rainier National Park, Washington
Everyone should visit Mount Rainier National Park. The peak of the enormous (and still active) volcano stands at an impressive 14,410 feet above sea level. The magnificent wildflower meadows at Rainier's base are open to visitors all year long, but the experience takes on a whole new level when the mountain is blanketed in fresh snow. Anyone with the proper equipment may hike the six-mile-long Mazama Ridge Trail, which provides unobstructed views of Mount Rainier and the Tatoosh Range the entire way.
7 Emerald Lake Hike, Rocky Mountain National Park, Colorado
The best hikes are in Rocky Mountain National Park. The Emerald Lake Hike is the ideal winter snow activity for anybody. Colorado's Rocky Mountains are the setting for this path. Indeed, it is widely held that this is one of the park's most used paths for outdoor enthusiasts. Not unexpected, considering how simple it is to finish and how beautiful the rewards are. It'll take hikers around 3 hours on average to do this 3.5-mile-round trek. In the winter, it is not unusual for the lakes to become completely frozen.
6 Devil's Garden Trail, Arches National Park, Utah
Those interested in seeing sandstone boulders covered with snow should hike the Devil's Garden Trail. Because of the slick ice, certain roads are closed during this time of year. Although this may be the case, there are still many interesting parts to explore. Hikes in Arches National Park are worth the effort. There are a variety of kid-friendly walks that make this a great destination for families. For the more adventurous hiker, there are also several that are sure to get tourists' heart racing. The Landscape Arch is one of the simplest, as it only requires a round-trip distance of 1.6 miles.
5 Gorham Mountain Trail, Acadia National Park, Maine
There is much more to the state of Maine than just warm summers spent eating lobster rolls and double-scoop ice cream cones. Despite the fact that it might be a frigid spot to visit in the winter, the harsh weather empties popular routes like Gorham Mountain Trail, providing winter hikers with the opportunity to enjoy the coastal majesty without the crowds. The efforts of tourists will be rewarded with breathtaking vistas of the rugged shoreline and Cadillac Mountain in the distance.
4 Cape Falcon Trail, Oswald West State Park, Oregon
In Oregon, visitors may be lucky enough to get a glimpse of a pod of gray whales in the middle of the day during the winter. Hikers on the about five-mile Cape Falcon Trail will eventually reach a panoramic ledge where they may bring their binoculars and keep an eye on the ocean for the unmistakable spray of passing whales. Tourists should bring an additional layer and enough nutrition to keep them motivated for the journey back in December and January when whales migrate from the Bering Sea to Baja.
3 Jud Wiebe Trail, Telluride, Colorado
This trail begins and finishes in the heart of Telluride, allowing visitors a bird's eye view of the mountain town and a chance to daydream about what it must be like to live here while skiers and snowboarders take on the slopes. Despite Telluride's reputation for snow, this approximately 3-mile hiking track stays dry throughout the year because of Colorado's average of 300 sunny days each year. Hikers may enjoy the scenery just as much after a blizzard; all they need to do is bring along some microspikes and a warm coat.
2 Chapel Loop, Pictured Rocks National Lakeshore, Lake Superior, Michigan
Some hikers choose to spend the night on the Chapel Loop during the warmer months. The winter months, however, allow for a 10.4-mile day trip if one starts out early enough. In addition to the Grand Point Portal, an arch in the sandstone cliffs overlooking Lake Superior, the Chapel Loop is replete with other interesting sights. It would be a shame if Chapel Rock, home to the hardest-wooded tree on Earth, were forgotten. Its roots spread over the lake to reach the mainland, where the plant receives the majority of its food and water.
1 Cascade Mountain, Adirondacks, New York
There are many dangerous hikes in the Adirondacks, and hiking in the Adirondacks during the winter months is not for anyone who is easily scared. Hikers should bring warm clothing even on well-traveled snowy slopes like Cascade Mountain. The trail up Cascade Mountain is a short but steep one, taking hikers up over 2,000 vertical feet. Visitors may pause for a minute to see the forest become blanketed in white. Lake Placid and the other high peaks of the Adirondacks may be seen from the bald peak of Cascade Mountain.
References