The Sawtooth Mountains – The Ultimate Adventure Getaway for Hikers.
With so many picturesque and uniquely challenging trails in the Sawtooth Wilderness, it can sometimes be hard to choose! But in my opinion, there is no better introductory trail to this wild country than the hike to Alpine and Sawtooth Lake.
This hike, beginning at Iron Creek Trailhead, is extremely popular (especially during summer months) and for good reason! The trail takes you through towering pines, up above an emerald-green Alpine Lake, past several mountain peak viewpoints and finally, to the most iconic lake in the entire Sawtooth National Forest – Sawtooth Lake.
Moderate hike with a huge payoff? Sounds like a date, right?
But before plopping into your polyester-wear and tightening your boots, let's get into the nitty gritty! In this guide we'll be discussing:
Trail Basics (Distance, Eleveation, Etc.)
Trailhead Location
Trail Conditions
Best Time to Visit
Rules + Permits
Know Before You Go
What to Pack for Day Hiking
What to Expect on the Trail to Sawtooth Lake
How to Hike the Alpine Lake Detour
Tips to Avoid the Crowds
How to Hike it With Dogs
Without Further Ado, Let's Get Hiking!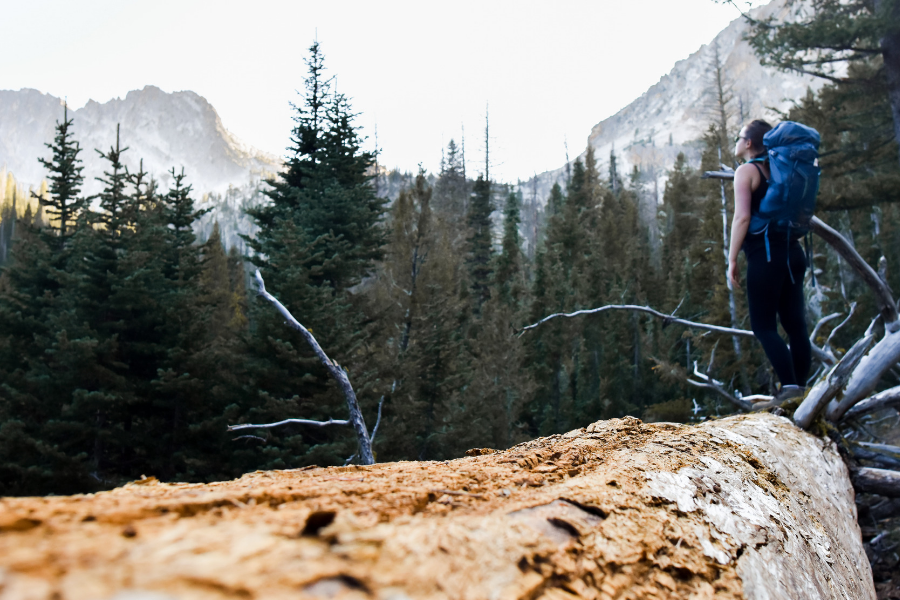 TRAIL BASICS: IRON CREEK TO SAWTOOTH LAKE

WHERE DOES THE TRAIL BEGIN?
Iron Creek Trailhead is where you'll start your hike. Directions are in the section below, and I've also embedded a map below with the exact location!
HOW LONG DOES IT TAKE?:
I would recommend about 6 hours for this hike including a 1 hour stop at Sawtooth lake (add an extra hour if you plan to take a quick detour down to Alpine Lake!) – It took us 3.5 hours on the way up and about 2 on the way back, so 5.5 hours total hike time. This included several breaks and photo stops!
TOTAL DISTANCE:
10 miles, though I clocked it at closer to 11 miles total to our campsite and back again.
ELEVATION GAIN:
1,873 Feet – most of it is gained in the final 1/3 of the hike!
DIFFICULTY:
Officially, this is marked as a "Moderate" hike. Unofficially, (i.e. my personal experience) the trail is really easy for the first 3 miles, then gets slightly more challenging as you climb towards Alpine Lake. The section after Alpine Lake is the most difficult and technical of the entire trail. This is where you'll do murder to your calves. Thankfully, you can rest them while admiring the beauty that is Sawtooth Lake 😉

HOW TO GET TO THE SAWTOOTH LAKE TRAILHEAD
From Stanley, head West on ID-21 until you reach Forest Road 619 – you should also see a sign for Iron Creek Campground. Turn left on this road and follow it all the way to the end where you'll find a parking lot and a pit toilet. The road and parking lot are dirt/gravel but typically no 4WD is required.
Read more 5 Beginning Level Hikes in the Adirondacks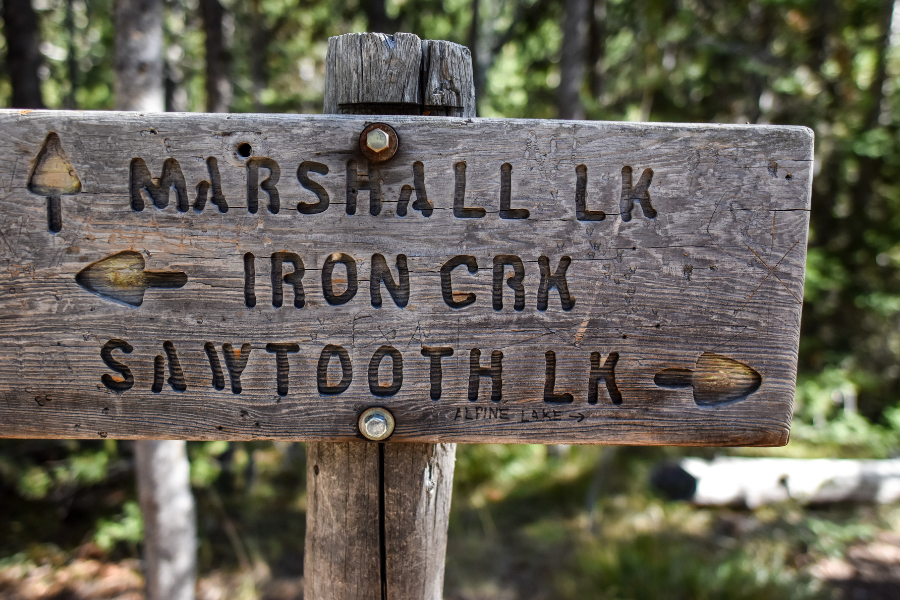 TRAIL CONDITIONS
This trail is well-maintained, but still be aware of the following:
It's a dirt trail and has your typical "tripping hazards" (rocks and roots)
Towards the end of the trail, there are some steeper sections with loose rock. Come prepared with good, solid shoes/boots!
It's an out-and-back trail and the way back is almost 100% (knee-jarringly) downhill
Be sure to check trail conditions (here) to make sure there are no closures and don't hike just after a heavy rainfall as this can be damaging to trails

BEST TIME TO HIKE TO SAWTOOTH LAKE + ALPINE LAKE
July – September.
This is generally considered the "ideal season" for visiting the Sawtooth Mountains, but of course that isn't a hard and fast rule. If you visit outside of this season, do thorough research before heading out! You might run into some snow, ice or rain.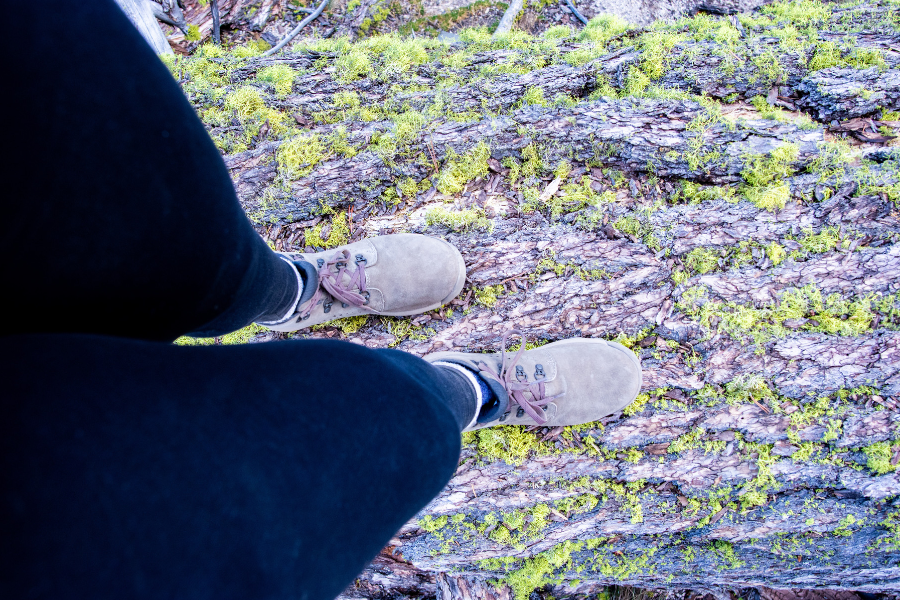 RULES + PERMITS

PERMITS
Permits are required, even for day hiking. However, these permits are free and available right there at the trailhead. So no pre-planning is necessary.
CAMPING
Allowed at both Alpine and Sawtooth Lake. Just be sure to use existing sites rather than "creating your own" and damaging plant life. Campsites should be at least 100 feet from lakes or other water sources.
CAMPFIRES
Not Allowed. The Sawtooth Wilderness is especially susceptible to wildfires, so most areas forbid them.
DOGS
Allowed! On-leash rules are in effect from to July 1 to Labor Day. Fall, winter and spring allow for off-leash doggies.
DRONES
Not allowed.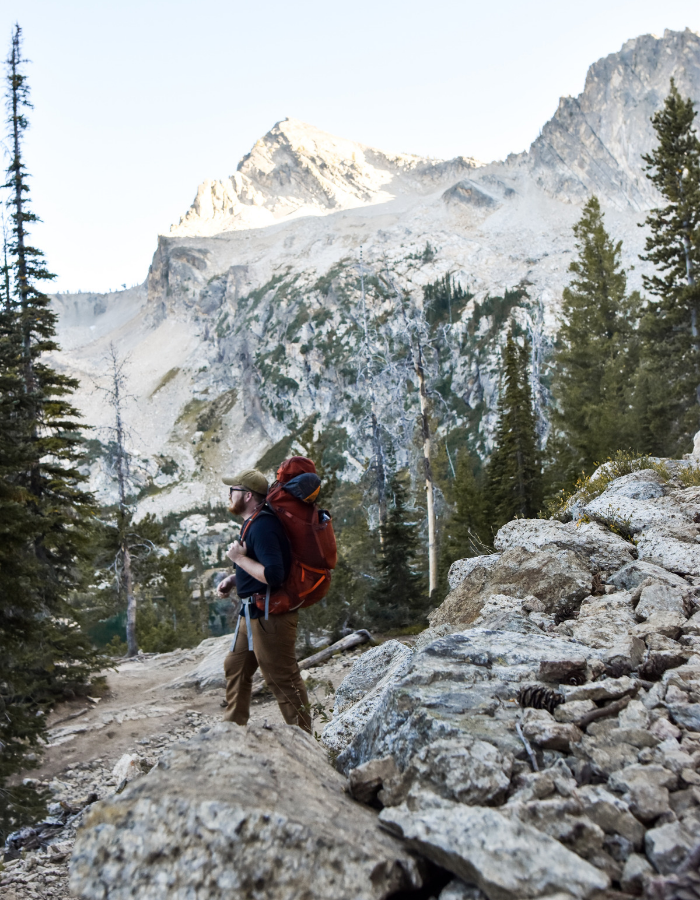 WHAT TO KNOW BEFORE YOU GO
The parking lot gets very full. I would recommend arriving as early as possible in order to find a spot. The biggest influx of hikers is usually at around 10AM.
Sawtooth Lake is WINDY. Make sure you pack a light jacket or windbreaker.
There are a couple steep and narrow spots towards the end of the hike that could freak you out if you're scared of heights.
You'll want plenty of water. This hike can be strenuous at times and you'll get a decent amount of sun exposure.
On the way back, you'll have a lot of downhill to get through. Some hikers may want to bring trekking poles to take some of the pressure off their knees.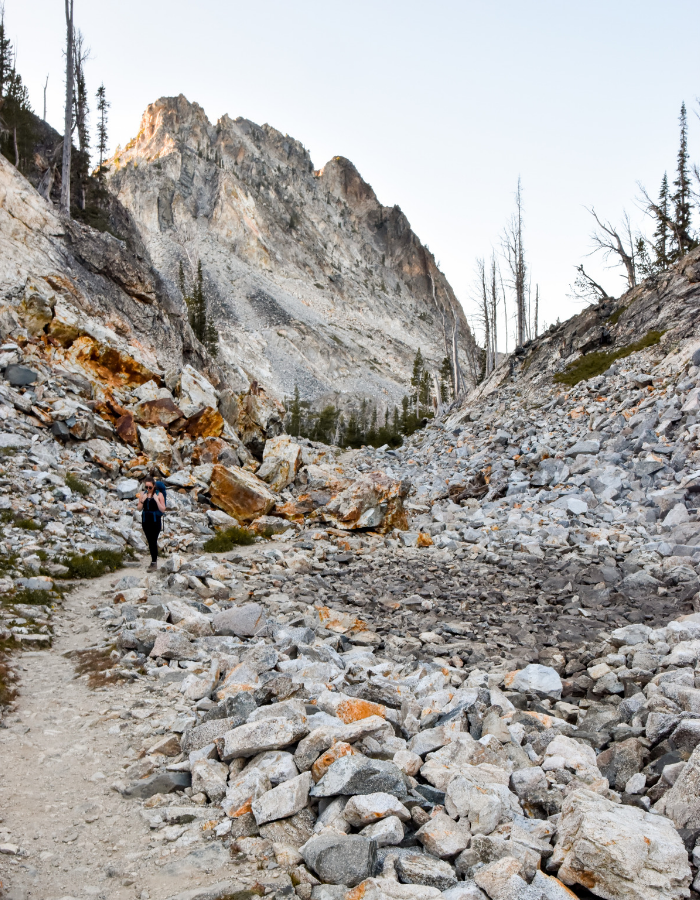 WHAT TO PACK FOR DAY HIKING TO SAWTOOTH LAKE
Day Pack. To hold your water, extra layers, and other essentials.
Water Bladder. These are super handy on the trail since they slide right into your backpack and they hold a ton of water without adding to much weight. Plus, you can drink on the go!
Water Filter. There are plenty of places to refill if you have a proper water filter – most people refill at Alpine Lake before the final ascent to Sawtooth Lake. I've heard iffy reviews on Steripens, so I personally opt for water filtration tablets. They're lightweight and effective!
Snacks. According to my Fitbit, I burned about 1,700 calories on this hike. Yikes! You'll definitely want to refuel along the way and maybe even have a quick picnic at Sawtooth Lake.
Headlamp. I always recommend bringing a headlamp on any hike. Mostly because I've mismanaged my daylight hours on more than one occasion. Whoops. Headlamps are small and lightweight and can be a huge life-saver if you get caught in the dark!
Moleskin or Blister Kit. With such intense incline and decline, you may end up getting a blister or two. This is another easy and light addition to your pack that can make your hike a lot more comfortable!
Wilderness First Aid Kit (Lite).
Toilet Paper + a Sealable Bag for Dirty Tissue/Trash.
Dress in Layers! Temperatures will change as your elevation changes and your temperature will change as you start climbing, too! Make sure to wear layers so you can add/remove as you go.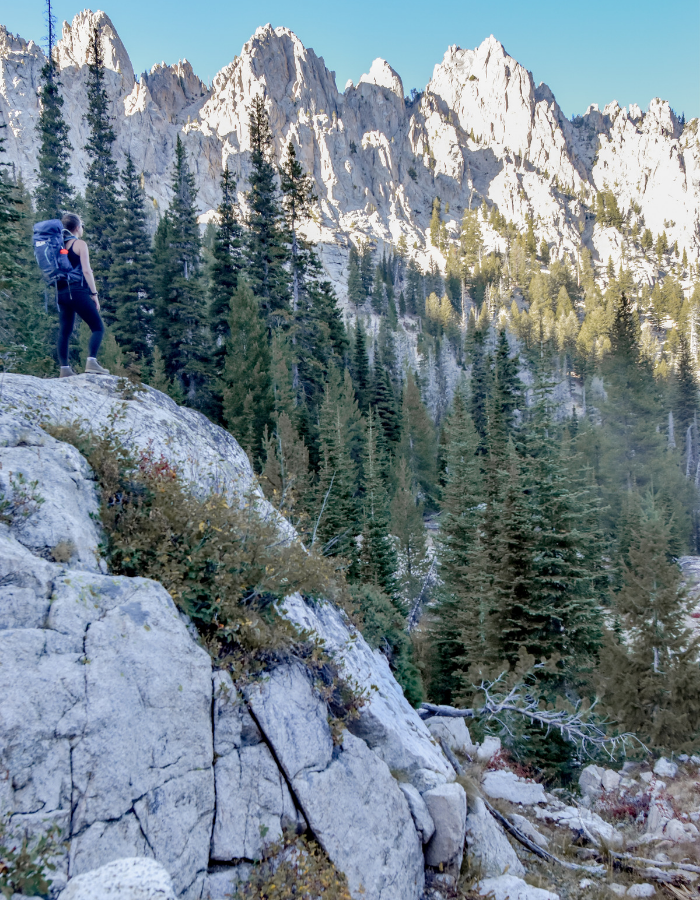 WHAT TO EXPECT ON THE TRAIL TO SAWTOOTH LAKE (THE PLAY-BY-PLAY)
Your epic wilderness journey begins at the Iron Creek Trailhead. Here you can take a quick bathroom break before hitting the trail!
Once you're pee-free, fill out your wilderness permit at the trailhead. You'll need to attach one copy to your pack and the other you'll leave in the box provided. These permits are free!
The start of the trail is relatively flat and easy. You'll need to pay some attention to rocks and roots jutting up from the ground, but other than that there's nothing very technical for the first 2.5 miles of the hike. You'll wind through dense forest and alongside Iron Creek (hence the trailhead name).
Read more Three Mile Trail Hollywood Sign Loop
1 mile into the hike you'll see some signs letting you know that you're officially entering the Sawtooth Wilderness. About 1 mile further and you'll reach a junction where you'll hang a LEFT (there should be a sign to guide you) – continuing straight would take you on a much longer hike towards Stanley Lake.
The trail continues to be gradual and relatively easy for the next mile or so until you reach a small river crossing.
NOTE: There are some EPIC views in this section (as shown in the photo below).




This is where you reach your first set of switchbacks and the elevation gain becomes much more rapid. Just remind yourself that the top of the section brings you to the beautiful Alpine Lake.
You'll reach another sign shortly after the ascent flattens out (about 3.8 miles in to the hike) that will direct you to Alpine Lake. You can either take the short detour down to the lake or you can continue on to Sawtooth Lake.
NOTE: There's more information on the Alpine Lake detour in the next section.

After Alpine Lake, the hike becomes much more intense. It's basically switchback after switchback and steady elevation gain (about 500 feet in a very short span). This is what I like to call the "calf-burner" section. It's also the reason I was skeptical to bring our dog, Tuna, on this hike. There is a lot of loose rock in this section and 2 spots (that I can think of) that were quite narrow with steep drop-offs. If you're scared of heights, this is something to keep in mind – though I think it's still probably doable for most.
While this section is brutal on the legs, it's also packed full of gorgeous views – including an "aerial view" of Alpine Lake that is totally breathtaking. Most of our favorite photos were actually taken on this section of the trail.
You'll know when you reach the end of the "hard part" because you'll catch a glimpse of what you might, at first, think is Sawtooth Lake. It's actually a small pond. Boooo. But it's still quite pretty and it means Sawtooth Lake is just around the corner! Just continue up the trail and you'll find several campsites and viewpoints of Sawtooth Lake.
NOTE: Many hikers have said that there are awesome views of Sawtooth Lake (from above) if you continue up the trail a ways. If you have the energy – more power to ya! My legs were pretty much dead by the end of the hike and it was nearing dark, so I didn't make it that far.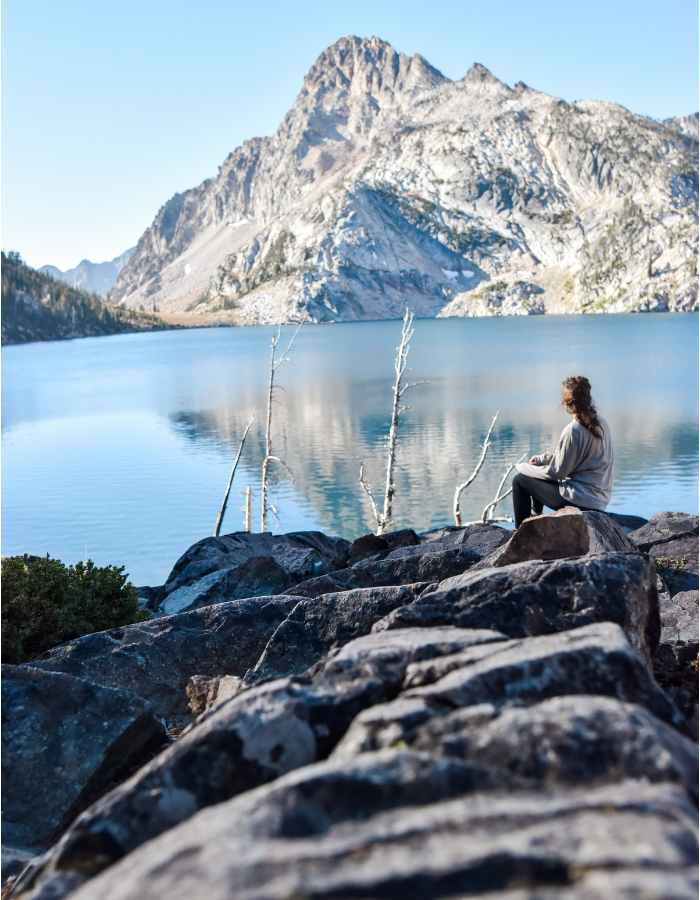 HOW TO HIKE THE ALPINE LAKE DETOUR
As I mentioned earlier, Alpine Lake is just a quick off-shoot from the main trail to Sawtooth Lake. Many people stop here for photos and to refill their canteens.
The detour is located about 3.8 miles into the hike and you'll have to descend about 100 feet to get down to lake. We didn't make it down there on our hike – we were told by other hikers that it was a steep descent (liars!!) – but after researching I really regret not making the quick trip down. I'd definitely recommend this detour.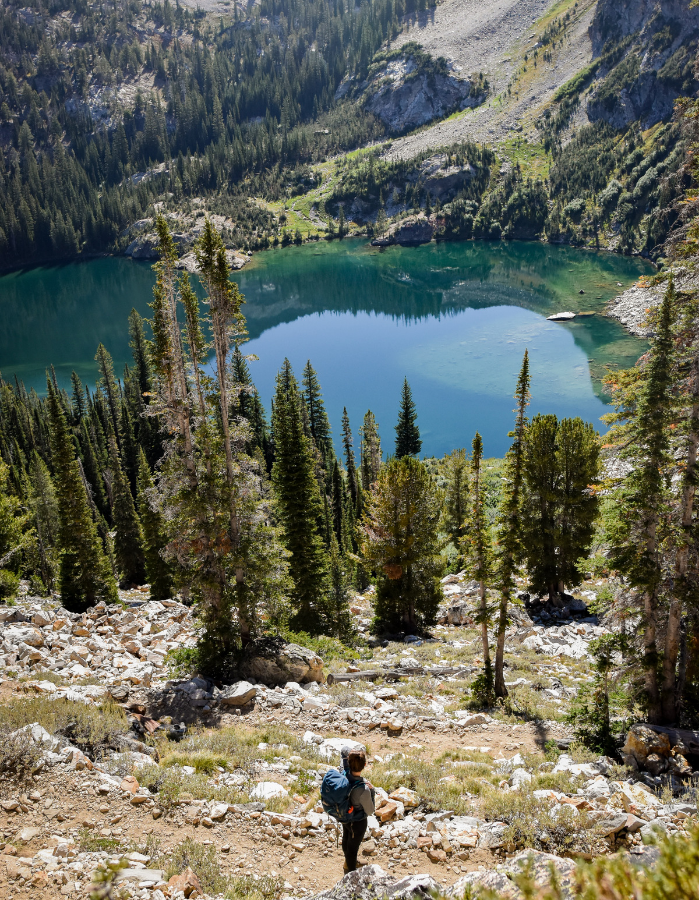 AVOIDING THE CROWDS
While this hike is gorgeous, it's definitely not a well-kept secret. The Sawtooth Lake trail is probably the most popular in the area and, especially in the summer, you'll have a hard time finding seclusion. Here are some tips to "beat the crowds" on this trail:
Arrive Early. The biggest influx of hikers is always around 10AM. Try to hit the trail early so you can at least have the hike up to yourself.
Consider visiting after Labor Day. Crowds die down after Labor Day and you still get some good-weather days in mid to late September!
Camp at a Different Lake. Less people camp at Alpine Lake or the small pond just before Sawtooth Lake.
HOW TO HIKE THE SAWTOOTH LAKE TRAIL WITH DOGS
While dogs are permitted on this trail, there are a few things to keep in mind:
Steep drop-offs. If you're not sure how your dog will handle cliffs, this is not the hike to test him out on.
Lack of water. There are a couple stream crossings before reaching the lake that would likely be safe for your dog to drink from, but much of this hike is away from water. Make sure you bring a collapsible bowl (like this one) and plenty of water for both you and your pup.
Lots of elevation gain. Your dog is probably going to running back and forth the whole trail, and most dogs don't know when to take a break. For every mile you hiked, your dog probably ran 3. Forced breaks might be necessary!
Read more Top 12 Hikes Near Lake Lure, NC – Hiking Lake Lure -A Hikers Paradise



Have a favorite or bucket-list hike in the Sawtooth Wilderness that you want to see a Trail Guide for in the near future? Drop it in the comments!

PIN ME.


MORE TO CONSIDER:
– IDAHO'S BEST NATURAL HOT SPRINGS
– STAY IN THIS GIANT IDAHO POTATO AIRBNB!
– BEST HIKES ON THE OREGON COAST
---
— Update: 13-02-2023 — cohaitungchi.com found an additional article Why Do You Need to Hike to Alpine Lake in Idaho? from the website triangleccabins.com for the keyword alpine lake hike idaho.
If you're searching for outdoor adventures in the Gem State, the Sawtooth Mountains are the place to visit. Our beautiful mountain range in the central region of the state offers plenty of hiking, rafting, wildlife viewing, photography, and stargazing opportunities. Alpine Lake in Idaho is one of our favorite hikes in the Redfish Lake area. You won't want to miss out on the beautiful views and challenging aspects of this trek!
For more ways to explore Central Idaho, request access to our free Adventure Guide. It's full of the best outdoor activities in our area!
Get the Adventure Guide
Hiking From Redfish Lake to Alpine Lake in Idaho
Trail Details
The hike to Alpine Lake in Idaho begins at our sister property—the Redfish Lake Lodge. Drive your car to the Redfish Day Use parking lots located near Redfish Lake Lodge. If you would like to avoid finding your own parking, please contact the Triangle C front desk to schedule a free shuttle ride to and from the property. Once you arrive, take the boat shuttle across the lake to the Redfish Inlet Trailhead, where you will begin your 11-mile journey on this out and back trail. Roundtrip boat rides are $19.00, and one-way trips are $14.00. 
Follow the Redfish Inlet Trail as it follows Redfish Lake Creek past the peaks of Grand Mogul and Elephant's Perch. Early in the season, when there is plenty of runoff from melting snow, you'll need to hop over and between small drainage creeks flowing down the mountainside. When you reach a fork in the trail called Flat Rock Junction, take a right. This is where the hike to Alpine Lake starts to become difficult. A series of switchbacks leading up the side of a mountain pose a moderate challenge, albeit an enjoyable one. Once you reach the trail flattens out, you'll find yourself on the edge of Alpine Lake! Soak in the beautiful views from the base of Packrat Peak, enjoy a quick snack, and then head back down the trail towards Redfish Lake!
Difficulty Level
The hike to Alpine Lake in Idaho is moderately difficult. While a good portion of the trek runs through a valley, once you turn right at Flat Rock Junction, it gets a little tricky. However, the well-maintained switchbacks and clear trails make for a safe journey without any major challenges. Between hopping creeks and steep ascents, you'll get a great workout hiking this trail. But it's worth it for the beautiful views!
Other Redfish Lake Hiking Trails
There are more than a handful of hikes aside from Alpine Lake in Idaho. Fishhook Creek Trail, Bench Lakes Trail, and Cramer Lake Trail are all easy to moderate journeys that you can easily access from the Redfish Lake Lodge. Of course, if you want to test out your climbing skills or book a Sawtooth Mountain Guides trip, Mountain Heyburn and Thompson Peak boast some of the best scenic views over the lake. Check out our hiking blog for more exciting details on some of our favorite hikes in the area!
Plan Your Central Idaho Excursion
Your Sawtooth Mountain adventure starts at Triangle C Cabins! Our collection of 10 cabins offers a unique rustic experience with the comforts of home. The property is within walking distance of the restaurants in Stanley and is only a short bus ride from the activities and dining of Redfish Lake Lodge! You can even enhance your stay with one of our Adventure Bundles!
Start planning your getaway today by booking one of our cabins! We look forward to welcoming you to the Redfish family.
References