Treasure Falls is a 100ft waterfall located off Wolf Creek Pass just outside of Pagosa Springs, Colorado. This family friendly hike can be accessed year round but is most popular during summer months. The trail to the waterfall is mostly packed dirt and a hike that can be done in under an hour.  
Treasure Falls Quick Facts
Virtual Trail Guide: Treasure Falls
Treasure Falls Hike Rating: ★★★★★ (4/5 Stars)
Distance: .86 Miles RT (includes all overlooks)
Elevation Start: 8,147 ft
Highest Point: 8,341 ft
Total Elevation Gain: 185 ft
Estimated Time to Complete: Under an Hour RT
Difficulty: Easy – How do I Grade my Hikes? 
Class: Class 1 – What does this mean? 
Season: Year round (Expect snow October – May)
Check the Weather Forecast
Directions to Treasure Falls
Trailhead: Treasure Falls
Getting Here: 
From Pagosa Springs
Take US 160 for 15 miles towards Wolf Creek Pass. The trailhead will be on your right. 
From Points East
Take US 160 to South Fork and continue on towards Wolf Creek Pass. Once you reach the summit, continue for 8 miles to reach the trailhead on your left. 
You can enter Treasure Falls Observation Site into your favorite navigational device.
Fees: None
Parking: The parking lot for this hike is located right next to the TH with additional parking across the highway. In the winter, the parking area can sometimes not be plowed so you will have to get creative with your parking spots. The trailhead does not have a bathroom. 
Read more The Most Breathtaking Late Summer and Fall Hikes near Sunriver
Summary
Camping: This hike does not offer any great camping options. 
Dogs: The hike is dog friendly and a great place to take a dog year round. Please remember to pick up after your dog. 
Trail X Factors: Without a doubt, the biggest X factor is when you decide to tackle this waterfall hike. During the winter, crowds will be lower but of course, the waterfall will be frozen. During spring and summer months, the waterfall will be melting out or completely ice free but expect much larger crowds. If you do plan on visiting during peak season (summer) and want to avoid crowds, get an early start or hike during the evening. 
Hike Tip(s): During the hike, you will first pass by an overlook junction. I would avoid this side trail as it offers very mediocre views. To be honest with you, the views will be better driving up Wolf Creek Pass than this small overlook on the trail. 
Best Views: On the hike the best views are at the two overlook points underneath and next to the waterfall. Regardless of time of year, this is beautiful sight to see. 
Treasure Falls Hike Route
Gear Needed
Mickey's Mountain Kit
Optional: Camera
Optional: Microspikes (during the winter months)
Optional: Snowshoes (during the winter months)
Our Trip to Treasure Falls: December 2019
Our hike to the falls was a short but scenic hike on the way home from my first Ironman. I would easily revisit this hike if we were looking for a spot to stretch our (or the dog's) legs during any time of year.
Read more Top 50 Best Hikes in Washington State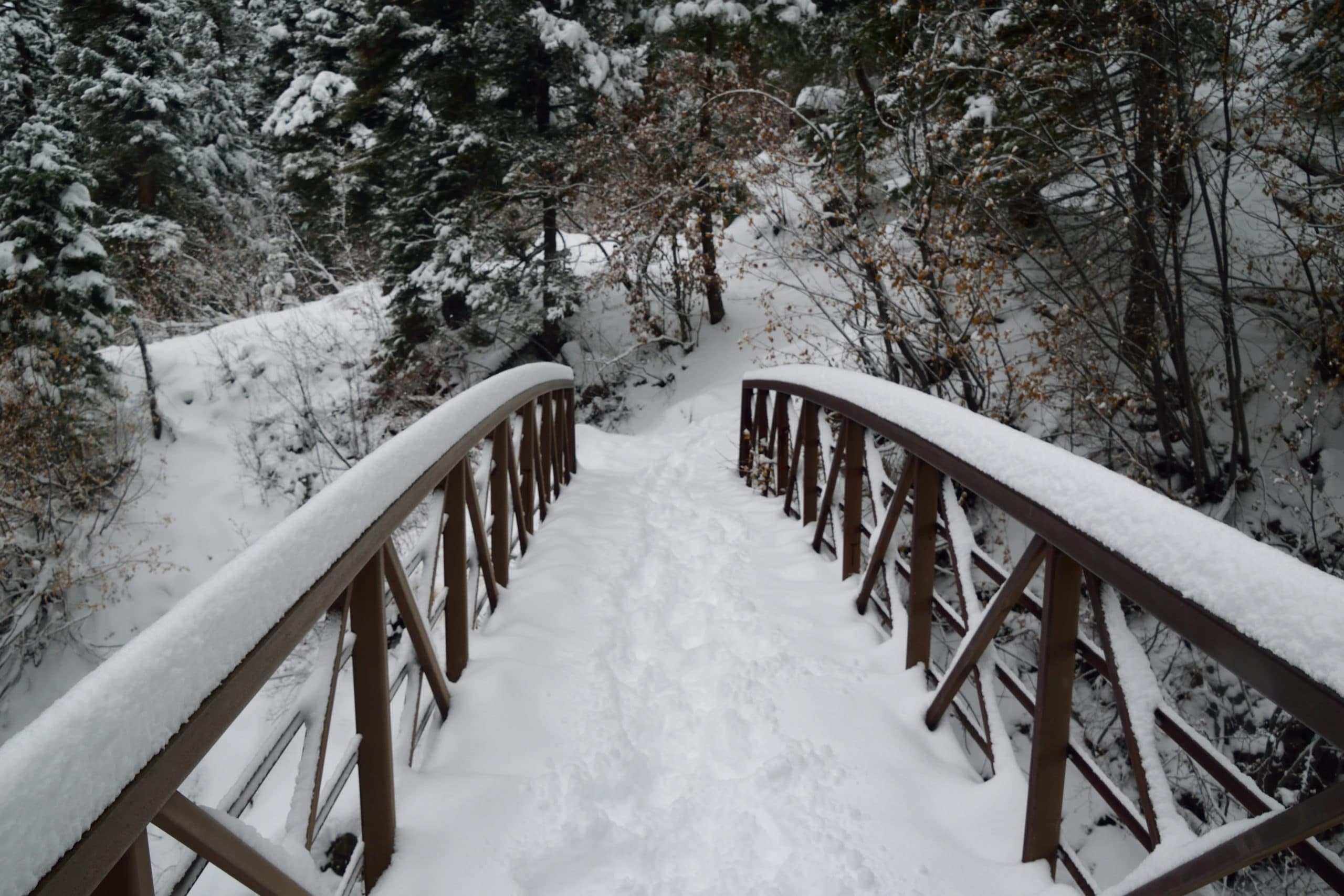 Treasure Falls Virtual Trail Guide
References