It took me six years of living in Calgary to do the Tunnel Mountain hike in Banff. Now that I've done it I wonder why it took so long. This short must-do hike delivers a workout if you go fast enough, panoramic views of Banff and the valley including the Fairmont Banff Springs Hotel from above and red chair moments on the summit. And you can do the Tunnel Mountain hike in spring, summer, fall or winter.
Tunnel Mountain hike summary
If you only do one hike in Banff, I think it should be Tunnel Mountain as it's short but delivers great scenery and its ideal for understanding the layout of Banff and the Bow Valley.
It's a 4.8 km return hike from the lower trailhead on St. Julien Road – with 260 metres of elevation gain. I'd rate it as easy to moderate depending on how much you hike – and if there is a lot of snow on the trail.
It's a great year-round hike. I love it best in winter when the view from the top showcases the mountains draped in snow.
Leashed dogs are allowed on the trail.
Allow about 2 hours to do the return hike. The trail is well graded with switchbacks that give you lots of different views.
Even though the Tunnel Mountain hike is a popular one, I'd still recommend taking bear spray. You can rent bear spray in Banff at Snowtips-Bactrax, Ultimate Sports, Radventures and the SkiBig3 Adventure Hub.
You do need a National Park pass to visit Banff – and it must be prominently displayed on your car's windshield. 
You can walk to the start of the Tunnel Mountain hike from downtown Banff. It's about a kilometre one way.
Check Banff trail reports before you go. 
Finding the trailhead for the Tunnel Mountain hike
In theory you can easily access the trailhead on foot from downtown Banff (add extra hiking time of about 15 minutes each way) but you can also drive to a large parking lot. To get there take Banff Avenue to Wolf Street and go east until you reach the end of the road. Turn right onto Grizzly and then almost an immediate left onto St. Julien Road. Follow it to the Tunnel Mountain Trailhead – lower parking area.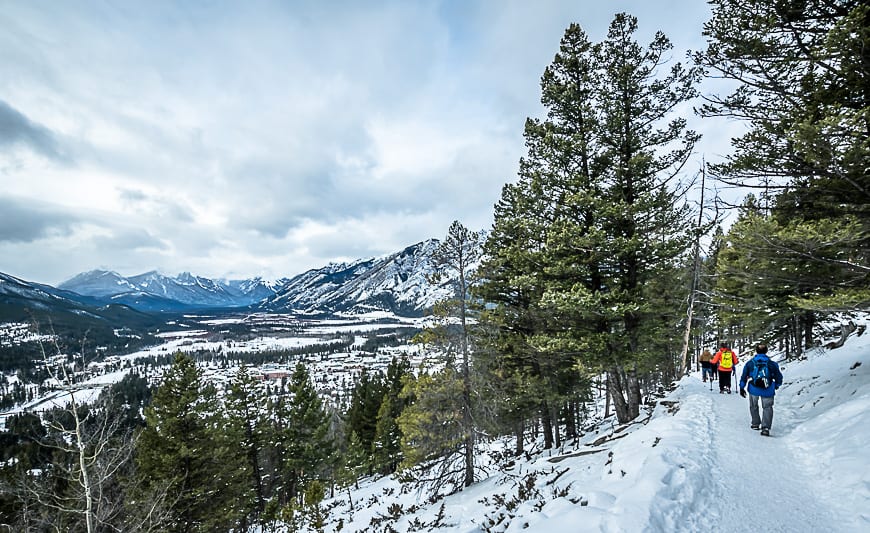 This post includes some affiliate links. If you make a qualifying purchase through one of these links, I may receive a small percentage of the sale at no extra cost to you. Thank you for your support.
Tunnel Mountain hike details
The Tunnel Mountain hike is a popular year round hike with both locals and visitors alike. The trail is only 2.4 km one way with a total elevation gain of 260 m (853 feet). The first 0.5 km switchbacks up a trail from the lower parking lot to a signed trailhead on Tunnel Mountain Road. This part of the road is closed in winter – but there is the option of adding to your hike by walking up or down it.
As you can see in the photo below the grade of the trail is moderate and it's certainly family friendly.
Once you reach tree line the views unfold. Looking west over Banff you can see the Mt. Norquay ski area along with the walking/biking/snowshoeing trails through the marsh and along the Bow River.
Climb a little more and you get a glorious view of the Fairmont Banff Springs Hotel along with the skating rink – not pictured. A few minutes later the views of Mt. Rundle unfold – along with the valley looking east towards Canmore. On a bluebird day this would be an incredible place to be.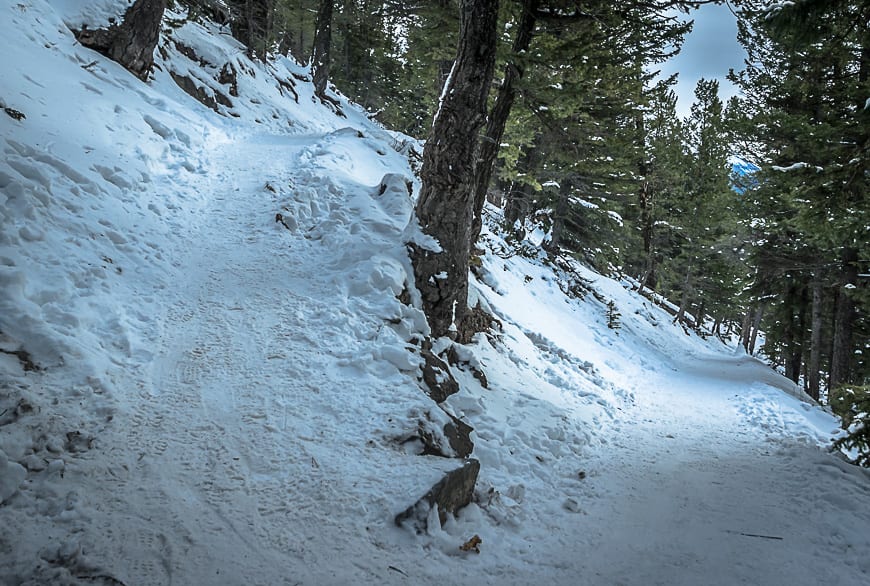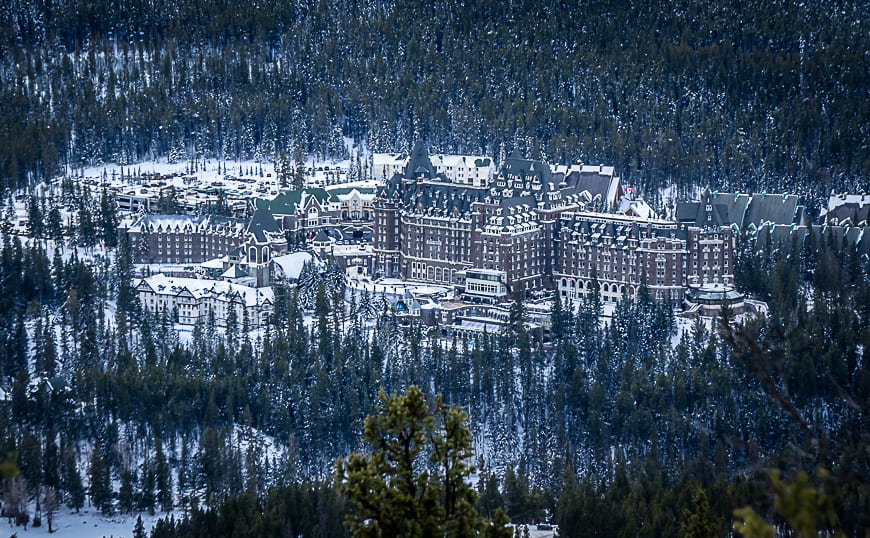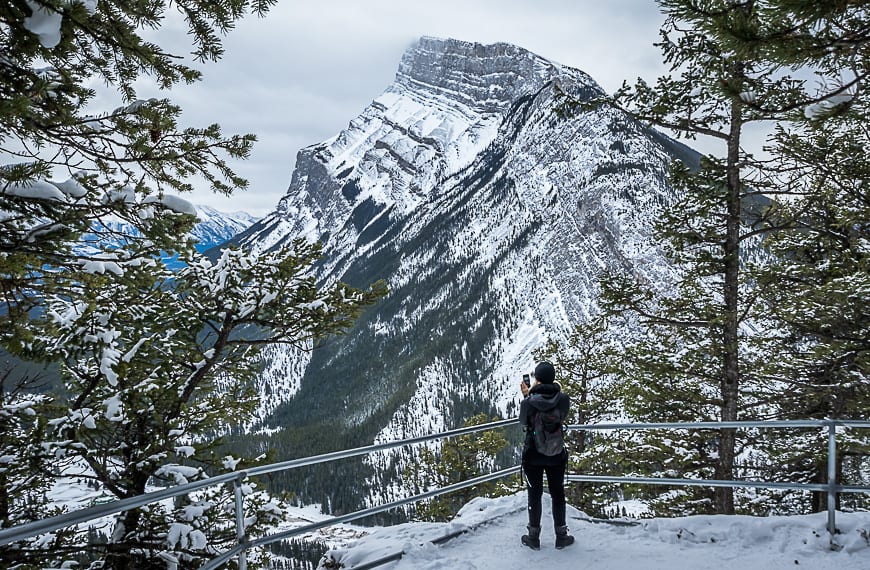 Red chairs on the summit
On the summit (elevation 1,690 m/5,543 feet) you'll find some of Parks Canada's red chairs. Sit back and enjoy the panorama – at least on a warm day.
This young couple are learning about the endangered limber pine – a relative of the whitebark pine. According to the sign "the population is in serious decline due to the effects of white pine blister rust (a fungus that attacks the tree) along with reduced wildfire and climate change."
From there you can loop around the summit – sticking to trails to prevent erosion. On the east side there was noticeably more snow on the trees, a veritable winter wonderland.
The descent can be speedy especially if it's icy. Consider bringing some icers or microspikes if it hasn't snowed in a while. I always carry a pair in my pack in winter, just in case I run into ice.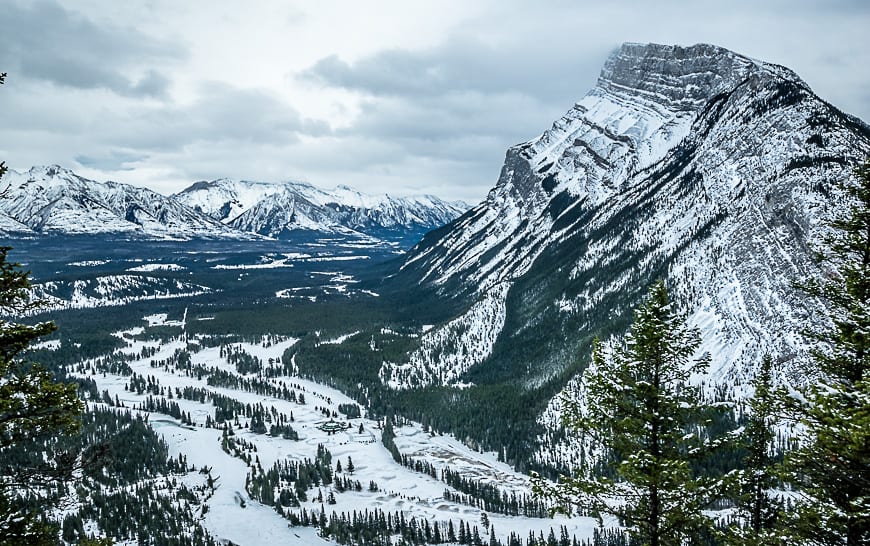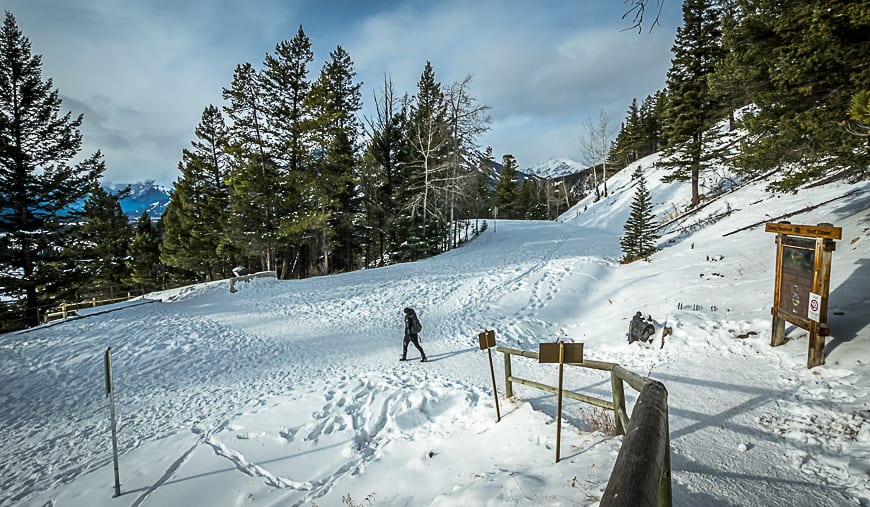 Tunnel Mountain hiking record
One of the signs you'll come across on the hike describes the accomplishment of Banff resident, Anne Ness. Reportedly she climbed Tunnel Mountain more than 8,000 times over 40 years. Sometimes she'd do it twice in a day!
History of Tunnel Mountain
Originally called Sleeping Buffalo Mountain by the Stoney Nakoda people because its shape resembles a buffalo sleeping on its side, its name since 1882 has been Tunnel Mountain. (There is some talk about changing the name back to a traditional name.)
The Canadian Pacific Railway proposed blasting a route through the mountain and while that never happened the name Tunnel Mountain stuck.
I recommend every visitor hike to the summit of Tunnel Mountain, not only for the experience but to get the lay of the land from above. All the Banff landmarks can be seen and you'll have a better visual map.
Further reading on hikes in the Banff area
For up to date information visit the Banff National Park website.
Best Winter Hikes in Banff & Nearby
The Aylmer Lookout Hike in Banff National Park
The Castle Mountain Lookout Hike
The Taylor Lake Hike in Banff National Park
What to take on the hike
Use a dose of common sense and take water, a protein bar or two and extra clothes or rain gear if the weather looks cold or bad. It's not a long hike but you should still go prepared. If it's winter the one thing that will make the walking easier if there is any ice is a pair of trail crampons or microspikes. You might also find a pair of hiking poles helpful on an icy day.
Where to stay in Banff
The following are suggestions across all price points.
The Fairmont Banff Springs Hotel is always a beautiful place to stay – even if it's on the pricey side.
I'd suggest The Mount Royal Hotel if you want to be in the thick of things. Also they have an outdoor hot tub on an upper floor with a great view.
The Buffalo Mountain Lodge never fails to impress. Enjoy an outdoor hot tub and a great onsite restaurant. Free bikes for guest's use are available in summer.
On the hotel strip I like the Moose Hotel. If you're traveling in a group or as a family then the cheerful and relatively new Canalta Hotel is a superb choice. 
For a hostel experience check out Samesun Banff.
Location map of the Tunnel Mountain hike       
Click on the photo to bookmark to your Pinterest board.
---
— Update: 10-03-2023 — cohaitungchi.com found an additional article Summit A Mountain Right In The Town Of Banff On The Tunnel Mountain Hike from the website banffandbeyond.com for the keyword tunnel mountain banff hike.
The Tunnel Mountain Trail is a short hike that can be easily accessed from downtown Banff. The well-graded switchbacks make the ascent up the mountain something that most reasonably fit people can accomplish. With the exception of a few steeper spots the majority of the trail gently climbs to the summit. Although it is the smallest mountain in Banff, Tunnel Mountain offers spectacular views of the valley and panoramas over the town of Banff.
Read more 10 Best Hikes In Israel You Shouldn't Miss (Epic!)
Views of the Banff Springs golf course and Mount Rundle from the Tunnel Mountain summit.
The trail immediately starts uphill on long switchbacks. As it continues to traverse up the mountain there are glimpses of the town. The trail will start to narrow, but still remains easy to walk along.
Once you get up above the treeline you start to get views of the surrounding mountains and the town of Banff.
There's the top of Mount Rundle!
A peek of the Banff Springs Hotel through the trees.

The summit is sparsely forested. Just to the west of it there is an area of limestone slabs that overlook the town of Banff, the Vermillion Lakes and down the Bow Valley.
Wildflowers along the Tunnel Mountain hiking trail.
Gnarly old trees at the top of Tunnel Mountain.

From the summit the trail doubles back and runs above the east facing cliffs. From here you can see the Banff Springs golf course situated along the Bow River and the slopes of majestic Mount Rundle.

The Banff Springs 27 hole championship golf course winds along the Bow River and sits in the beauty of the snow-capped peaks of Sulphur Mountain and Mount Rundle. Canada's master golf course architect Stanley Thompson designed the original 18 holes in 1928, an additional 9 holes were added in 1989.

If you follow the trail further down the east side of the summit there is an open grassy meadow that will take approximately 5 to 10 minutes to reach.

This is a great spot to sit and have a picnic while enjoying the views.
We spotted these names in the rock that were carved over 50 years ago. You can clearly see the name Bonnie and the year 1966, but the other name is hard to make out. It could be Donald or Gerald? I wonder if they were just visitors or perhaps they lived and worked here.
Tunnel Mountain Has No Tunnel
The original name given by the local natives was Sleeping Buffalo Mountain, which it apparently looks like when viewed from certain directions. The name Tunnel Mountain was given in 1882 when a proposed route for the CPR (Canadian Pacific Railway) was to be blasted through. An alternate route costing much less money was put around the mountain, but the name Tunnel Mountain remained.
The Tunnel Mountain Trail Is Accessible Year Round
The fact that this is a popular and busy trail is a bonus in the winter months. There is usually enough traffic to keep the snow compacted and easy to walk on. Snow shoes are only required if there has been a fresh snowfall. Before heading up in the winter, early spring or late fall you should check the current trail conditions. If there is ice present on the trails it can be very slippery, therefore it is recommended that you wear ice cleats on your footwear.
Trail Information And Hiking Tips
Elevation Gain: 300 meters (948 feet)
Time: 2 to 3 hours round trip
Distance: 4.3 km (2.7 miles) round-trip
At higher elevations you can dehydrate quicker, carry water. You may find yourself out of breath more than normal, stop for breaks as needed.
Check the weather before hand and know that it can change quickly in the mountains. Carry an extra layer of clothing and a rain coat if necessary.
Wear day hiking shoes.
The trail can get crowded in the summer and early fall months. Beat the crowds by hiking early in the morning or in the late afternoon. (make sure you have enough time to get back down before dark)
Trailhead Directions And Access
Lower Trail Head: On foot it's an easy walk from downtown Banff. From Banff Avenue head east on Wolf Street until you come to a T intersection, turn right on Grizzly Street and stay left as it splits to St. Julien Road. Continue on for a few hundred meters past Wolverine St. A parking lot will be on your left where a sign marks the trail head. It climbs through the forest up to the Tunnel Mountain viewpoint parking. Cross the street and continue on the upper trail head.
Upper Trail Head: The trail head is on the opposite side of the road from the Tunnel Mountain viewpoint parking area. You can park here to shorten the hike slightly. In the busy season it is best to use the lower parking area on St. Julien Road. The small upper parking area is meant for people to stop and take in the viewpoint while driving on Tunnel Mountain Road.
---
— Update: 11-03-2023 — cohaitungchi.com found an additional article How to Hike Tunnel Mountain Near the Town of Banff from the website thebanffblog.com for the keyword tunnel mountain banff hike.
The Tunnel Mountain hike in Banff is arguably one of the best Banff hikes, and it's a classic! It's beloved by locals for its accessibility, and you can hike it year-round.
Tunnel Mountain is just 1,684 meters above sea level with 266 meters of elevation gain; it's much smaller than most other mountains in the area. You'll notice this the most as you look up to Mount Rundle almost the entire hike.
It may be one of the smallest mountains in Banff National Park, but it still offers tremendous views of the surrounding valleys and the town of Banff.
The hike moves slowly up the mountain through several switchbacks and offers various viewpoints out into the Bow and Spray Valleys. It's great for sunrise or sunset, and it rarely disappoints. It's just one of those things you need to do in Banff.
---
Tunnel Mountain Hike
---
Key Points for Hiking Tunnel Mountain
---
Tunnel Mountain Hike Location
The Tunnel Mountain trailhead is easy to find. You can see the pin here for the Lower Parking Area and here for the upper parking area.
Because Tunnel Mountain is so close to Downtown Banff you can easily walk to the start of the trailhead; you can also take the Roam Transit, or drive.
Walk: If you don't have a car, it's best to walk to Tunnel Mountain. From the center of town to the Tunnel Mountain trail is a little over 1km.
Drive: There are two areas to park a vehicle, though the lower parking area has more space. It takes about 3 minutes to drive to the start of the trailhead from Downtown Banff.
Bus: Roam Transit Route 2 will take you to Tunnel Mountain.
---
Tunnel Mountain Route Description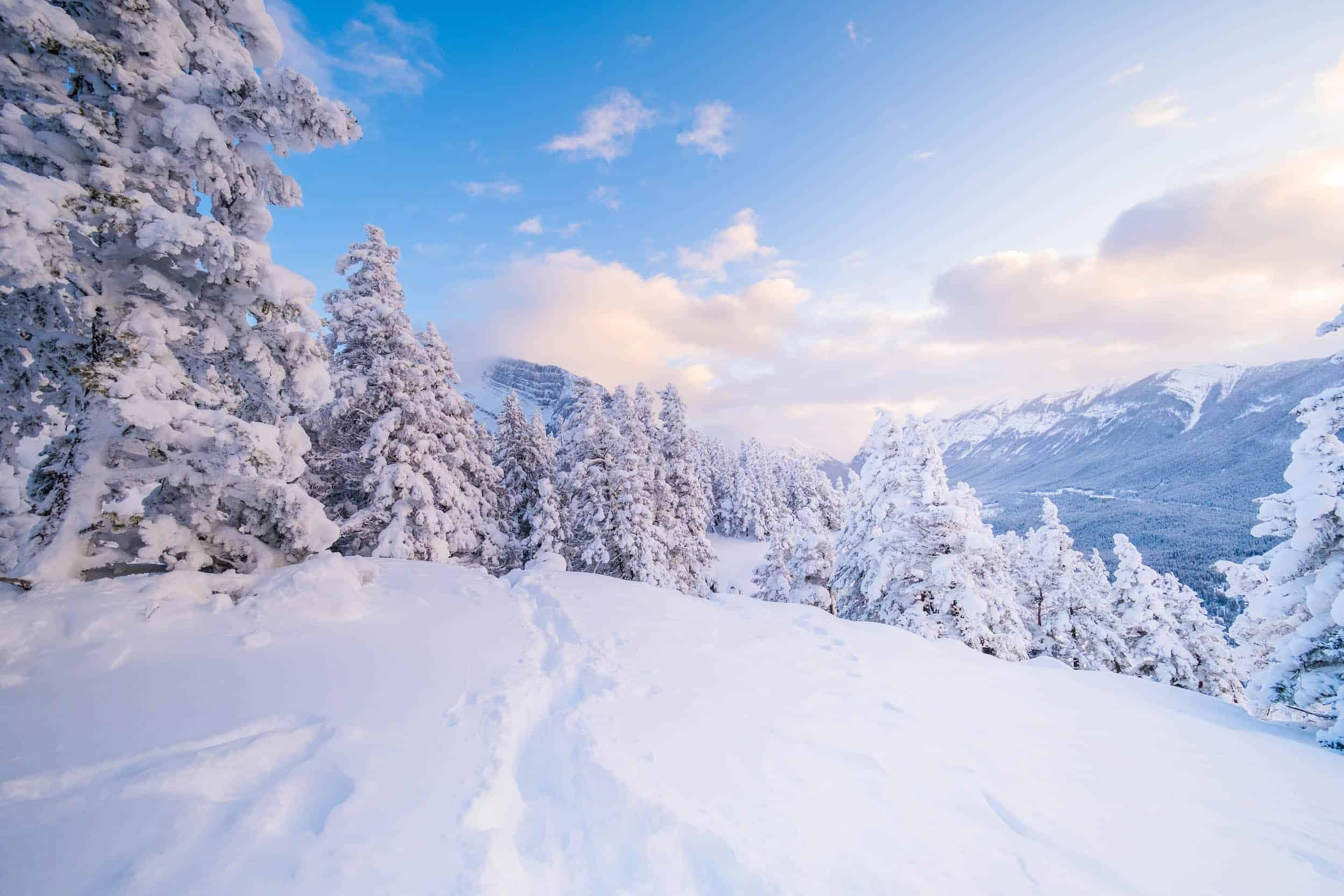 There are many start points for the hike up Tunnel Mountain, including from the center of town. Other start points begin from three separate parking lots designated for the hike. It's a pretty straightforward route that follows a series of well-graded switchbacks.
Tunnel Mountain is pretty easy for anyone of reasonable fitness and makes for a great morning or evening hike from the town. Most of the trail moves through the forest and provides several viewpoints over the Bow River, Banff Springs Hotel, Banff Town, Banff Springs Golf Course, Mount Rundle, and the Bow Valley.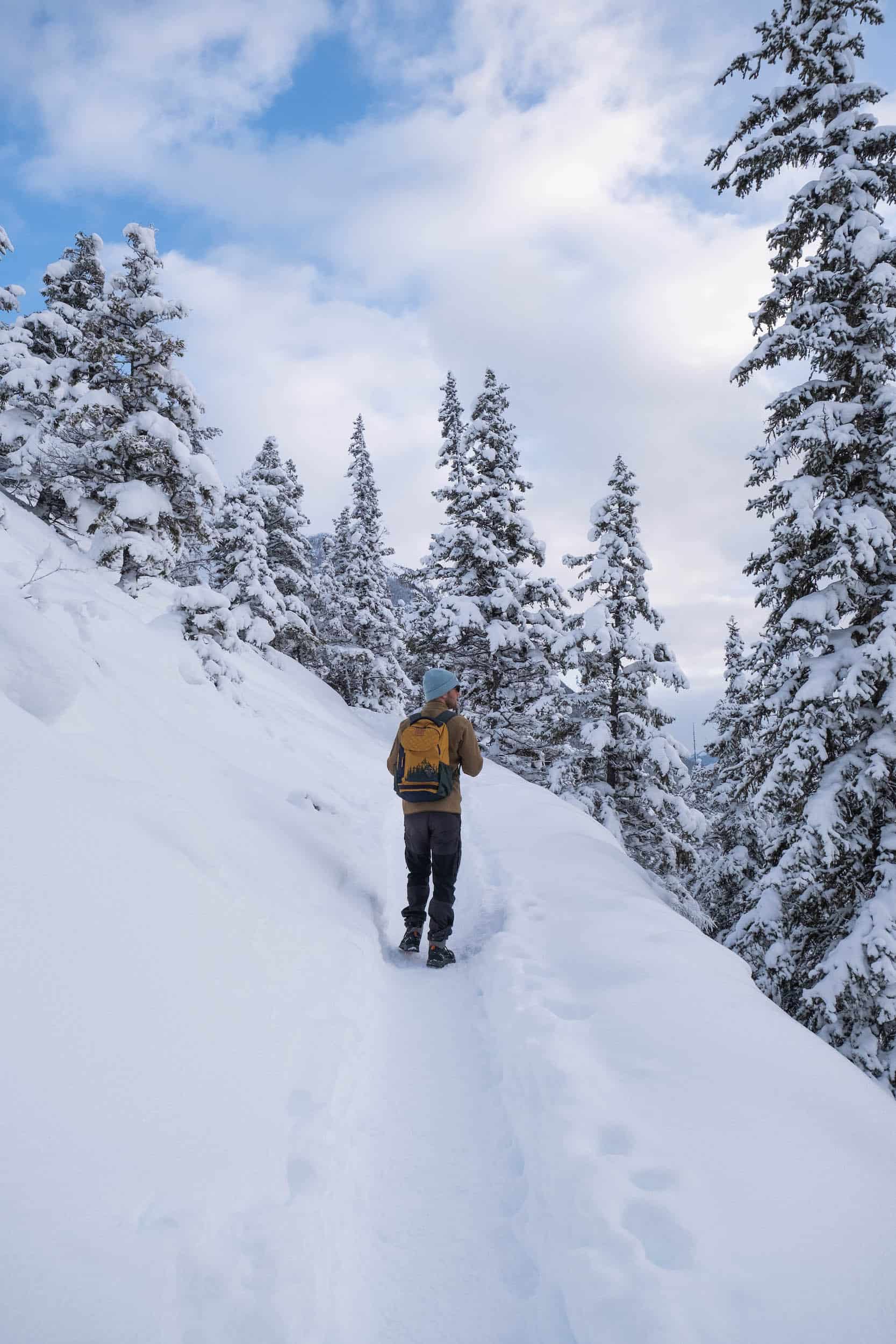 It may be the smallest mountain in Banff, but it's still a mountain and has a few steep sections to climb on the way to the summit. The trail starts uphill on long switchbacks with the occasional glimpse of the town and Banff Springs Hotel. As it climbs in elevation, the trail does narrow but remains easy to walk along.
Towards the summit, many prominent viewpoints overlook several limestone cliffs famous for rock climbers in the park. Do take care not to knock anything from the top on unsuspecting climbers down below.
From these viewpoints, you get some tremendous views of Mount Rundle. Viewpoints make for an excellent spot for photographers looking for early morning or evening light as it's a safe trail to climb in the dark with a headlamp. There are railings to protect hikers from falling to certain death; please don't hop these for a photo.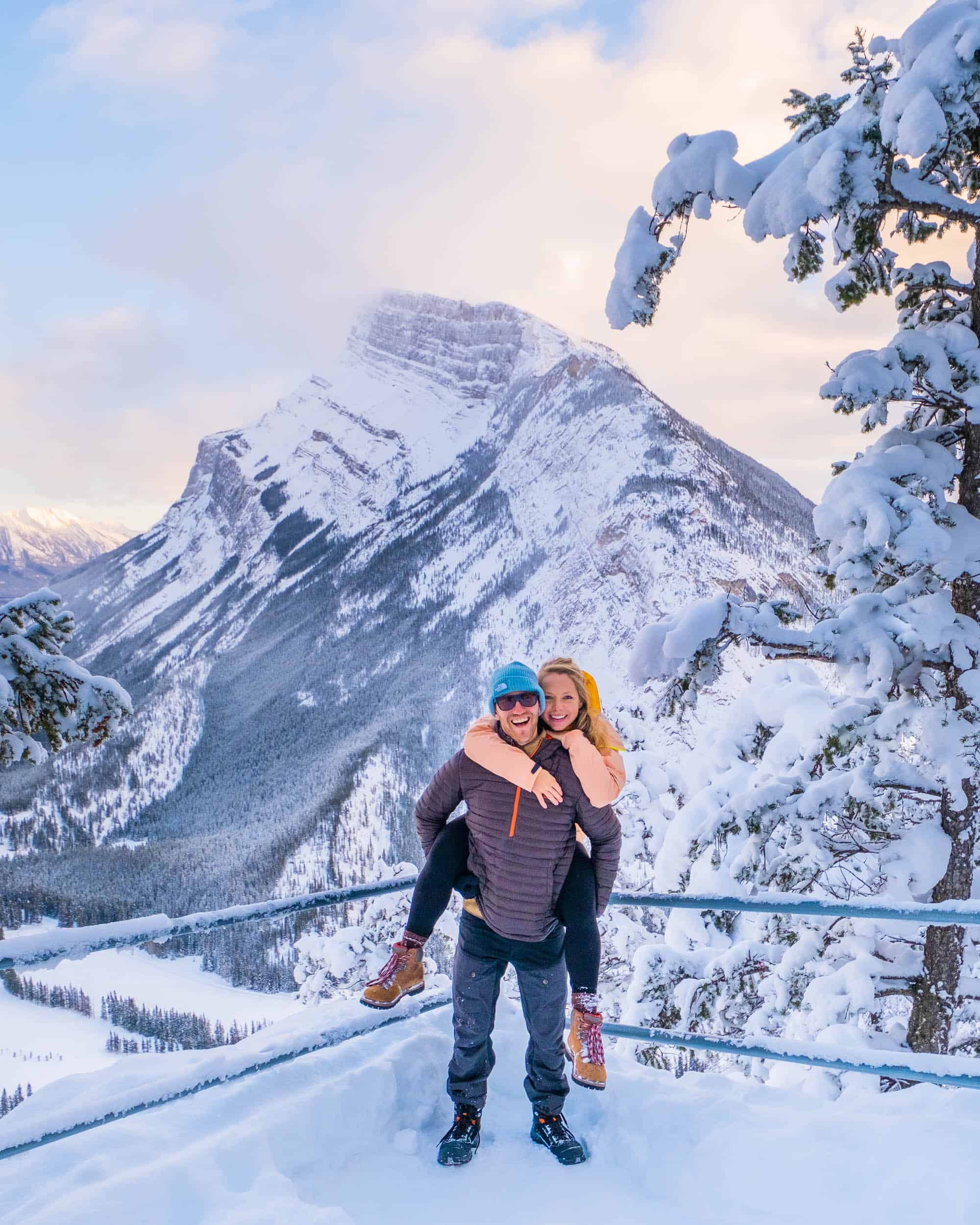 Tunnel Mountain's summit is only a few hundred meters past these viewpoints, where you can find several small meadows and more views back towards town. In the distance, you can see Vermilion Lakes, Sulphur Mountain, Mount Bourgeau, and the ever-present Cascade Mountain to the North of town.
Read more 30 Best St. Louis Hikes (To Explore Nature For All Hiking Levels)
---
Hiking Gear We Recommend
---
Tunnel Mountain Has No Tunnel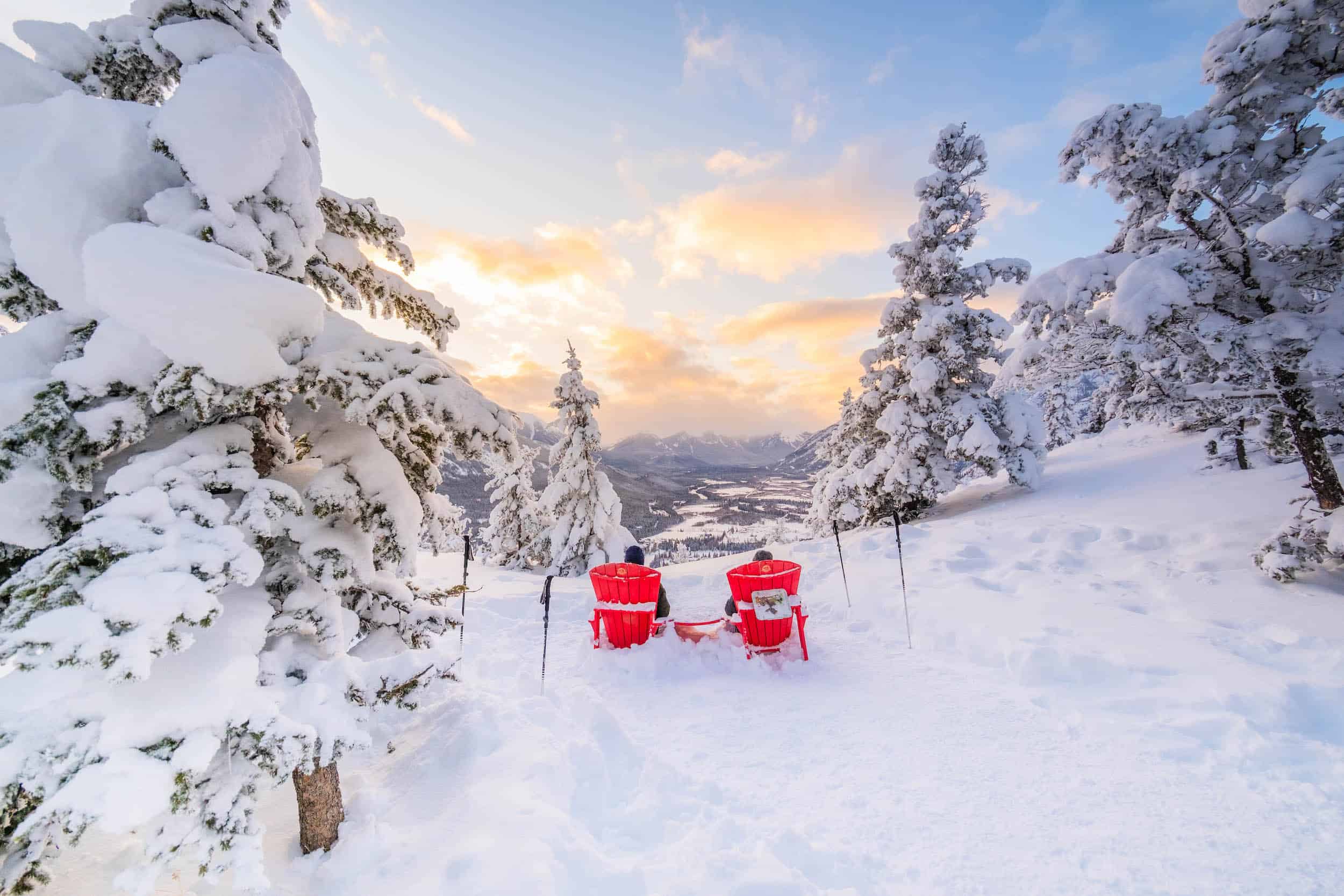 If you want to hike Tunnel Mountain and expect a tunnel, you may be disappointed. The mountain's original name was Sleeping Buffalo, given by the natives as it has a similar appearance from a distance.
However, the name Tunnel Mountain was given in 1882 when the Canadian Pacific Railway put forward plans to blast a tunnel through the mountain. However, the plans were never set, and they chose the more cost-effective route around the mountain.
---
When Can You Hike Tunnel Mountain?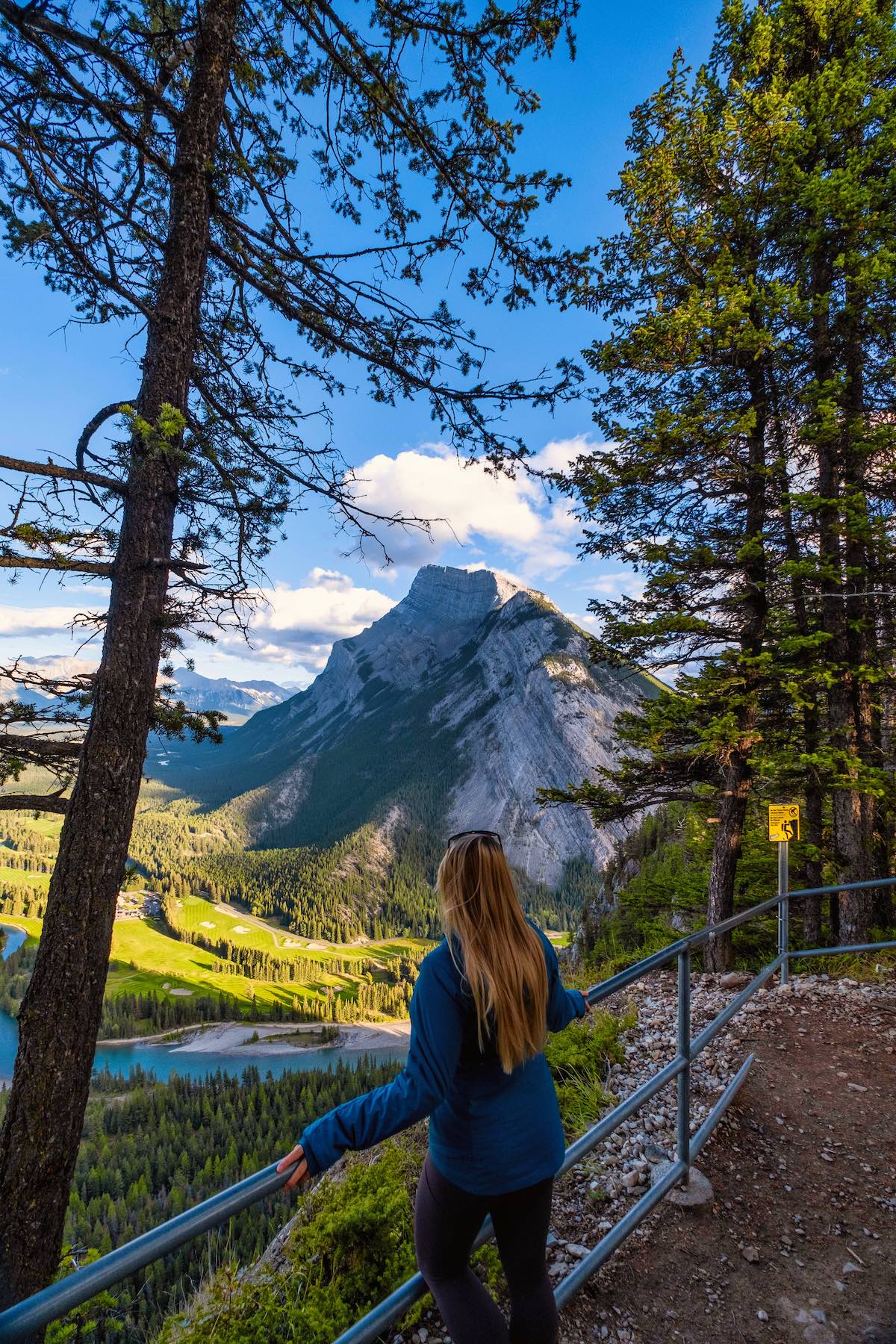 The Tunnel Mountain trail is good all year round, and we've made the hike in both the winter and the summer. We actually prefer the trail in the winter months as it's very popular in the summer months. Unless it's a very fresh snowfall, the trail has enough traffic to keep the snow compacted and easy to walk on and is a family friendly hike to enjoy.
Keep in mind that the trail can get icy in the early mornings during springtime as the snow melts and refreezes, so it helps to have microspikes. You can even rent microspikes at several shops in town like the Banff Adventure Center, and it can really help on other trails around Banff during this time (looking at you Johnston Canyon).
---
How Long Does it Take To Hike Tunnel Mountain Banff?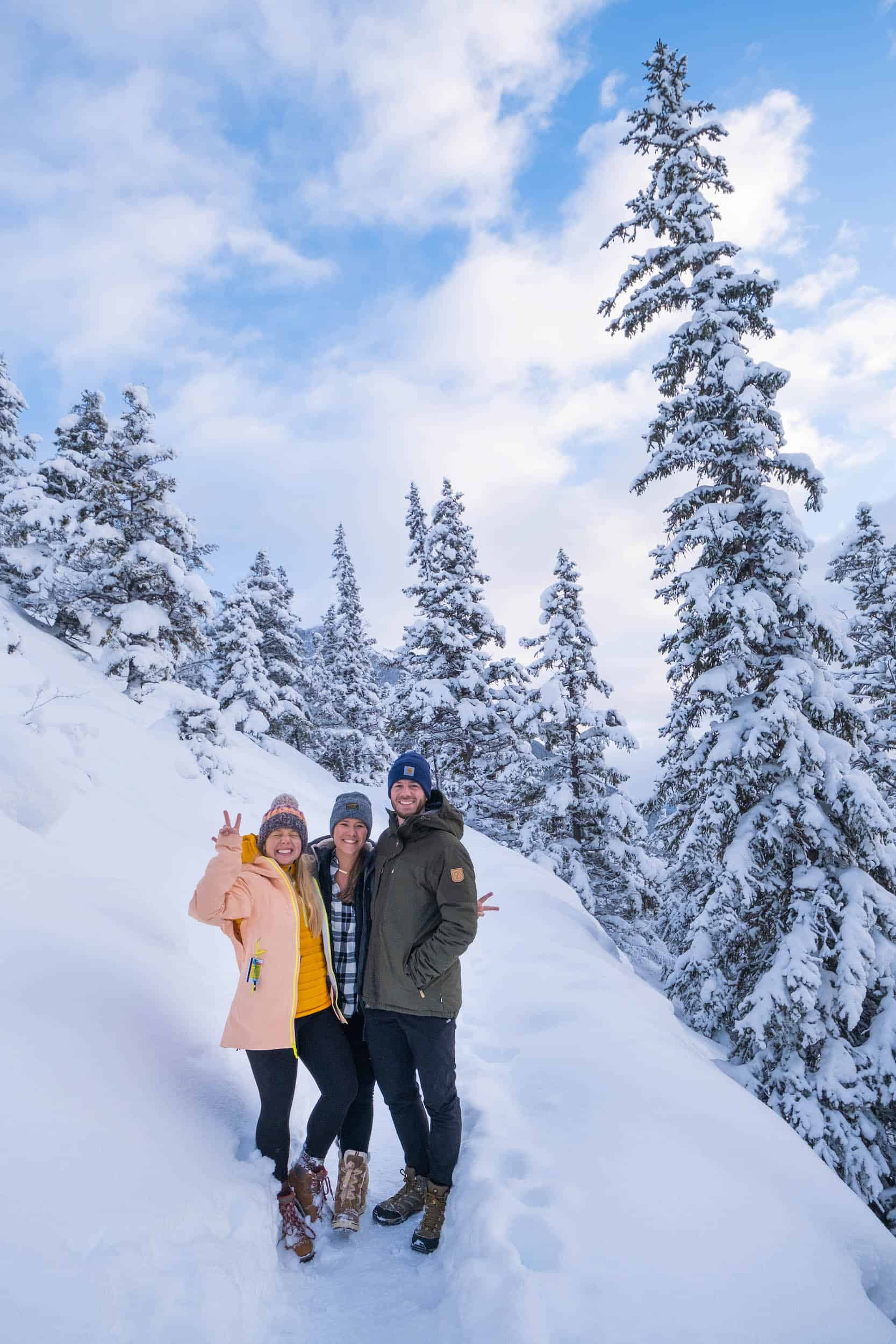 The trail length is pretty subjective due to its accessibility to a wide range of fitness levels. In general, I'd say it will take between one to three hours to complete the hike.
However, the hike is great for a jog in the early morning or late evening and can be completed in around thirty minutes or less. We completed it in 45 minutes on our last hike at an easy constant pace.
---
How Hard is the Tunnel Mountain Hike?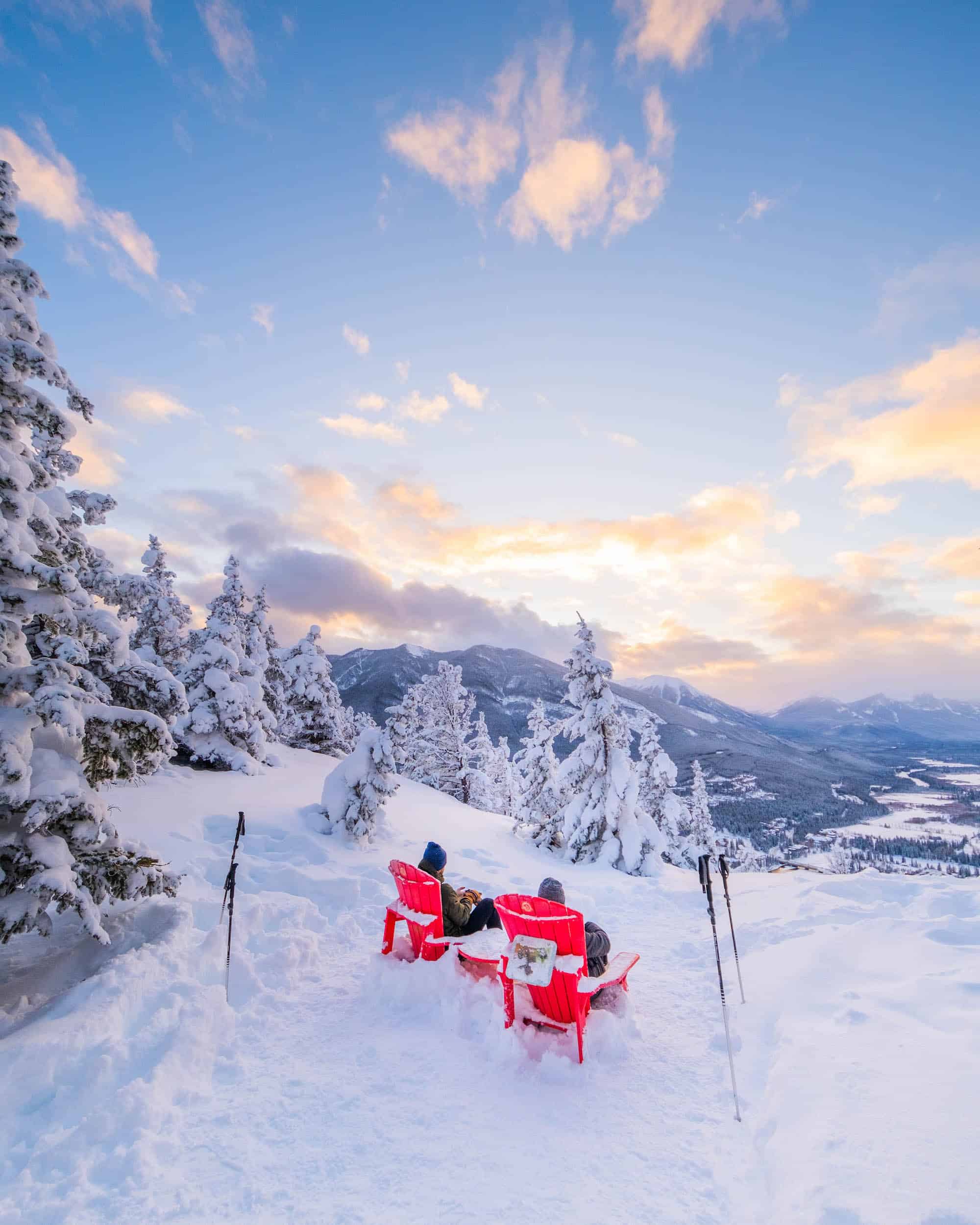 It's an easy hike but not the easiest in Banff as it does have 266m in elevation gain. If you're seeking something more simple, try the trails around one of the lakes, such as Lake Louise, Moraine Lake, or Lake Minnewanka. Other simple hikes include Johnston Canyon, Grassi Lakes, and the Bow River loop in town.
If you are looking for a step up in difficulty, try hiking the Sulphur Mountain trail. For a big step up, you can consider summiting Mount Bourgeau.
---
How Busy is the Tunnel Mountain Hike?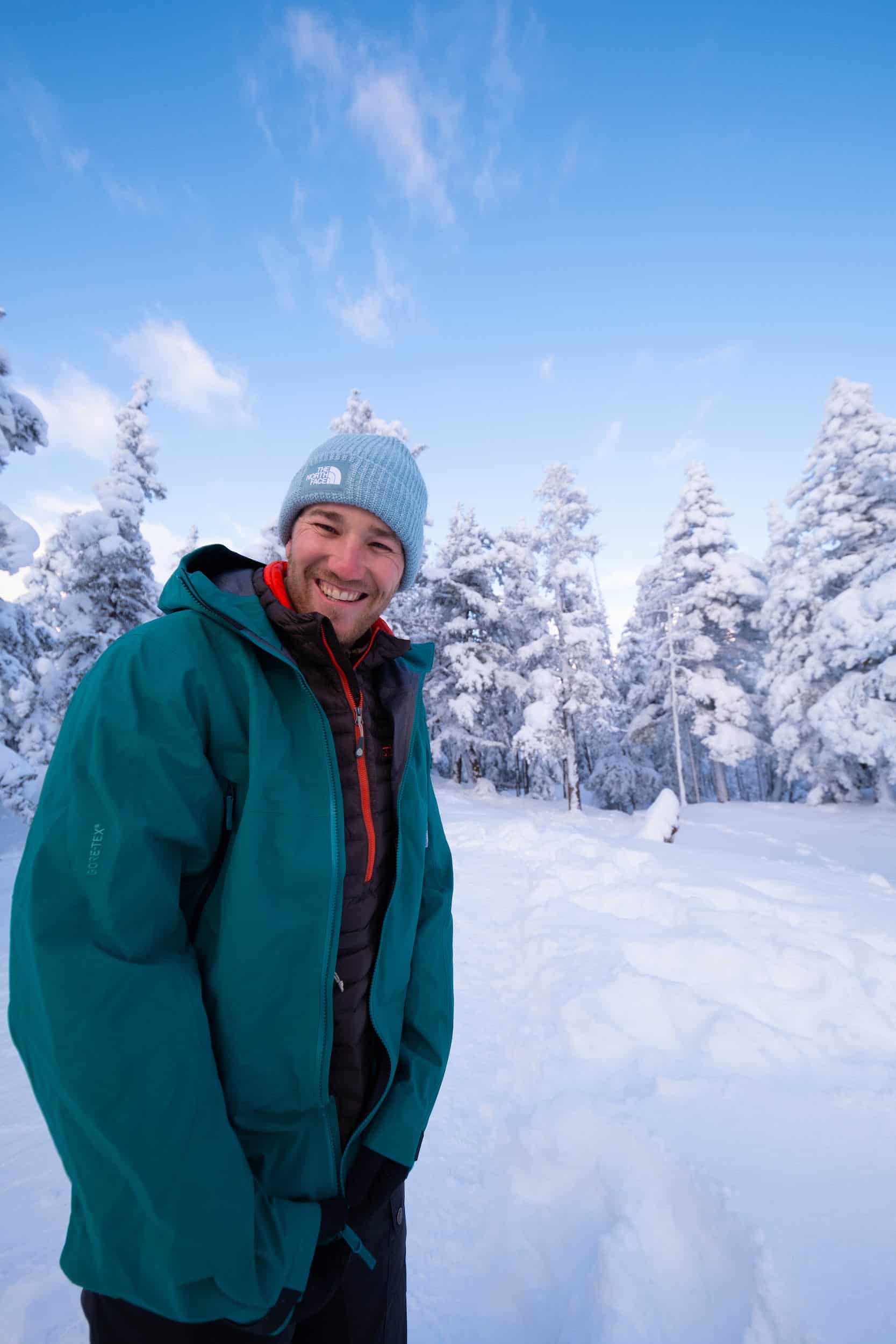 AllTrails rates this as a heavily trafficked trail, and it is very popular. The Tunnel Mountain trail is considered one of the easier Banff hikes and it's walkable from Downtown Banff, meaning you don't have to have a car to access it. Unless you're on the trail around sunrise, you will likely pass people frequently on the trail.
Don't come here expecting to be alone. Your best bet at having a crowd-free experience is coming mid-week at either sunrise or sunset. One of our last climbs up Tunnel Mountain was on Christmas Eve, and we still passed a few people on the trail.
---
Are There Toilets on the Tunnel Mountain Trail?
We usually don't note toilets on Canadian Rockies trails, as most don't have any facilities, and the best thing to do is duck behind a tree. However, considering this is a family friendly, easy hike, many might expect restrooms. Unfortunately there are none, and because of the popularity of Tunnel Mountain, it's challenging to break away from the trail to squat behind a bush. We recommend going before you set out on your adventure.
---
Should I Bring Dogs or Kids on Tunnel Mountain?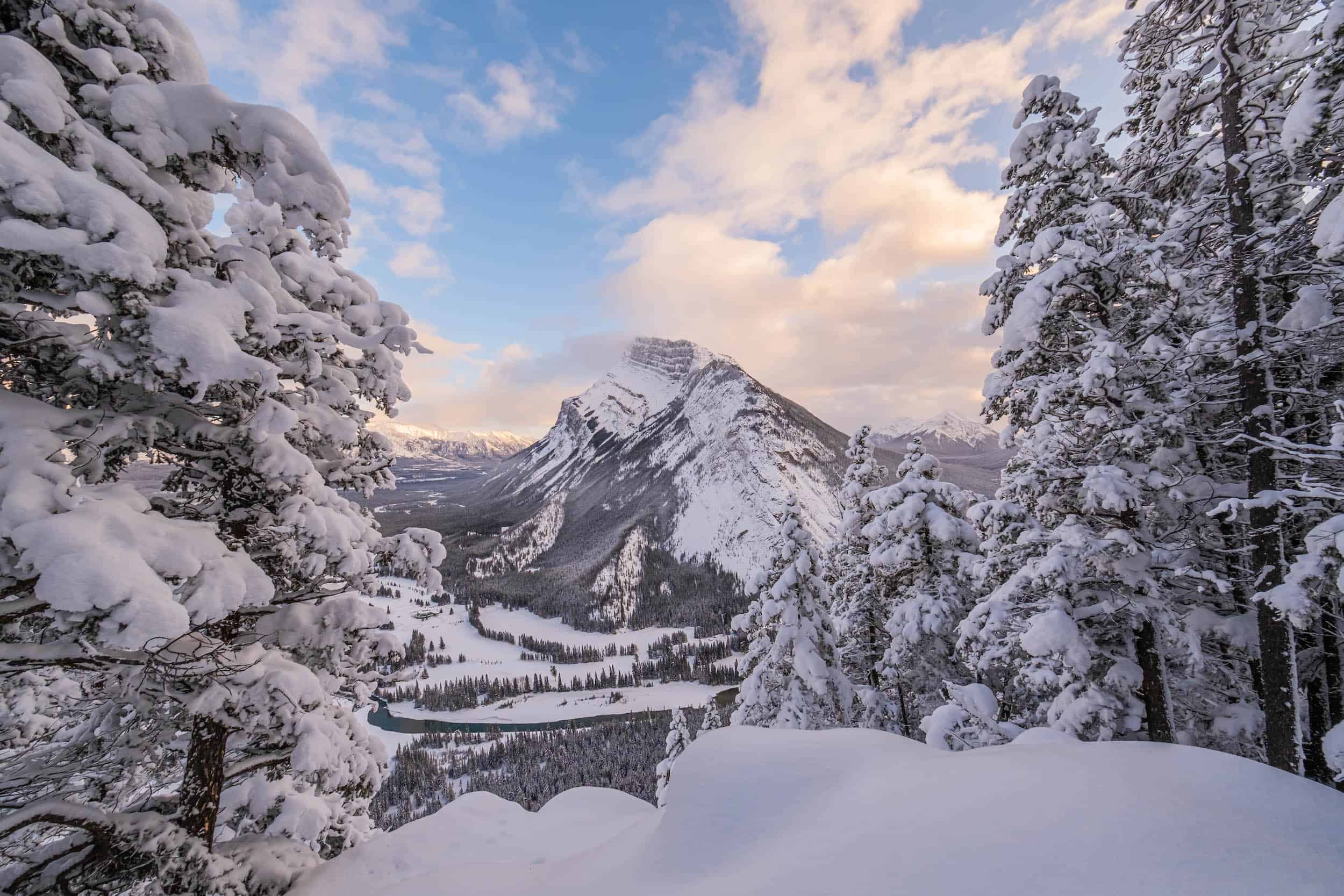 The Tunnel Mountain hike is totally appropriate for dogs. In fact, it may be one of the best in the park. Although you're just outside of town, it's still bear country, so keep your dog on a leash and carry bear spray. The Bow Valley wolf pack and cougars have even been spotted around Tunnel Mountain.
We'd say all kids should be okay for the hike up to Tunnel Mountain. Of course, every kid is different. It's an hour of sustained walking uphill, so there shouldn't be any issues if you think they're up for it.
---
Can I Bring a Stroller on the Tunnel Mountain Trail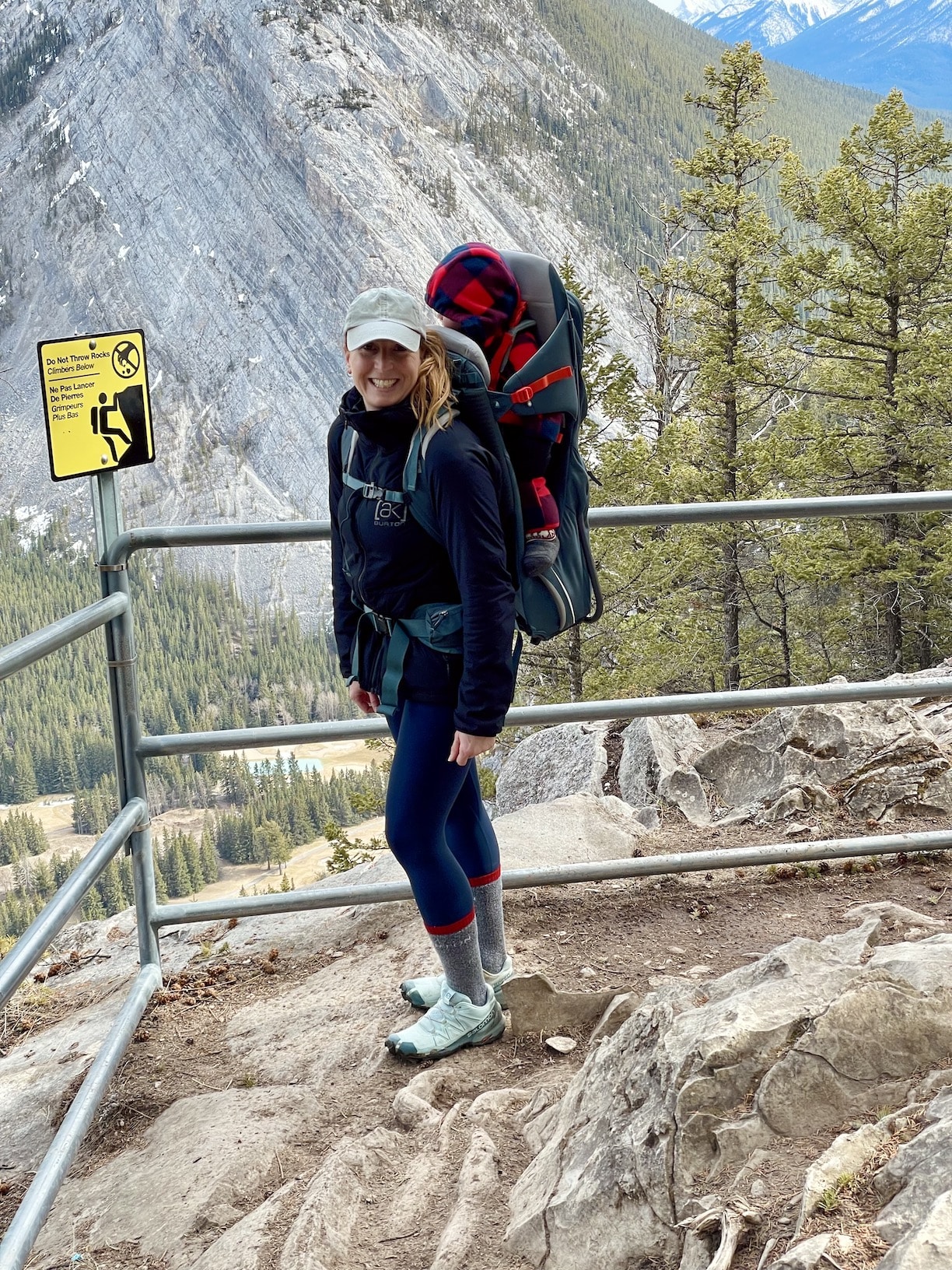 We would advise against bringing a stroller up Tunnel Mountain as the trail is a bit rugged. Instead, it's best to hike with a baby backpack carrier.
---
Wildlife Awareness on Tunnel Mountain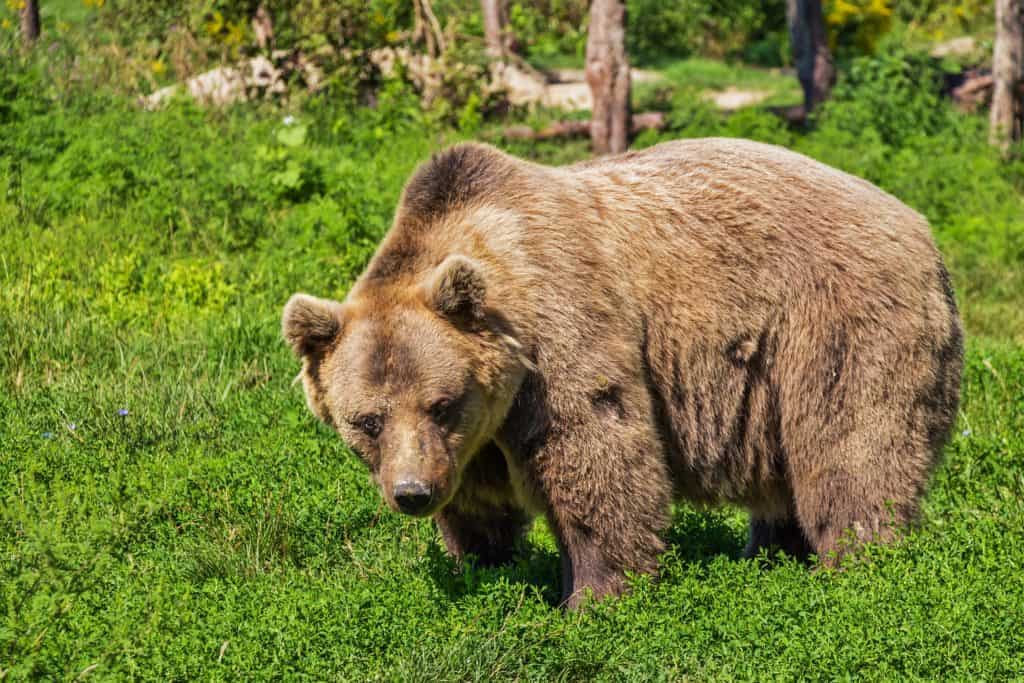 You should practice proper wildlife awareness if you're on any hikes in Banff National Park. There are frequent sightings of black bears, grizzly bears, moose, coyotes, and cougars in the region. They are all a potential threat to humans, and we should reduce our impact on their natural lives.
Before any hike or walk-in Banff, you need to have bear spray. Remember that the bear spray is worthless if it's in your pack, you'll need to be able to grab this in two seconds or less in an emergency. We wear our bear sprays on our hips.
The likeliness of seeing wildlife on the Tunnel Mountain trail is low. It is a heavily trafficked trail, but bear sightings have occurred. The meadow and valley is prime grizzly habitat, and the trail has been closed in the past due to bear activity.
Always check the park websites for wildlife information (Parks Canada) and then check again for notices at the trailhead. 
As always while hiking, stay alert, travel in a group if possible, mind children and pets, and finally carry bear spray and know how to use it. If you've come to the park without bear spray, Valhalla Pure Outfitters in Canmore and Atmosphere Banff sells spray and holders with employees who will demonstrate how to use them properly. 
12 Bear Safety Tips • How To Hike In Bear Country
---
Advice on All Hikes in Banff
If this is your first time hiking in the Rockies, take a conservative approach. Pick an adequate hike for your fitness, plan for plenty of time, pack water and food, and don't be afraid to turn around.
For long hikes, set a turn around time at the departure. Any time we set out for an objective I determine a time at which we need to turn around in order to arrive at the parking lot or campsite by dark. I would recommend not hiking in the dark as it's easy to get lost and it's not fun in bear country.
On that note, always carry bear spray if you plan to hike in the park. We carry ours in the neighborhood and bears have been known to stroll through town and busy parking lots. Always practice wildlife awareness when you're on a trail, and please give animals space.
In regards to times keep in mind your mountain fitness — it's different than gym fitness. The low end of the times in this post is a constant fast pace uphill with little to no breaks and a brisk pace downhill. Most hikers should plan for a middle of the road time with the estimated duration.
---
What to Wear on a Hike in the Rockies?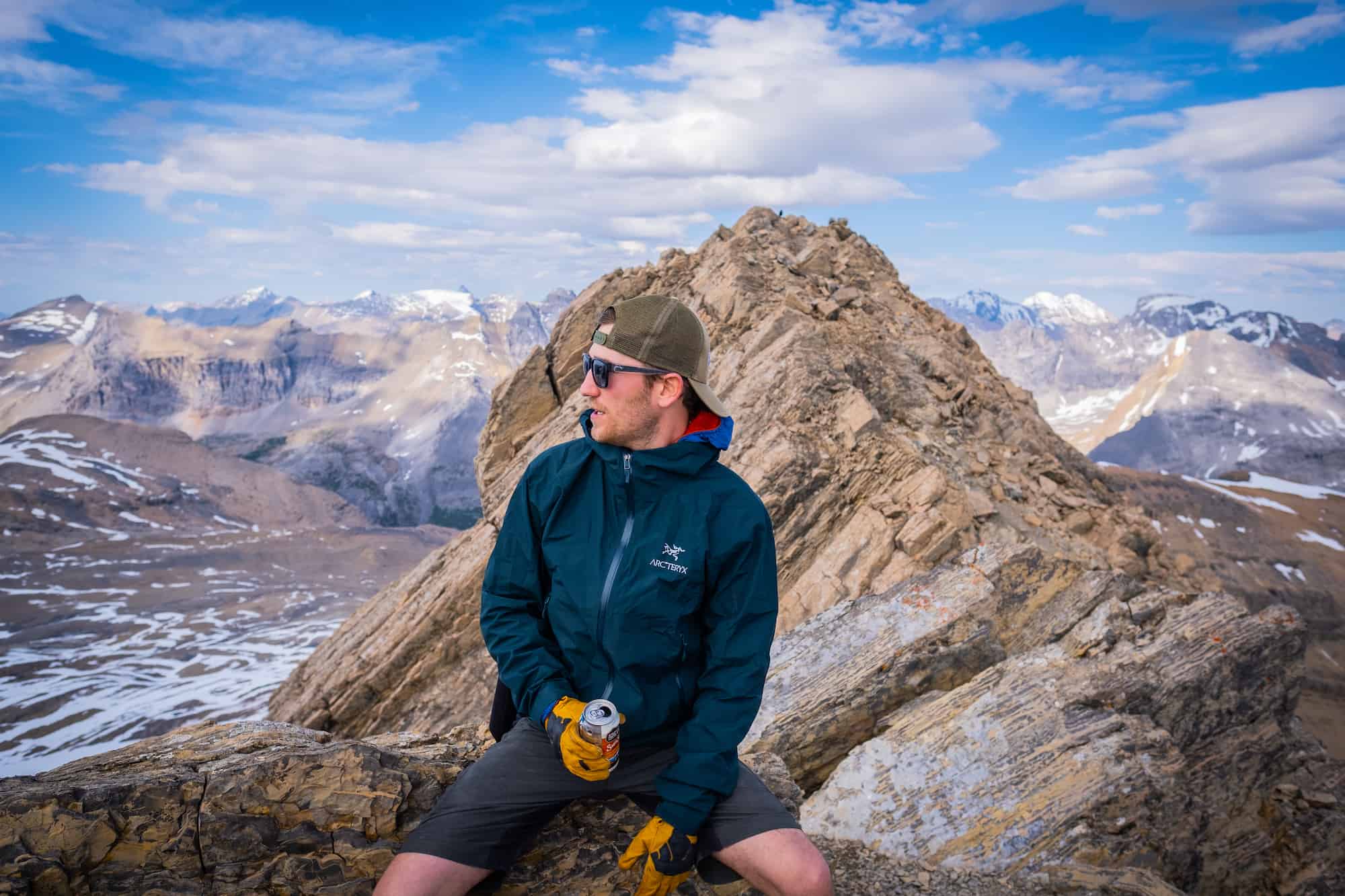 The most basic principle of what to wear hiking is layering. Anyone that has spent time in the wilderness or mountains can speak to the fact your temperature can fluctuate a lot on a hike. You can easily start off cool at the mountain base and get hot as soon as you begin moving.
The goal of hiking clothing is to help regulate your body temperature, element protection, and moisture management. Temperature management is best done through a layering system. If you want to learn more about what to pack for a day hike or what to wear on a hike, you can see our full post! 
---
---
---
— Update: 11-03-2023 — cohaitungchi.com found an additional article The Tunnel Mountain Hike in Banff Town from the website stingynomads.com for the keyword tunnel mountain banff hike.
The Tunnel Mountain hike is an excellent walk of easy to medium difficulty that can be hiked from downtown Banff. This is a perfect activity for families. Tunnel mountain is Banff's smallest peak to summit with an elevation gain of about 300m, some moderate switchbacks lead up the mountain.
At the summit there are two red Parks Canada chairs, that is great for a break and makes nice photos sitting looking at the great view.
Tunnel Mountain has no tunnel, the Canadian Pacific Railway had plans to blast a tunnel through the mountain in the 1800s. The tunnel was never built, but the name stuck. The mountain is also known as 'Sleeping Buffalo', since that is what it resembles. Seen from a distance the mountain is shaped like a sleeping buffalo. From the summit of Tunnel mountain there are nice views of the surrounding Spray and Bow river valleys.
Read more Hiking to Gorman Falls at Colorado Bend State Park (Texas)
Tunnel Mountain Hike Details
Distance – Distance 4.8 km (2.8 miles) return hike from the trail head.
Walking time –The return hike takes 1.5 to 2 hours depending on fitness.
Total ascent/descent – 270 meters (885 feet)
Difficulty. Easy to Moderate.
Trailhead. Tunnel Parking Lot
This is a fairy easy hike close to Banff town center, suitable to do with kids. It is not a flat hike, you do climb a mountain, with about 300m increase in altitude. See our Guide to Hiking in Banff National Park for a range of hikes from easy flat trails to more challenging routes.
Getting to Tunnel Mountain Trailhead
There are three options to get to Sthe Tunnel Mountain trailhead from downtown Banff; drive, take a public bus or walk.
Walk – The trailhead is very close to the center of downtown (1km) so you can easily start hiking in town.
Drive – There are two parking areas at the trailhead, an upper and lower parking area, they are less than 5 minutes drive from Downtown Banff.
Bus – Take the Roam Transit Route 2 bus from downtown to Tunnel Mountain.
The Tunnel Mountain Trail Description
The Tunnel mountain trail is a busy trail that is easy to follow and it is a relatively safe route to hike alone because there are so many other hikers. A variety of animals including; black bears, wolves and cougars are sometimes seen on the mountain (rarely), so for safety it is recommended to carry bear spray and a bell and keep it somewhere where you have easy access.
 The Tunnel Mountain trail is well marked and heads up the eastern slope of the mountain with moderate switchbacks all the way to the top of Tunnel Mountain. The trail starts in the forest but there are some nice views of the town from break in the trees on the trail. On the way enjoy views of the Banff Springs Hotel and Bow Valley. Closer to the summit there are some nice viewpoints with excellent views of Mount Rundle. From the summit there good views of surrounding mountains including Sulphur Mountain and Cascade mountain.
At the summit there are 2 red chairs placed by Parks Canada, the Tunnel Mountain Red Chairs. 11 Red chairs were placed throughout the national parks, including the Banff red chairs as a way to get people to to connect with their surroundings.
Best Time to Hike Tunnel Mountain
The Tunnel Mountain trail can be hiked all year round. The trail gets very busy in summer. It is possible to hike here in winter, but ice cleats are recommended when the trail can be frozen and very slippery. Since this is a very popular trail I would recommend you start hiking early in the day to avoid heavy traffic.
Hiking in Banff National Park
Banff National Park is Canada's oldest national park, with more than 1,600 kilometers (1,000 miles) of well marked and maintained hiking routes it is a dream location for hiking enthusiasts. See our guide to hiking in Banff National Park.
Most trails in the park are easily accessible from 2 different towns, both located inside the national park, the Town of Banff and the village of Lake Louise 57 km apart by road. The Regional Service is a quick and cheap bus service that runs 5 times per day between Banff and Lake Louise for $6. 
Banff Town is surrounded by plenty of easy accessible hikes of varying difficulty. Easy low elevation strolls on boardwalks next to the river to more strenuous full day hikes through beautiful alpine passes in the Rocky Mountains. There are plenty of easy hikes that start inside the town and you can also combine several trails. The Sulphur Mountain hiking trail is a popular 11 km hiking route around Banff town if you want a bit more of a challenge.
Packing to hike around Banff
Ice crampon/cleats  important for walking on ice on cold days (when the snow freezes).
My Garmin Fenix 5 GPS Watch a fantastic hiking tool; measuring speed, elevation, heart rate, mapping and more.
Hiking in the snow, waterproof gaiters  keep snow and mud out of your boots and keep your feet dry!
My Salomon X Ultra Prime gortex boots, great pair of boots, all seasons. Keeps mud, snow and rain out. Comfortable, light and completely waterproof.
Ladies model, Alya loves her Ladies Salomon X Ultra boots .
I always carry a light rain jackets in my daypack, the North Face for ladies or North Face Resolve for men
BUFF Multifunctional Headwear – for sun and wind protection (doubles as a face mask).
---
---
— Update: 18-03-2023 — cohaitungchi.com found an additional article The Tunnel Mountain Hike in Banff National Park from the website www.elitejetsetter.com for the keyword tunnel mountain banff hike.
The Tunnel Mountain Hike (..it's more of a walk, let's be honest)
The Tunnel Mountain Hike in Banff National Park is a 'must-do' if you're visiting the area. It's Banff's easiest hike by far, and is something that virtually anyone can do, in almost any weather, with very limited time. The best description I've seen is to describe it as "a pretty easy trail for anyone who is moderately able-bodied" – sounds about right.
It's a very popular exercise spot for locals, and back in high school, Louise had to run up it virtually every week for gym class. If you hate exercise and you're worried that it might be too difficult, all you have to remember is that it's so easy they teach it in high school.
Some people love it so much they walk up it every day. A Banff resident called Ann Ness famously hiked it over 8,000 times in her lifetime, so there must be something worth seeing up there!
The Details:
The hike is 4.8km round trip with 261m elevation (if you park at the lower parking lot by the Banff Centre on St. Julien Road). But if you're feeling particularly lazy you can skip the first part of the hike/elevation by parking at the upper trailhead on Tunnel Mountain Drive. In total, it should take you between 1 and 2 hours to complete the full Tunnel Mountain hike round trip.
The hike:
For virtually the entire hike you'll be hiking relatively short switchbacks. Don't worry though, they're over before you barely have a chance to break a sweat.
The Tunnel Mountain area is quite popular with wildlife and whenever we've done it we've usually seen a deer or an elk or two. The hike is a popular dog walking area, so if you bring your dog make sure to keep it on a leash!
The Views:
Once you've hiked all the way up Tunnel Mountain, you'll be treated with spectacular views of the town, the Fairmont, Sulphur Mountain and the Bow Valley on one side, and Rundle Mountain on the other. You're also directly above the Banff Springs golf course, which isn't really viewable from anywhere else (apart from Tunnel Mountain Drive). Look for the iconic Parks Canada red chairs for a nice place to rest at the top!
Why you should hike Tunnel Mountain
Honestly, Tunnel Mountain is the perfect place to go if you feel like having a leisurely jaunt in the outdoors but don't really have the urge to do anything too wild or adventurous. It's also perfect if you don't have access to transport and still want to go for a nice walk. It's particularly popular with many locals because you can step out your door and walk there without needing to drive.
As we mentioned, it's also very easy, so you can rest assured that any 'moderately abled' family members will be able to make it. When we did it a few weeks ago we'd just eaten an enormous breakfast at Ricky's and were still able to waddle all the way to the top without too much trouble.
The only caveat we would mention is that it does get particularly icy in the winter/spring. Tunnel Mountain's popularity means that any snow quickly turns to ice as it gets trodden in. If you plan to visit from October to April, you should be aware of this and consider bringing ice cleats.
Finally, Tunnel Mountain Road closes during the winter months, so the upper trailhead is only accessible once the snow melts.
Alternatives
The Tunnel Mountain hike is so popular because it's the quickest and easiest way to get a view of the town of Banff on foot. If you don't even feel like walking, then some alternatives would be the Sulphur Mountain gondola, the Norquay Chairlift or the Norquay road lookout.
Make sure you check it out!
Need to find a hotel?
Check out our "Ultimate Guide to Hotels in Banff and Lake Louise"
References