The final few weeks of pregnancy bring excitement and many changes as your body prepares for labor and delivery.
One of those important steps for your baby is when they move into position in your pelvis. When your baby drops closer to the birth canal, it is called engaged.
This article discusses what engaged means, when it happens, signs, and if you can help encourage engagement.
What Is Engaged?
During those final few appointments before you deliver, your healthcare provider will monitor your baby's position. Routine ultrasounds and physical exams help them check how your baby is moving into position for labor.
The engaged position is when your baby's head has moved into your pelvis. You may have heard this referred to as your baby dropping or "lightening."
Your healthcare provider may also refer to this as the station of the baby. The stages of station go from -5 to 0 to 5 and are defined as:
-5: This is the farthest location from the ischial spines of your pelvis.
0: This is the engaged position where the fetus's head is in line with the ischial spines.
5: At this position, your baby's head is crowning and is visible to your healthcare team.
If your baby is in the breech position, their butt and legs will be in the engaged position instead of their head. But even if your baby starts to drop while breech, they may still turn around before labor begins.
What It Means
Many people believe that when the baby engages, it's a sign that labor will start soon. However, the timing of when the baby drops changes from person to person. Even for the same person, their baby will likely engage at different times in each pregnancy.
The baby may start the process of engagement between two to four weeks before labor begins.
Some babies won't drop into the engaged position until labor begins, so if your baby hasn't engaged yet, it's no reason to worry. Many pregnant women deliver healthy babies without the head dropping before labor starts.
Signs
It won't always be easy to tell when your baby is engaging. It may feel like you wake up one day to a lower belly bump, but it's a gradual process that happens over time. You may, however, notice your baby dropping more if you are carrying high.
Signs your baby is engaged include:
Lower belly position: Some mothers notice their baby bump is lower and tilted slightly forward after the baby engages.
Easier breathing: As your baby drops, you may notice less pressure on your lungs and diaphragm, making it easier for you to take bigger breaths.
Increased urges to pee: With your baby in a lower position, you may feel more pressure on your bladder.
Less heartburn and indigestion: The pressure shifts lower, so you may notice less pressure on your stomach, making eating more comfortable and heartburn less frequent.
Discomfort walking: The increased pressure around your pelvis, joints, and muscles may feel slightly sorer. You may also feel like you are waddling more. 
Pelvic discomfort: That added pressure may make you feel a little more uncomfortable and in pain. The added pressure on your cervix could lead to feeling a sharp shooting pain in your pelvis.
Back pain: The whole area around your pelvis and lower back is affected by the position change. Thus, you may feel some extra soreness or pain in the muscles in your lower back as well.
Constipation: The increased pressure from the engaged position also impacts your intestine and bowel regularity. Some women report increased constipation toward the end of their pregnancy.
Hemorrhoids: The veins in your pelvis may also start to feel the added pressure from your baby in the engaged position. This may cause new hemorrhoids to appear or worsen existing ones.
Read more Getting A Rebond While Pregnant, Is It Safe?
Encouraging Engagement
If you're nearing your delivery date and the baby isn't engaged, you may be wondering if you can help them into position. Unfortunately, there is no evidence to show an effective way to help your baby engage.
Some things are just out of your control. If your baby hasn't engaged, you haven't done anything wrong. If you feel like doing something to try to engage your baby, anecdotal evidence suggests the following may help:
Walking
Squatting
Stretching
Pelvic tilts
Remember, there is no scientific evidence these methods will work. Talk with your healthcare provider about what activity is appropriate for you.  
Summary
When your baby drops closer to the birth canal, it is called engaged. This could be a sign that labor is near, so speak with your healthcare provider if you are experiencing symptoms.
A Word From Verywell
When your baby's head reaches the engaged position, they are in position for labor. They may move into position two to four weeks before labor. Still, sometimes the baby won't drop into the engaged position until labor begins.
Unfortunately, you have little control over when this happens. It's a process that happens naturally and gradually.
There is usually no reason to be concerned if your baby engages early or waits until right before delivery. Talk with your healthcare provider about any concerns you have. 
---
— Update: 03-01-2023 — cohaitungchi.com found an additional article What does it feel like when baby drops – 8 telling signs! from the website kiindred.co for the keyword what does it feel like when baby engages.
Now that you're in the final weeks of your third trimester, you might have had people asking you if your baby has dropped yet? Sounds like an odd thing to say, but don't worry the baby can't fall out. The baby drops when their head moves down lower into the pelvis and is getting into position ahead of the birth. 
Baby dropping is also often referred to as 'lightening' or being 'engaged' and often feels like a relief on some of your organs that have been under serious pressure from your growing belly. 
Baby dropping is a positive sign and can often (but not always) mean labour is near. But as with anything in pregnancy this will ultimately depend on both mum and baby, as everyone is different. Sorry to say labour could still be weeks away yet.
Your doctor or midwife should be able to tell you if your baby is dropped or engaged, however there are some signs you can look out for too.
When will my baby drop?
The baby can drop or become engaged anytime from a couple of weeks before birth, to a couple of hours. However some women never experience it at all. There is no exact week women experience the baby dropping, but typically it will be some time in the last few weeks before the baby arrives.
First-time mothers will often experience this sooner than women who have had babies before, as their body needs more time to adjust and prepare for the birth.
If your baby is breech you may not experience this but even if your baby is in position, you may not notice much of a change, if at all. 
What does it feel like when the baby drops?
Some women describe the feeling as an exact moment where they felt a release of pressure on their organs and a subsequent "heaviness" down below in their pelvic region. Whereas others will notice it as a more gradual easing. 
Often when the baby drops you might feel less pressure on your organs up high in the abdomen, but then more pressure down into your pelvis and bladder.
Some women say it feels like there is a watermelon or bowling ball between their legs and that the baby might just fall right out. But don't worry this won't happen (or would be extremely rare as you would have to miss all the subsequent signs of labour and contractions).
Get 10% off access to Mothercraft Nurse and baby whisperer – Chris Minogue
Use code 'EXPERT10 ' at checkout
So how far off is labour?
Again there is no exact measure or rule to say how far off labour might be. It will be different for every woman, some may drop hours before labour but some may still have weeks before they see any action. 
Read more Patricia (Patricia Pronunciations) Baby name meanings, origin and religion
Signs your baby has dropped:
When the baby drops lower into your pelvis it should release pressure on your diaphragm which might feel like a literal weight off your chest.
While you should feel less pressure up high in your abdomen, the pay off will be increased pressure down low. As your baby's head settles into the pelvis you will feel heavy and possibly uncomfortable between your legs. 
Some women just find this uncomfortable but not painful, however some women do experience severe discomfort or pain at this stage 
You've surely seen other pregnant women with the waddle, and wondered if/when you might get it? Well if you haven't already, once the baby drops chances are you'll be waddling about until the baby comes out.
As the cervix prepares for labour it will start thinning itself out, and with this involves ridding itself of the mucous plug. Some women will lose the mucus plug very noticeably, while others may experience it more as increased discharge.
More frequent trips to the toilet
Just when you thought you couldn't possibly go to the toilet any more, your baby drops and there you are. When baby drops they tend to put even more pressure on the bladder so you'll likely need to go more often than ever. Remember it won't be forever and your baby will be here very soon!
Increased pelvic pain can be a sign your baby has dropped, as there is more pressure on your organs than ever now. As your body prepares to give birth the hormone relaxin helps to soften and relax the muscles in that area so that baby can make it through the birth canal. So some mild pain and discomfort is common, but if you are worried always speak to your doctor.  
As with pelvic pain, you might notice more pain or discomfort in your lower back due to the increased pressure down low.
An obvious sign can be the appearance of your belly when you look at it side on. Some women will notice an obvious drop and change in the shape and appearance. 
Even though the feeling of the baby dropping can be a strange one, and can bring with it some new uncomfortable side-effects, remember this is your body doing what it needs to do to prepare for labour. However if you are concerned about the pain or discomfort or experience any bleeding or cramping, always call your doctor immediately. You will be holding your baby in your arms very soon! 
Related articles
How will I know when I'm actually in labour?
What are the best positions during labour?
10 good things that happen during labour and birth
---
— Update: 04-01-2023 — cohaitungchi.com found an additional article Baby's head Engaged: Symptoms, Meaning and What You Can Do from the website www.sitarambhartia.org for the keyword what does it feel like when baby engages.
Your baby's head starts to descend into the lower part of the uterus and further into the pelvis as your body prepares for labour. 'Baby dropping' or 'lightening' occurs when the baby's head moves into the pelvis. In simple terms we could say the baby's head has engaged.
"Medically speaking, the baby's head is considered engaged when the bi-parietal diameter (widest part) of the head enters the pelvis,"  says Dr. Anita Sabherwal Anand, Consultant Obstetrician-Gynecologist at Sitaram Bhartia Hospital in South Delhi.
"The baby's head may get engaged any time after 38 weeks. In most mothers, true engagement of the baby's head actually occurs in labour."
How do I know if my baby has dropped into my pelvis?
There are a few symptoms that your baby's head has engaged, but these may vary from mother to mother. 
Lowered baby bump
When your baby's head has moved into the pelvis, it may seem like your baby bump has shifted downward."Often an elder family member or your husband may notice the change, particularly when you stand,  even if you don't notice it yourself," says Dr. Anita.
Increased urge to pass urine
As the baby drops into the pelvis, it presses on the urinary bladder. You may start feeling that you have to pass urine more often than before. You may also sometimes feel that you are unable to pass urine completely.
Presence of back or pelvic pain
When the baby's head engages, it puts more pressure on the pelvic region and the back. You may start noticing pain and discomfort in the pelvic area and back especially while lying down or standing. 
Improved breathing

You no longer feel short of breath as there is no pressure on the diaphragm as the baby has moved down.

Increased appetite
Read more The Best Ski Resorts in the U.S.
When the baby drops into the pelvis, your abdomen may feel lighter, and your appetite may improve since you no longer feel full.
Apart from these symptoms, there is no way to check at home whether the baby's head has engaged. 
If any pain, excess discharge or bleeding accompanies any 'baby dropping' symptom get in touch with your doctor as soon as possible. 
Can you feel when a baby's head engages?
Some expecting mothers may feel the baby dropping into the pelvis while others may not. Since the baby shifts, it frees up the space in the abdomen. This is called 'lightening' and the mother feels 'lighter'. 
When a baby's head is engaged, how long is it until labour begins?
Contrary to what many people believe, symptoms of the baby's head being engaged, don't necessarily imply that labour will begin soon. 
"When the baby moves down into the pelvis, it means the body is preparing for labour but there is no way to tell how soon labour will begin. It may take one to two weeks."
When does 'engagement of the head' occur?
For first-time mothers, engagement usually takes place around 38 weeks. 
For second-time mothers or those women who've had many children before, the baby may drop closer to labour, sometimes right before labour begins. 
According to a study, engagement occurred during the active phase in 93.2% of mothers.
Women often get worried if their baby hasn't engaged until a certain time. 
"There is no need to get anxious. Think positive and trust the birth process."
"Keep yourself active, as this will not only benefit you physically but will also strengthen you emotionally."
Physical activity or exercise also helps the baby turn during pregnancy.
How to Engage Baby Head in Pelvis
Antenatal exercises help bring the baby down and strengthen your muscles:
Walks: Brisk walking for about 45-60 minutes daily is one of the safest ways of making your baby move.


Squats: Squats help build up pelvic muscles and bring the baby down. They may also help in reducing back and pelvic pain.
Cat and camel exercises: This exercise helps to align the baby with the pelvis particularly in the last month of pregnancy as the lower part of the uterus readies itself for labour. It is recommended for mothers with a breech baby as well as it helps in moving the baby in the head down position. 
"Attempt these exercises only after consulting your gynecologist, especially if you have a pre-existing medical condition."
"If you start getting breathless while exercising, stop immediately and rest."
What Should I do When My Baby Has Dropped
If you feel any symptoms that indicate your baby's head has engaged, check with your gynecologist. 
She will examine you to assess the position of the baby's head in the pelvis. 
"If your baby doesn't drop or the baby's head is not engaged at term, according to your family or doctor, don't lose hope. "
What Should I do If I don't Feel Any Symptoms That Indicate That The Baby's Head Has Engaged
"In medical terms, the baby's head actually engages during active labour in a majority of women. Before that, the baby's head may not have fixed."
"It is important to follow a strict exercise and diet regimen during pregnancy so that during labour you are ready to accommodate and guide your baby through the pelvis. Most importantly have faith in your body and do what is best for your baby."
This article has been written with Dr. Anita Sabherwal Anand who has interests in general and high-risk obstetrics.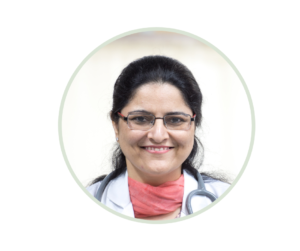 MBBS, Lady Hardinge Medical College, University of Delhi (1992); MD (Obstetrics & Gynaecology), Lady Hardinge Medical College, University of Delhi (1997); DNB Secondary (Obstetrics & Gynaecology), National Board of Medical Education, New Delhi (1999)

References