Yosemite National Park is a phenomenal landscape full of majestic mountains, pristine alpine lakes, and massive waterfalls — it's the perfect place to take a vacation!
Where should you stay while visiting Yosemite? If you want to be close to the best hikes and viewpoints in the park, try to stay in Yosemite Valley. If you're looking for something outside of the park, the El Portal area is a fantastic option.
My name is Ash, and I'm a former park ranger — I've spent a lot of time in this park! I'm excited to help you decide where to stay while visiting Yosemite, so let's talk about your options.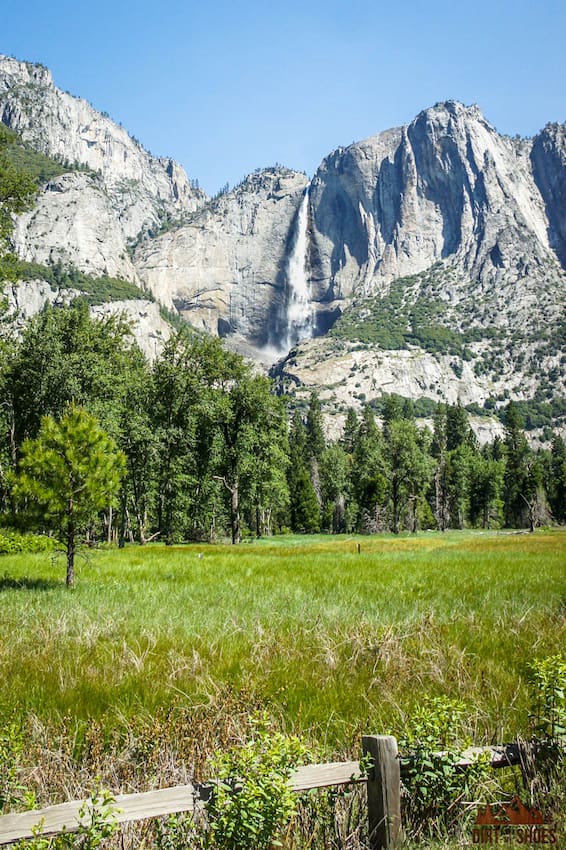 Yosemite Map, Entrances, and Nearby Towns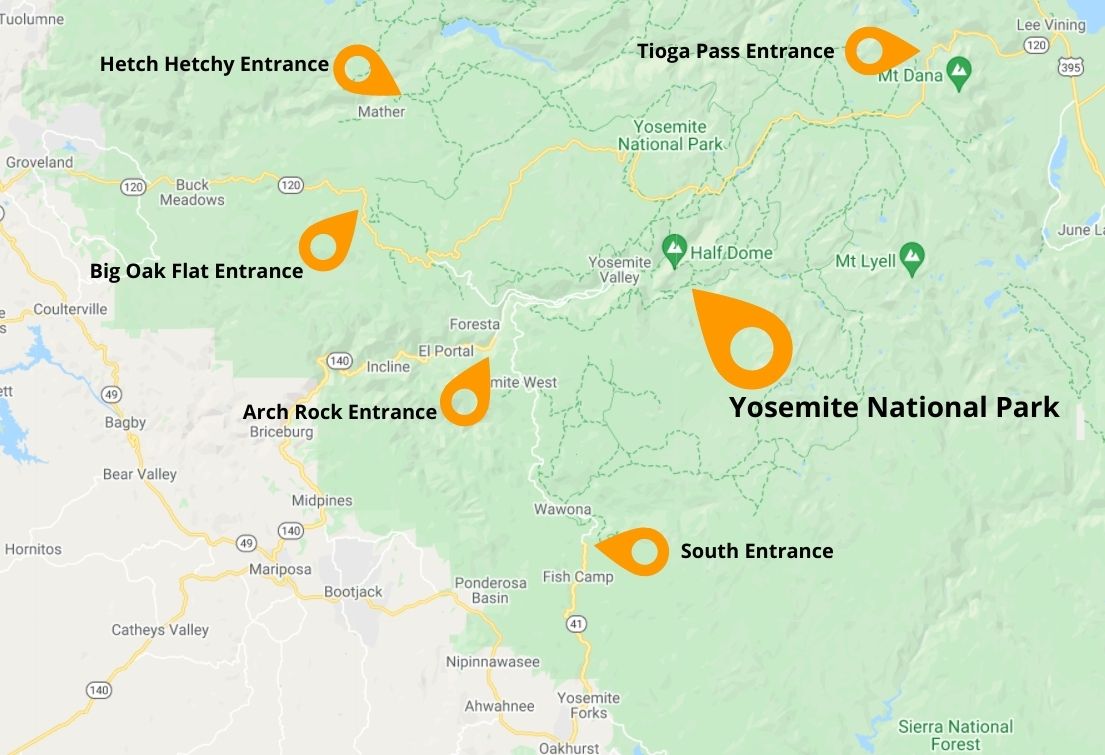 First, let's get the lay of the land around Yosemite. This park has five official entrances, so you've got plenty of options for places to stay while visiting Yosemite.
Arch Rock Entrance of Yosemite (El Portal)
The Arch Rock Entrance is the closest entrance to the popular Yosemite Valley section of the park. After passing through this entrance, you'll be close to popular sights like Tunnel View, Yosemite Falls, and Half Dome.
This entrance has a height limit of 12'10" and a length limit of 60 feet if you're towing. The Arch Rock Entrance is the easiest way to enter Yosemite during the winter — Highway 140 doesn't gain or lose as much elevation as the other routes into the park (which is nice if the roads are icy).
The location of this entrance is perfect for exploring Yosemite, but the town of El Portal is very small and doesn't have much by way of lodging, restaurants, or amenities. You'll find a couple of small hotels in/near El Portal and a gas station with a market, but you'll need to drive toward Mariposa for more options.
Big Oak Flat Entrance of Yosemite (Groveland)
The Big Oak Flat Entrance is the entrance you'll use if you're coming into Yosemite via Highway 120 from Groveland. Entering the park through here gets you close to the Tioga Road. Or, if you're hoping to get into Yosemite Valley, you can follow the Big Oak Flat Road down the mountain and into the valley.
This entrance is next to the Hodgdon Meadow and the Big Oak Flat Information Station. You'll find a gas station and small general store at Crane Flat, but otherwise, there aren't many amenities right near this entrance.
The town of Groveland is about 30 minutes west of the Big Oak Flat Entrance. Groveland is charming and provides some great lodging, dining, and activity options. You'll also find a small but sufficient grocery store here.
South Entrance of Yosemite (Fish Camp)
Yosemite's South Entrance brings you into the park near the Mariposa Grove of Giant Sequoias. You'll likely pass through this entrance if you're coming to the park from Fresno or Sequoia and Kings Canyon National Parks.
Fish Camp has some nice places to stay, but there isn't a whole lot to do in this area of the park. Aside from the Mariposa Grove, you'll need to drive about an hour north before you get to the park's best hiking trails and views.
You'll find a gas station and small convenience store in the Wawona/Fish Camp area, as well as a few hotels and cabin rentals. The town of Oakhurst to the south of Yosemite's South Entrance has more lodging and dining options.
Tioga Pass Entrance of Yosemite (Lee Vining)
Entering Yosemite via the Tioga Pass Entrance is the most dramatic way to come into the park! Highway 120 from Lee Vining is steep and narrow as it climbs into the mountains to nearly 10,000 feet.
This entrance is only open seasonally because Highway 120 (also known as the Tioga Road when you enter the park) is closed during the winter. You'll only want to stay near this entrance when the Tioga Road is fully open, which is typically from June-October.
The town of Lee Vining is ideally located next to the beautiful Mono Lake and offers several lodging, dining, and activity options, as well as a grocery store and gas station.
Hetch Hetchy Entrance of Yosemite (Mather)
The Hetch Hetchy Entrance leads to a small off-the-beaten-path area of Yosemite not usually seen by the first-time visitor. The Hetch Hetchy Road is a small side road that doesn't connect with the main part of Yosemite.
This entrance is only open during daylight hours and has a vehicle length limit of 25 feet. You'll find a few small Forest Service campgrounds and a lodge along the Evergreen Road on your way to Hetch Hetchy from the main part of the park. It's about a 45-minute drive to Yosemite Valley from here, so it's a decent option for exploring the valley or the Tioga Road.
Mather isn't a town but rather a small getaway area that includes Camp Mather and the Evergreen Lodge. You'll need to drive into Groveland or Crane Flat for any sort of amenities aside from what's available at those lodging options.
Read more The 10 Best Campgrounds in Yellowstone
If you'd like more information on the best airports and roads around Yosemite, including details about getting to each of these entrances, check out How to Get to Yosemite National Park.
Staying Inside of Yosemite National Park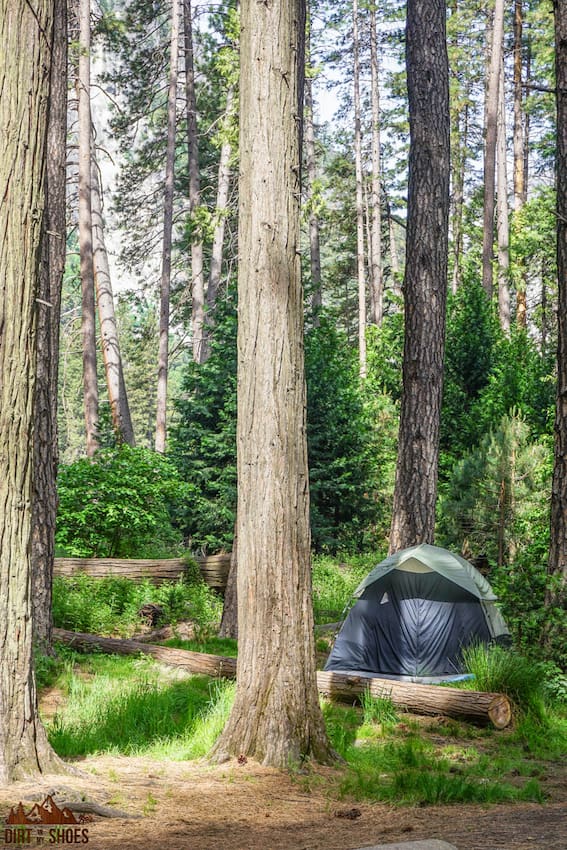 Yosemite National Park is a large national park, and it can take several hours to drive between the sights. I recommend staying inside the park if you want to have more opportunities for sightseeing without the crowds. You'll find some incredibly scenic lodges and campgrounds here that will enhance your experience while you're here.
Hotels and Lodges in Yosemite
There are seven lodges in the park, so you've got a lot of options for places to stay while visiting Yosemite! Experiencing the park before everyone gets there or after everyone has left is the very best thing about staying in one of these lodges.
You'll find a range of amenities and comforts between these lodging options — from basic cabins with shared bunks to luxury rooms with a delicious dinner buffet. Many of these lodges have fantastic mountain views directly from the rooms or just a short walk away.
The Ahwahnee, Yosemite Valley Lodge, Curry Village, and Housekeeping Camp are all located within Yosemite Valley. You'll find most of the park's can't-miss spots here, and the valley is a great base camp for exploring the more outlying areas of the park.
If you don't want to stay in Yosemite Valley, the Tuolumne Meadows Lodge and the White Wolf Lodge are located along the Tioga Road. Staying in either of these options is great for exploring the Tioga Road area of the park, but you'll be further away from some of the most popular sights in the park. The Wawona Hotel is located at the southern end of the park near the Mariposa Grove, but there's not much else to do in the area. Staying in any of these options will add a decent amount of driving to your trip unless you split your lodging choices into a few nights in the north and a few nights in the south.
Reservations for the lodges in Yosemite can typically be made up to 366 days in advance of your travel dates.
Tip — if you aren't able to book an in-park lodge listed above but still want to cut down on your drive time, check out the lodging options in Yosemite West or Foresta. These are private communities that are accessed from within the national park boundaries — the location is perfect! Check here for cabin options.
Yosemite Campgrounds
Yosemite has thirteen in-park campgrounds to choose from — some are located in the popular areas, and some are more off-the-beaten-path.
I recommend trying to stay in the middle of the park if you'd like to be in the same campground for your entire trip — Upper Pines, Lower Pines, North Pines, Camp 4, Crane Flat, or Bridalveil Creek.
If you don't mind moving around a little, you could pair a campground in Yosemite Valley with a campground along the Tioga Road. For example, spend a few nights camping in Yosemite Valley and then move to Tamarack Flat, White Wolf, Yosemite Creek, Porcupine Creek, or Tuolumne Meadows to spend a few nights along the Tioga Road.
All campsites in Yosemite, whether reservable or first-come, first-served, are extremely competitive. If a reservable site is available, I suggest snagging it immediately! If you plan on trying for a non-reservable site, be aware that most campgrounds fill during the morning hours.
To learn more about your Yosemite camping options and how to snag a site, read all about camping in Yosemite.
Tip — if you aren't able to reserve a campsite in the park, you'll find more options in the nearby Forest Service land between Groveland and the Big Oak Flat Entrance.
Staying Outside of Yosemite National Park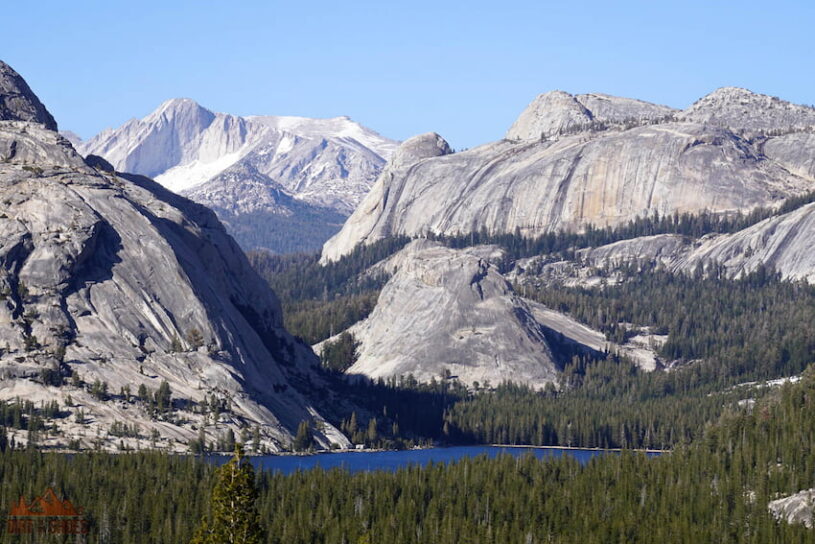 Because Yosemite has five different entrances into the park, it's easy to stay close to the park without actually being in the park. I recommend staying outside of Yosemite if you want nicer amenities, more variety in pricing, or more dining and activity options.
But here's the disclaimer — not all entrances to the park are created equal! If you stay outside of the park, be sure to pick a town that won't add a ton of driving to your day. You'll already be driving a lot to see the sights in Yosemite, so it's best not to add more driving just to get to the park entrance.
Staying in El Portal, Foresta, or Yosemite West
So that being said, the El Portal area is the most convenient place to stay outside of Yosemite. You'll be hitting the trails in no time due to its location just a few minutes away from the park. This area is also popular for whitewater rafting and wildflowers.
El Portal doesn't have much by way of lodging, but you will find a few small hotels in/near town. If nothing right in El Portal will fit your needs, take a look at the beautiful rental cabins in Yosemite West or Foresta. These private communities are an amazing option for staying near the park!
The town of El Portal is located along Highway 140 near the Arch Rock Entrance of Yosemite, just outside of Yosemite Valley. Click here to see lodging options in El Portal.
Staying in Groveland
Groveland is a charming town located along Highway 120 west of the Big Oak Flat Entrance of Yosemite. This gold rush town boasts the oldest saloon in California and has a good selection of hotels, activities, and restaurants.
Read more 7 incredible home remedies for colds during pregnancy that actually work
It takes a little over an hour to get to Yosemite Valley from Groveland, so it's a little further out than I typically like to be. But if you're also hoping to have fun playing at Pine Mountain Lake, golfing, horseback riding, or whitewater rafting, this might be a good basecamp for your Yosemite area adventures.
If you want to stay in the Groveland area but want to be closer to Yosemite, check out the Rush Creek Lodge, located just seconds away from the Big Oak Flat Entrance. Otherwise, click here to see lodging options in Groveland.
Staying in Lee Vining
Lee Vining is a small town located along the shores of Mono Lake on the east side of Yosemite. You'll find a couple of hotels, restaurants, and a grocery store here. It's about 2 hours to Yosemite Valley from here, so I don't recommend staying here as a base camp if it's your first time visiting the park.
Staying in Lee Vining does make sense if you plan on spending most of your time exploring the Tuolumne Meadows area of Yosemite. If you plan on concentrating your time along the Tioga Road, be sure to plan your trip for the months of June-October when the road is open.
Lee Vining is conveniently located about 30 minutes from Mammoth Lakes, a gorgeous mountain town popular for outdoor recreation.
If you're driving into Yosemite from Lee Vining, you'll go up and over the Tioga Pass. Be sure to read about this road so you know what to expect! Click here to see lodging options in Lee Vining.
Staying in Fish Camp
Fish Camp is located just outside of Yosemite's South Entrance near the Wawona area of the park. This small town is picturesquely tucked into the forest and boasts lovely hiking trails, a historical railroad, and Giant Sequoias.
Fish Camp is about an hour's drive to the park's most popular sights like Glacier Point or Yosemite Valley. If you want to stay in this area on your first visit to the park, I recommend splitting your time between Fish Camp and somewhere else closer to the Tioga Road (like the Rush Creek Lodge or the Tuolumne Meadows Lodge) to cut down on driving.
The Tenaya Lodge is the most popular place to stay in Fish Camp, but you'll find many smaller cabins and vacation rentals here as well. Click here to see lodging options in Fish Camp.
I hope you find a fabulous place to stay while visiting Yosemite National Park — happy trails!
---
— Update: 02-01-2023 — cohaitungchi.com found an additional article Yosemite National Park: Best Places To Stay from the website www.travelawaits.com for the keyword where to stay while visiting yosemite national park.
I don't know why I waited until I was in my late 40s to visit Yosemite National Park. I guess you hear the stories about the crowds and the traffic, and you start to think that it's not worth it. You tell yourself you'll visit during off-peak times, and then you never get around to it.
Well, let this article be your encouragement to visit Yosemite if you've never been. The Central Valley is truly one of the most amazing sights in the United States. Yes, there's traffic on the weekends, but my wife and I almost didn't mind. The views are just that amazing.
I'll give you an example. We pulled off the road at one point and snapped this picture. It doesn't look real, and this was just one of those random "pull off here — I want to get a picture of this" photos.
If you're visiting Yosemite, you'll need a place to stay. Here are some of the best options.
The Ahwahnee Hotel
I should start with some clarification here. If you've planned a trip to Yosemite in the past and then tried to plan one in the last few years, the names of the hotels were probably quite confusing to you. Due to a trademark dispute, the names of the hotels had to be changed in 2016 while the lawsuit was going on. What had been The Ahwahnee Hotel for decades was changed to The Majestic Yosemite Hotel, and the historic Camp Curry became Half Dome Village. People who had booked there for decades had to learn the new names of the hotels and campgrounds.
That dispute was finally settled in the summer of 2019, and all of the hotels returned to their original names, including perhaps the most historic hotel at Yosemite: The Ahwahnee.
Built in the 1920s, The Ahwahnee is the true gem of Yosemite National Park. Of all the historic lodges in all of the national parks, The Ahwahnee stands out; there's a reason it appears on so many top-five lists. It's not easy to combine luxury with lodge living, but The Ahwahnee does so with ease, and it has the additional advantage of offering incredible views of Yosemite Valley.
Please note that The Ahwahnee is very pricey, but that seems to be a function of demand. For peak-season trips, despite very high room rates, you have to book weeks or months in advance. But the luxurious accommodations are worth it. The dining room alone — with its massive vaulted ceiling that makes you feel like you're in a grand ballroom — is worth the expense.
Read more I thought I wasn't supposed to give cow's milk before 12 months of age?
Like I said, The Ahwahnee is truly the gem of Yosemite.
Yosemite Valley Lodge
The other main hotel on the north side of Yosemite Valley is the Yosemite Valley Lodge. This is perhaps the most centrally located lodge for those visiting the Central Valley. It is located near Yosemite Falls, so close that visitors staying at the lodge can walk there. (The best time to view Yosemite Falls, by the way, is late spring, when the snowmelt is in full force. Consider planning a trip for late April.)
The cost for a room varies based on time of year, but generally it's less than half of the cost of a room at The Ahwahnee. While you're not getting the luxury of The Ahwahnee, you still get a classic "staying at a fancy lodge in the mountains" experience.
The rooms are comfortable, the dining area is very nice, and the views in nearly every direction are spectacular.
If you're traveling in a group, this should definitely be your choice. The Yosemite Valley Lodge has no problem accommodating large groups. Many families will rent a bunk room near the river with beds for the parents and bunk beds for the kids (or grandkids).
Wawona Hotel
This was where my wife and I stayed when we visited Yosemite last spring during peak waterfall season. We knew it would be busy, and while we wanted to see the waterfalls, we also wanted to explore other areas of the park, so we chose to stay 30 miles away from Yosemite Valley (but still within the park) at the Wawona Hotel (known as Big Trees Lodge during the trademark dispute).
My wife and I enjoy staying at places that take us back in time, and the Wawona Hotel did that and more. When you walk up the wooden steps of this Victorian hotel and onto the massive porch, you're transported back to, say, the 1890s, when families retreated to this relaxing place in the mountains. The original building dates to 1856, and the additions were built in the early 1900s. Our building was constructed in 1903.
Our room was simple, yet perfectly elegant. You can get a room with an ensuite bathroom or a room with a communal restroom down the hall. The dining area is nearly perfect if you're looking for a Victorian lodge dining experience, with windows that open to the cool mountain breezes outside. After dinner each night we were there, my wife and I sat on the massive porch and enjoyed a cocktail.
The absolute best part of the stay was the evening presentation by Yosemite historian Tom Bopp. He played the piano in the lobby and showed a video on the long history of Yosemite, singing the songs of Yosemite's history. I cannot recommend this presentation enough. If you plan to stay at the Wawona Hotel, call ahead to see if Tom will be presenting on one of the evenings.
Curry Village
If it's a camping vibe you're after, then you should consider staying at Curry Village. A stay there includes a hotel room in a massive tent. You're not really camping — this is a tent with a wooden frame, wooden floors, a bed on a bed frame, and lighting — but you get the camping experience of sleeping "outdoors" in a canvas tent.
This experience is not for everyone. There are no televisions, no electrical outlets, and no phones. But that's part of the appeal, and the reason it's often difficult to book one of the tents. For many people — specifically those whose families took them to Camp Curry when they were children — staying at Yosemite means staying in one of the tents in Curry Village. You get the best of a campground and a hotel room at the same time.
Rush Creek Lodge
The four options above are all within Yosemite National Park and are operated by concessionaires chosen by the National Park Service. But those are not the only places to stay at Yosemite. There are also many lodges just outside the park limits that provide a comfortable, even luxurious stay minutes away from the park entrance.
Perhaps the best option outside the park is Rush Creek Lodge. This lodge is located only half a mile from the west entrance to Yosemite National Park. The drive from Rush Creek Lodge to Yosemite Valley is approximately 30 minutes, which, it's worth noting, is the same length as the drive from the Wawona Hotel to the Central Valley, though the Wawona Hotel is located within the park.
Rush Creek Lodge has several lodging options. You can stay in the lodge itself in a mini-suite with a kitchenette. Or, if your party is larger than two or four people, you can stay in one of the hillside villas, with bedrooms that can hold up to six guests.
Wherever you stay, make sure to spend at least one day in the Central Valley. It's truly one of the most spectacular places in the country.
Looking for more lodging options near Yosemite? Consider one of these gorgeous glamping spots.
As of June 11, 2020, visitors need a day-use reservation in order to enter Yosemite. For more information about park guidelines, check out our full list of national parks requiring changes for visitors.
References