Our canine companions can experience an upset stomach from time to time.
While vomiting in our furry friends can be worrisome enough, dog vomit that smells like poop should warrant an immediate trip to the vet.
So what can cause a dog's vomit to smell foul?
In this article we will discuss the possible causes of horrible smelling vomit in dogs, and what this can mean for your furry friend.
Causes of Horrible Smelling Dog Vomit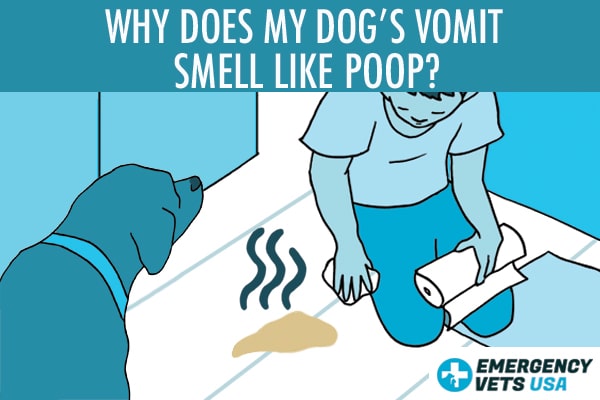 Just as there are many things that can cause gastrointestinal upset in our dogs, there are a few possible causes of foul smelling vomit as well.
Dog vomit will not have a pleasant smell, as it is just a combination of bile and digested food.
However, dog vomit should never be pungent enough that it is considered shocking.
To help you better understand why your dog's vomit smells so terrible, let's dive into the most common causes below.
Eating Poop
If your dog's vomit smells like poop, there is always a chance that they have consumed their own stool.
Our dogs are scavengers, causing some to pick up and consume anything that catches their eye.
Not only is their poop readily available in their yard, but it can even smell like the digested food that they eat each day.
The urge to consume their own poop is referred to as coprophagia, and it plagues a large amount of our furry friends.
Not only can a dog be interested in eating their own feces, but they may be drawn to other animal's poop as well.
The great outdoors are filled with critters of all kinds, many of which leave their stool behind for a dog to stumble upon.
This can be seen as a new and exciting snack for your dog, causing them to dive right in.
This is also a common behavior for dogs that live with cats, as many pups are drawn to the scent of the litter box.
Some dogs are so interested in the poop within the litter box that their cat has left behind.
Pet parents have to find a way to block them off from it completely. If your dog is interested in eating feces, they may snatch it up any chance they get.
Not only is coprophagia a disgusting habit, but it can cause serious GI upset in our beloved companions.
Stool can be filled with bacteria, intestinal parasites, and other contaminants that can wreak havoc on their digestive health.
This is why some dogs that eat poop will vomit soon after, causing their vomit to smell especially foul.
If your dog is known to consume poop, this may be the cause behind their pungent vomit.
They Ate Something Foul
As we mentioned above, our dogs are scavengers that like to eat many of the strange things they come across.
Our pups are unaware of what can cause them harm, leading them to consume whatever catches their eye, no matter how disgusting it may be.
An overpowering odor may be just enough to draw our pups in, leading to a disgusting smell if they happen to vomit after they consume it.
For example, many dogs are attracted to the smell of dead animals.
A bird carcass may be impossible for your dog to resist, causing them to eat the remains during their scavenging.
These remains are often filled with bacteria, causing a dog to vomit in the hours after they consume it.
The remains of a dead animal can smell terrible, causing their vomit to smell as well.
Intestinal Obstruction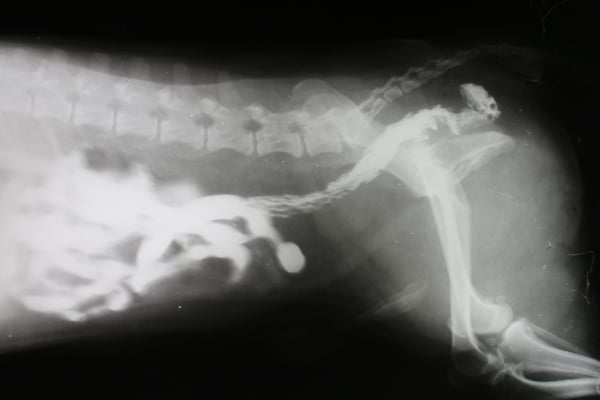 One of the more serious causes of terrible smelling vomit in dogs is due to intestinal obstructions or foreign bodies.
Dogs are known to eat things they should not, causing inedible objects to become trapped in their stomach or intestines.
When these foreign bodies (foreign objects) become trapped in the digestive tract, this causes digested food and intestinal matter to build up, unable to move past the blockage.
When the contents of the digestive tract are unable to move past a blockage, this causes a dog to vomit.
The intensity of the smell of the vomit will range based on how long the dog has had the obstruction, getting more foul as time goes on.
If an intestinal obstruction is left untreated, this will cause serious damage to the intestines around the blockage.
This can also cause foul smelling vomit, as the contents of these areas have been unable to pass for some time.
An intestinal obstruction requires immediate veterinary attention, as this will be fatal if left untreated.
The treatment of a foreign body in dogs can range from hospitalization on IV fluids to life saving surgery to remove the blockage, varying based on how long the obstruction has been present.
If your dog ever has vomit that is overpowering, the possibility of an obstruction is on the table.
Parvovirus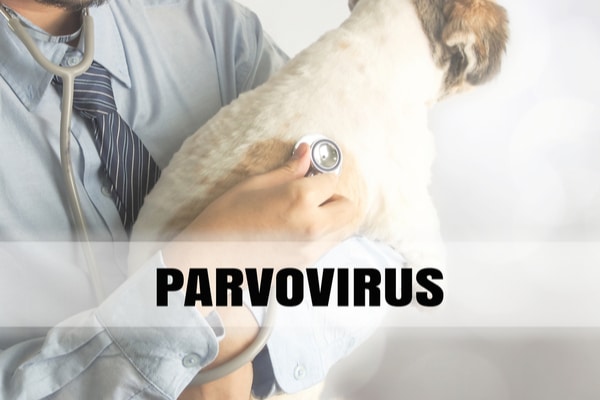 If you have ever been around a dog with parvovirus, the smell of their stool is seared in your memory.
Not only can parvo cause an unforgettably pungent smell in their diarrhea, but it can cause strong smelling vomit as well.
Parvovirus viciously attacks a dog's intestinal tract, leading to an array of smelly gastrointestinal complications.
While parvovirus can affect other parts of the body, it mainly impacts the lining of the intestines and some blood elements.
The two factors together cause a dog to experience foul or bloody diarrhea and vomiting, along with systemic infection in severe cases.
As you can imagine, severely damaged intestinal lining can cause their vomit to have a strong odor.
Because canine parvovirus causes such severe GI upset, many dogs will die without immediate medical care.
The best chance at beating parvo involves aggressive hospitalization and supportive care, as well as early detection of the virus.
If your dog is not fully vaccinated against parvo and is having smelly vomit, we suggest seeing your veterinarian immediately.
Intestinal Bleeding & Ulcers
Blood in the digestive tract can cause a strong odor when a dog vomits.
Our furry friends can fall victim to an array of complications that damage the digestive tract, often leading to bloody vomit or diarrhea.
Any bleeding within the stomach or intestines can make a dog extremely nauseous, causing frank or digested blood to be present in the vomit.
The presence of blood is not only extremely alarming to pet parents, but may bring along an abnormal smell as well.
Intestinal bleeding in dogs can be a result of bleeding ulcers, ulcerated masses, ingestion of toxic substances, and any other occurrence that can damage the digestive tract.
If you think your dog may have blood in their vomit, it is important to contact your vet immediately for further care.
What Causes Brown Vomit In Dogs?
As mentioned in our dog vomit color guide, brown dog vomit can point to a few different things.
Ranging from the dye in their kibble to their poop eating habits, this vomit color may not offer a simple answer.
To help you get to the bottom of your dog's brown vomit, let's list the possible causes below.
Some of the most common factors behind brown vomit in dogs include:
Their kibble contains brown or dark red colored dye
They have been eating poop
There is blood present in their vomit
They have been eating dirt
They ate something they should not have
If your dog is having brown colored vomit that has a terrible odor, it is best to seek further care from your veterinarian.
What To Do If Your Dog's Vomit Smells Horrible
If your dog's vomit smells horrible, the best thing to do is quickly assess the possibilities.
Think about the factors we discussed above, and if any of these reasons are possible for your furry friend.
By doing this, you can better report the issue to your vet for the best chance at a swift and full recovery.
No matter what, we always suggest contacting your veterinarian if your dog's vomit smells foul.
While they may just be eating poop, they could be experiencing a serious medical complication that needs to be addressed.
Vomiting can quickly lead to dehydration, making it important to treat whether it smells bad or not.
If you ever have a vomiting pup on your hands, it is always best to seek professional care.
How To Prevent Vomiting In Your Dog
Vomiting in dogs is always a symptom of a bigger issue.
Because of this, there are many ways to prevent vomiting by implementing a few safety protocols throughout your home.
Some of the best ways to prevent vomiting in your dog include:
Keep trash cans away from your dog at all times, or in an area they cannot access. Make sure they don't eat plastic which usually has leftover food
Avoid offering them table scraps or greasy food that can upset their stomach
Keep your dog fully vaccinated at all times
Pick up stool regularly in your yard if your dog is known to eat poop
Check your yard and home for any potential dangers or objects they could consume
Only offer chew safe toys, especially if your dog is known to destroy plush toys
Keep your dog away from dogs that appear ill
Keep any potential toxins out of your dog's reach in your home, including batteries.
Final Thoughts
As you can see, there are a few potential factors behind terrible smelling vomit in dogs.
If your dog's vomit smells like poop, then a trip to your local veterinarian's office might be needed.
Be sure to review the information we discussed above so you can better understand your furry friend going forward.
---
— Update: 13-02-2023 — cohaitungchi.com found an additional article What can you tell from the colour of your dog's vomit? from the website www.borrowmydoggy.com for the keyword dogs throw up looks like poop.
If you're a dog owner, chances are you're no stranger to the occasional bout of vomiting. But did you know that the colour of your dog's vomit can actually tell you a lot about their health? Here's a quick guide by Family Vet and Bridge Vet Centre vet Joann Bennett to help you interpret what your dog's vomit is trying to tell you.
If you're a dog owner, chances are you've seen your dog feeling poorly and then bring up a bit of vomit at some point. Dogs as a species are quite "good" at vomiting.  As odd as that might sound, essentially it's not abnormal for some dogs to be a little sick, then carry on like nothing happened. But equally it's important to know when you should take further action. So put down your sandwich if you want to read on, because we're discussing everything vomit related!
Read more If Your Dog Has a Pollen Allergy, Would You Know?
Overview of different colours of vomit:
Green vomit
Yellow vomit
Blue vomit
White vomit
Red vomit
Black vomit
Brown vomit
Other colours of vomit
Is your dog actually vomiting?
Ok so your dog has brought something up, what do you do now?  Firstly it is useful to know if your dog has actually vomited or is there another reason. Could it be that your dog has a cough and the retching has caused something to come up, could it be that your dog is regurgitating (which is different from vomiting) or is your dog truly being sick. 
Telling the difference can be really useful as treatment will depend on what's wrong.
Retching?
If your dog is retching it can be a sign of kennel cough, heart disease, or simply an irritated throat. Usually these dogs bring up foam, although on occasion can retch enough to bring up some stomach contents.  However, sometimes a retch can be a dog with a completely empty stomach that has a blockage in their guts that has nothing to come up. If your dog is repeatedly retching always contact your vet.
Regurgitating?
If your dog is regurgitating (bringing up undigested food) it could simply be that your dog ate too much too fast, but if it is happening regularly it can be a sign of conditions such as megaesophagus, Myasthenia Gravis or a blockage. Regurgitation tends to be straight after eating and the food isn't digested.
Vomiting?
True vomiting tends to be preceded by drooling, a grumbly tummy, stretching, contracting of the tummy and ribs, and your dog looking a bit unsettled. If you are unsure though, film what your dog is doing. It might not be an attractive video to share on your socials, but it can really help your local vets to see what's going on.
What can you tell from the colour of your dog's vomit?
Dog vomit comes in a variety of different colours. So what could the different colours mean?
Green vomit
Green vomit is quite common, and can be seen alone or at the end of your dog bringing up food.  The most common reasons for this colouring are stomach bile or from your dog eating a lot of grass. If your dog brings up a small amount of bile, then carries on as normal, it should not be a cause for concern, but if you are worried at all, or if this happens repeatedly, then contact your vet.
Yellow vomit
When the vomit doesn't have as much bile in it, it tends to look yellow as opposed to the brighter green.  As with the green vomit, a one off of this, with the dog then appearing normal again, is likely to not be an issue, but always contact your own vet with any concerns.
Blue vomit
If your dog is one for eating things they shouldn't then you might see some blue vomit. This can be caused by numerous things, but one of the most important to watch out for is if your dog could have had access to brightly coloured rat poison, which is always an emergency and you should contact your vet asap!
White vomit
A small amount of white, mucousy type vomit, is often not a cause for concern, if your dog then goes on with their normal business like nothing happened.  Although if your dog is repeatedly trying to bring something up and foam comes up, then you should contact your vet in case your dog has bloat. This bloat means your dog is not managing to vomit, even though they want to, and have a twisted stomach which is a veterinary emergency!
Red vomit
Bright red vomit is a sign of blood being in the vomit. Small flecks of blood can be seen in the vomit of dogs who have been sick repeatedly as their throat gets irritated. Other causes can include stomach ulcers, inflammation, poisoning and blood clotting disorders.
Sometimes the blood can also come from areas the vomit  passes through on its way out, like the teeth and mouth. Bringing up pure red blood is a cause for concern, and you should contact your vet.  Sometimes this blood can look a little darker, which can be due to the blood getting partially digested by the stomach acid, and may suggest something like a stomach ulcer, so get in touch with your vet in those cases too.
This is also a situation where it makes a lot of sense to make sure your dog is truly vomiting or whether they are retching from a bad cough, as the blood will come from different body systems, so investigation and treatment will be different.
Black vomit
Black vomit can occur because your dog has eaten a big pile of mud or dirt. It can also be a sign of digested blood. This can be due to conditions such as a bleed in the stomach, a blood clotting disorder, or a bleed in the mouth that has then been swallowed, and the blood digested in the stomach for a bit.
Often your vet will describe digested blood as looking like coffee grounds, so quite dark brown/black. If your dog is vomiting this kind of colour you need to speak to your vet!
Brown vomit
As a lot of dog's eat brown coloured food, it's not abnormal to see a brown colouring to some partially digested food coming back up. The smell is an important aspect of brown vomit though, as if it's not their food that's coming up and it smells like poo, this could be a cause for concern. 
If your dog has just woolfed down some fox poop, and brought it back up, then it's likely to be that, but vomit that smells like it came from the other end can be a sign of a blockage in your dog's intestine, so contact your vet immediately if your dog's vomit smells like poo.
If the vomit smells like chocolate, this can also be a concern and you should contact your vet, as your dog may have helped themselves to some chocolate, which is toxic to dogs.
Other colour of vomit?
Vomit can also come in various colours if your dog has been eating something brightly coloured. Some brightly coloured treats can contain toxic sweeteners so check the ingredients in these cases and contact your vet.
The texture of vomit
As well as colour and smell, we can also look at the consistency of vomit. Often when a dog vomits they will bring up their food, and if this is a one off and your pooch goes back to normal, this shouldn't be a concern. If you are worried at all though, always contact your vet.
As we said before, a foamy consistency can be a sign of a twisted stomach and bloat, a veterinary emergency, so if your dog is bringing up foam, seek veterinary advice.
Another common texture is when we see something we shouldn't. A piece of chewed up ball? Sweet wrappers? If your dog is repeatedly vomiting and bringing up bits of toy for example, give your vet a call as it could be that another piece of this toy is blocking their stomach or intestine.
What to do for different types of vomiting?
If your dog is sick once, brings up their dinner, but then carries on like normal and is bright and happy, chances are it is nothing to worry about.  However if you are concerned at all, always contact your vet.
If when your dog vomits that one time, they are bringing up blood, dark brown/black vomit, it smells like poo or you know they have eaten something potentially toxic, then contact your vet immediately for further advice. The same goes if your dog appears unwell or in pain at all.
If your dog is repeatedly vomiting, then phoning your vet is your next step to getting a bit more information on what's happening and what treatments might be necessary.  Filming the vomiting is always a good idea, and can really help your vet to see what's happening at home. Also taking in a "sample" of the vomit to your appointment, can let them take a look at it as well.
The information on this article should only be used as a guide, and should never replace advice or treatment given by your veterinarian.
First Aid Guides
What to do if your dog is bleeding?
What to do when your dog has difficulty breathing?
What to do when your dog has collapsed?
Vomit colour guide
What to do when an adder bites your dog
Weed killer safety
Alabama rot advice
Dog poo colour guide

Further info on poisonous plants to dogs
Dogs & poisonous plants
Garden plants poisonous to dogs
What to do if your dog has food poisoning
Preventing herbicide poisoning in dogs
Autumn plants toxic to dogs
Spring tips to keep your doggy safe
Protecting your dog from pests and insects
Foods your dog can and can't eat
10 springtime hazards for dogs
Dog friendly garden
Christmas foods to keep away from your dog
Dog poo colours: what do they mean?
---
— Update: 13-02-2023 — cohaitungchi.com found an additional article My Dog's Vomit Smells Like Poop from the website charitypaws.com for the keyword dogs throw up looks like poop.
Dog vomit is unpleasant at the best of times, but even worse when it smells like poop.
You should pay attention to the fact it smells extra bad as it could be a sign of something serious going on.
Let's look at some of the most common reasons why your dog's vomit might smell like feces and what you should do to help your pet.
What Could Cause Dog Vomit To Smell Like Poop
There are several reasons why your dog's vomit may smell like poop.
Let's take a look at each of those in turn:
Your Dog Has A Bowel Obstruction
If your dog's vomit smells like feces then it could be due to an obstruction in his bowel.
Dogs are notorious scavengers and will often eat things they should not.
However, if the thing he has eaten is undigestible, then it could cause real problems.
Items that cannot be broken down and are too big to pass through your dog may become lodged in their digestive tract, acting as a 'foreign body'.
This stops material from being able to travel through the intestines as normal, meaning it may be vomited back up again.
Obstructions lower down in the digestive tract are more likely to result in partially digested material that smells like feces being brought up.
What Things Can Cause A Bowel Obstruction?
Common foreign bodies include:
Stones
Fruit pits
Corn-on-the cob
Small children's toys or pieces of broken dog toys
Pieces of bedding, towels, or socks (socks being a common culprit)
Bones
Christmas decorations
If your dog has a blockage in its digestive tract then this is an emergency that requires prompt treatment by a veterinarian, otherwise, your dog could become seriously unwell.
What Are The Other Symptoms Of Bowel Obstruction?
As well as vomiting (which may or may not smell like poop), he may be showing the following signs such as:
Diarrhea, or constipation
Abdominal pain
Lethargy
Inappetence (lack of appetite)
What Will My Veterinarian Do?
Your veterinarian will start by examining your dog.
They may decide to do some further tests to help make a diagnosis.
They will often run some bloodwork to check your dog's biochemistry and hematology, looking for markers of inflammation and infection, as well as checking liver, kidneys, and blood sugar levels.
Diagnostic imaging such as X-rays and ultrasound are performed to look at your dog's digestive tract for clues of an obstruction.
Sometimes the issue is obvious, bone or metal for example will show up well on x-rays.
Other things like socks or pieces of bedding may not be that clear though, so your vet will look for things like a build-up of gas in the intestines instead.
If your vet thinks it's likely there is a blockage then exploratory surgery will be performed to remove it.
Read more My Dog's Vomit Smells Like Poop
They will assess the intestines for damage, as sometimes surgical removal of diseased areas of the gut is needed too.
Many dogs do well with swift treatment but there is always the risk of complications with this type of major surgery.
Try and prevent accidents from happening in the first place by not encouraging your dog to play with unsafe items, avoiding feeding them inappropriate items (like bones, or bits of corn-on-the-cob), and by assessing their toys and bedding regularly for damage.
Your Dog Is Eating Their Own Poop
As disgusting as it sounds, some dogs will eat their own poop.
This behavior is called coprophagia.
So, if your dog vomits and it smells like poop, it could be because that's what they have recently eaten.
Some dogs will also eat other animal poop such as, cat poop, rabbit poop and other dogs' poop.
Why Would My Dog Eat His Own Waste?
There are many reasons why your dog might eat his own feces.
These include:
Behavioral – some dogs will do it out of boredom, because of a previous abusive home, or because they feel shameful and want to hide the evidence if they have had an accident. Some dogs will also develop this habit as a way of seeking attention. Others just simply seem to enjoy doing it. One theory is that it is a tendency inherited from their wolf ancestors.
Malabsorption issues – undigested food in the poop can make it smell and taste more attractive to dogs.
Dietary deficiencies – if your dog is on a poor quality or incomplete diet then he may resort to eating his own feces to try and obtain more nutrients.
How Do I Stop My Dog From Eating His Poop?
If your dog is eating their own poop, and occasionally vomiting it back up again, then you will probably want to try and stop this behavior.
Supervise your dog when he is out pooping, ideally keeping him on a leash and moving him away from the poop as soon as possible.
Pick up any waste in your garden as soon as he produces it, do not leave any lying around.
Consider getting your dog checked out by your vet if you suspect an underlying digestive issue or nutrient deficiency.
Over-the-counter products are available that you can add to your dog's food that are said to make his stools taste less palatable to him.
It could help put him off eating his own waste.
Seek help from a qualified pet behaviorist if you are having issues with your dog's behavior.
If they are showing other signs of anxiety or attention-seeking behavior, then you may need to tackle underlying issues to solve the problem.
Your Dog Is Eating Other Animal's Poop
Just as some dogs like to eat their own poop, others like to eat waste that has been produced by different animals.
This could be a cat, rabbit, horse, cow, fox, or other dogs' poop.
The term coprophagia is also used to describe animals that do this, as well as those that eat their own waste.
Your dog risks picking up parasites, bacterial and viral infections through this unhygienic habit.
How Do I Stop My Dog From Eating Other Animals' Poop?
One of the most common problems is dogs eating cat poop from the litter box indoors.
If you have a cat, then try and house their litter box out of reach of the dog, either in an area of the house that the dog isn't allowed or up high on a surface that they cannot reach.
As well as eating cat poop, many dogs accidentally eat some of the kitty litter as well which is likely to irritate their digestive tract, or even worse, a blockage if they eat a large amount.
Cat litter swells as it absorbs moisture and if this occurs in your dog's intestines then they could become obstructed.
If your dog is eating the manure from other animals while out walking, this can be trickier to control.
A basket muzzle may be needed for some dogs.
These types of muzzles allow your dog to pant and breath freely, but stop him from eating things he should not.
Training your dog to come back when called will mean you can call him away from any tempting feces while walking.
Your Dog Is Constipated
Severe constipation could act in the same way as an intestinal obstruction.
The impacted stools will form a blockage in your dog's digestive tract, meaning that any food or digested material is unable to pass through.
This will cause your dog to feel uncomfortable, bloated and could lead to vomiting.
This vomiting may smell like poop as he is unable to pass digested food and fecal material in the normal manner.
Why Might My Dog Be Constipated?
Dogs can be constipated for several reasons, including:
An inappropriate diet – a diet too low in fiber or that contains lots of undigestible material like bones could lead to constipation.
Health complaints – an enlarged prostate, a tumor or enlarged lymph nodes could all cause your dog's back passage to become narrowed leading to difficulty passing feces.
Lack of exercise – exercise is important to help with normal digestive transit, just as it is with people.
Injury – A broken pelvis or spinal injury could affect your dog's ability to pass stool.
Medication – the side effects of some medications may make your dog more prone to constipation. Always speak to your vet, before stopping or adjusting your dog's medication.
Dehydration – If your dog becomes dehydrated he will be more at risk of constipation.
What Is The Treatment For Constipation?
If your dog is constipated to the point that he is being sick, then he needs immediate veterinary attention.
Your dog will be examined initially but may also need diagnostics to confirm that constipation is the cause of his symptoms.
When dogs are badly impacted with firm stools, they usually require an enema to relieve the obstruction.
Warm water and lubricants will be gently passed into your pet's back passage under anesthesia to help break up the hard feces.
Your vet will be able to advise you further on the likely cause of your dog's constipation and make some suggestions for treatment or a change of diet going forwards.
Your Dog Has Internal Bleeding
If your dog is vomiting black material (which may or may not smell foul), then this could be a sign of internal bleeding.
A bleed from inside the stomach could mean your dog is digesting his own blood.
This digested blood usually appears dark in color rather than bright red, with some people describing it as looking like coffee grounds.
What Could Cause A Bleed Inside The Stomach?
Bleeds in the stomach usually occur because there has been damage to the inside of the stomach wall/lining.
This could be from something like a gastric ulcer, a sharp foreign body like a bone or piece of plastic, a mass or tumor that is bleeding, eating something toxic, or a severe medication side effect.
Do I Need To Take My Dog To The Vet If I See Black Vomit?
Yes, you must get your pet seen as soon as possible if they are vomiting digested blood.
This usually indicates a serious underlying condition that needs prompt investigation.
Your vet will be able to advise you on treatment options depending on their findings.
Is It Possible To Vomit Poop
It is uncommon for dogs to vomit up actual feces, but it can happen in some extreme cases.
It is more likely to occur when a dog has a serious obstruction in its lower intestines.
Usually, though, a dog's vomit can smell foul due to the type of food it has been eating and because of changes in bacteria levels in its digestive tract.
This is because the partially digested material has been sitting in there going stagnant and unable to pass for a while, with bacteria levels multiplying.
If your dog has eaten something particularly disgusting like a rotten carcass this could add to the odor of his vomit too.
Other infectious agents can also be a contributing factor to the smell.
Viral infections like parvovirus could cause your dog's vomit to have more of an odor.
Do not forget that there are also many reasons why your dog's vomit may appear brown, which may or may not be related to feces:
They have eaten kibble that is dyed brown or dark red
They have been eating poop (their own or other animals)
They have been eating grass and dirt in the garden
There is digested blood in their vomit
They have eaten something they should not have (like chocolate)
If you still aren't sure whether your dog is vomiting up poop or if it is something else, you should get him checked out by your vet.
Is Vomiting Poop An Emergency
It can be an emergency if your dog is vomiting poop.
If you know they have got a habit of eating feces and just brought it back up again, then clearly this is not an emergency, as long as your dog is otherwise well.
But if your dog is vomiting up their own fecal material then this will require an urgent trip to your veterinarian.
Dogs that are being sick with foul-smelling vomit can be quite unwell.
They may also be constipated, have a bloated, painful abdomen, and could be lethargic too.
Without prompt treatment, these animals could deteriorate quickly and even die.
Conclusion
If your dog's vomit smells like feces, then there are several reasons why this might be.
If your dog seems unwell then you should always get him checked over by a veterinarian, in case there is something serious going on.
Prompt treatment leads to better outcomes, so it's best to get him seen if you are worried.
---
— Update: 13-02-2023 — cohaitungchi.com found an additional article Dog Vomit Cheat Sheet: Different Colors & What They Mean from the website ultimatepetnutrition.com for the keyword dogs throw up looks like poop.
If your dog is throwing up or pooping abnormally, you should first seek out the advice from your vet and rule out any serious conditions.

Dog vomit is a sign that your pet isn't feeling well, but just how serious could it be? The answer may vary.
Sometimes, dog vomit isn't really a cause for concern. But other times, it means something could be really wrong and you need to get to the veterinarian immediately.
So, how do you know when it's serious and when it's not?
One clue as to the severity of the situation is the color. Here's a look at some of the more common colors of dog vomit and what they could mean. Believe it or not, dog poop color can also tell you a lot.
Yellow Vomit
Yellow dog vomit usually occurs because your dog's stomach is empty. In this case, what you're seeing is known as bile. Bile is a fluid the liver produces for digestion. It goes from the liver to the gallbladder, where it is released into the small intestine.
Bile can sometimes irritate your dog's digestive system. When that happens, they may throw up. Yellow dog vomit is usually harmless. As long as your dog is otherwise healthy, you don't need to be concerned. Maybe feed your dog a little more frequently, but don't give more food. Just split the normal portions. However, if your dog is throwing up yellow liquid, and is also lethargic or won't eat, go to the vet. That could be a sign of a much more serious problem.1
Dark Brown or Black Vomit
Again, throwing up a yellow liquid known as bile is typically not a sign of a major health issue. But dog vomit that is black or dark brown could be a potential medical emergency. This condition is different than a dog throwing up yellow foam.
Here are some of the possible reasons this is happening:
When a dog throws up and the color is black or dark brown, internal bleeding could be the reason. Your dog might also have an abnormal growth in their stomach. Or they might have ingested something poisonous. If your dog has pale gums and is throwing up black or dark brown liquid, they need immediate medical help.2
Read more Daily Practice Makes for Perfect Dog Recall Training
Another potential cause of dark brown or black dog vomit is a bleeding ulcer. If the vomit has the appearance of coffee grounds an ulcer is a likely reason. There are many reasons that ulcers develop. These can include kidney or liver disease, stress, a bacterial infection and the ingestion of a toxic substance. If your dog's stools are dark black and they've suddenly lost weight, get to the vet as soon as you can.3
There are some instances in which an intestinal blockage of is the cause of your dog's dark vomit. Be alert for other signs of an obstruction:
→ Abdominal pain
→ Trouble defecating
→ Weakness
→ Bloating
→ Appetite loss
If the vomit has a particularly foul smell, that could also be a sign of trouble.4 Seek medical attention as quickly as possible should this be the case.
There are other instances where dark brown or black dog vomit can be the sign of a potential medical emergency.
For example, your dog may have eaten something dark, such as a small piece of chocolate. Chocolate, as you may know, is toxic for dogs.
But many of them will be fine if they've only eaten a small amount.
If, on the other hand, you have reason to believe your dog has eaten a lot of chocolate, they could become very sick and you'll need to get medical help quickly.5
The other possibility is that your dog may have eaten some poop. While it's disgusting to think about, it's more common than you may think. Eating poop is usually harmless. However, there is a chance that your dog could become sick if the poop contains a virus or parasite. If your pet is showing signs of illness, go to the vet to have your dog checked out.6
Vomiting White Foam
Like other types of vomit, the reason your dog is throwing up white foam might be serious. Then again, it might not. These are just some of the potential causes:
Your dog may simply have a common, everyday upset stomach. The dog might have eaten something that didn't agree with their system — like grass or dirt. Dogs may also throw up white foam if they eat too quickly. As long as the vomiting doesn't happen that often, there's no need to worry. A spoonful of canned pumpkin might help settle your dog's stomach.7
Kidney issues
Vomiting white foam can sometimes be a sign of a kidney problem. This will be particularly concerning if the dog is also lethargic, disoriented, or weak. Another sign is difficulty urinating. If you notice any of these issues, it's time for a trip to the vet.8
In some instances, the white foam can be a sign that a dog has pancreatitis, caused by swelling of the pancreas. Other symptoms include abdominal pain, appetite loss, dehydration, and weakness. When a dog has pancreatitis, they will often go into a bowed position. The dog will lower their front legs and head while keeping their rear end in the air. Take your dog to the vet if you notice this type of behavior.9
Parvo, or parvovirus, is another severe medical problem. While it can affect a dog at any age, it is more prevalent in puppies. In addition to throwing up white foam, other symptoms include bloody diarrhea, weakness, weight loss, and fever. This is another issue that requires immediate medical help.10
Like humans, dogs can develop acid reflux too. It can occur when stomach acid irritates the gastrointestinal tract and stomach. This can lead to the vomiting of not only white foam but also yellow liquid. Vomiting will usually occur in the morning when the dog's stomach is empty.11
Now, there are some instances in which a dog will develop a condition known as infectious tracheobronchitis (commonly referred to as "kennel cough") when they're boarded. But this condition can occur whenever dogs are in close contact with each other — like at a dog park or daycare center.
Symptoms of kennel cough include nasal discharge, lethargy, vomiting of white foam and, of course, a persistent cough. Thankfully, the vast majority of dogs who develop kennel cough eventually recover completely.12
If mucus accompanies the white foam, that could mean a lot of things. If it only happens occasionally, you shouldn't worry. But if it happens a lot and is accompanied by fever and/or pain, that could be something serious. Your dog may have ingested something poisonous, there could be a blockage, or there could be a parasite in your dog's gastrointestinal tract.13
Possible Types of Dog Vomit
Vomiting is different from regurgitation. Your dog's vomit will usually have a sour smell and be accompanied by undigested food. Regurgitation, on the other hand, is where undigested food comes from the esophagus. It's usually mild and not necessarily a cause for concern.
Another way to tell the difference between dog vomit and regurgitation is how your dog's body reacts. If you notice heaving from the abdominal area, your dog is vomiting. If you don't notice that heaving, then they are likely just regurgitating.14
The Bottom Line
When your dog throws up, it can be very disturbing, of course. But that doesn't mean you should panic and rush to the vet. If it only happens once in a while, that's normal. You don't have to worry. Your dog's tummy can get upset every now and then, just like a human's can.
But if the color of the dog vomit looks odd or it has an unusually pungent smell you'll want to get medical attention for your pet immediately. This is especially the case if your pooch is showing other symptoms such as weakness, lethargy, or a loss of appetite.
Learn More:
Stomach Aches in Dogs – Causes, Symptoms, and Remedies
Finding Mucus in Dog Poop – Should You Be Concerned?
Everything You Need to Know About Worms in Dog Poop

Sources
1.http://www.vetstreet.com/our-pet-experts/why-does-my-dog-vomit-yellow-foam
2.https://wagwalking.com/symptom/why-is-my-dog-vomiting-brown-liquid
3.https://www.petmd.com/dog/conditions/digestive/c_dg_gastroduodenal_ulcer_disease
4.https://www.akc.org/expert-advice/health/common-conditions/bowel-obstruction-in-dogs-symptoms-treatment-and-prevention
5.https://vcahospitals.com/know-your-pet/chocolate-poisoning-in-dogs
6.https://www.akc.org/expert-advice/health/common-conditions/why-dogs-eat-poop/
7.https://www.petmd.com/dog/wellness/evr_dg_remedies-for-upset-stomach-in-dogs
8.http://www.vetmed.wsu.edu/outreach/Pet-Health-Topics/categories/diseases/chronic-kidney-disease-and-failure
9.https://vcahospitals.com/know-your-pet/pancreatitis-in-dogs
10.https://www.akc.org/expert-advice/health/common-conditions/parvo-in-dogs
11.http://www.animalhospitals-usa.com/dogs/dog-health/dog-stomach-reflux-problems.html
12.https://www.merckvetmanual.com/dog-owners/lung-and-airway-disorders-of-dogs/tracheobronchitis-bronchitis-in-dogs
13.https://wagwalking.com/symptom/why-is-my-dog-vomiting-mucus
14.https://www.petmd.com/dog/conditions/digestive/different-types-dog-vomit-and-what-they-indicate

---
— Update: 13-02-2023 — cohaitungchi.com found an additional article Dog Vomit Smells Like Poop [Help!] from the website www.oodlelife.com for the keyword dogs throw up looks like poop.
It is not a pleasant experience for dogs or their owners when a dog falls ill and begins to vomit. This experience can be especially disagreeable when the vomit has a very pungent smell.
While a strong scent is not entirely uncommon for a dog that is having issues with its digestive system, it does tend to make the clean-up painstaking and raise concerns about what exactly is going on with their bodies.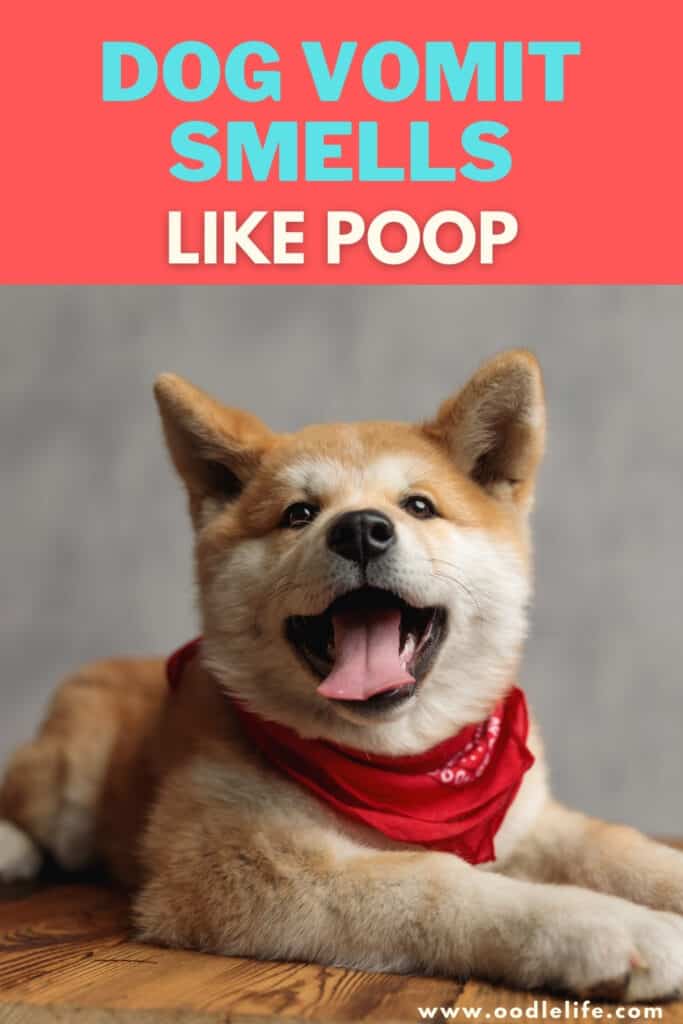 Sometimes, a dog's vomit can even take on the foul smell of the waste that usually comes out of the other end. This can be very alarming for owners, who might recognize the smell of feces in vomit as an indication that something more serious is wrong with their dog's health.
It is not unheard of when dog vomit smells like poop, but it is certainly something that an owner must address right away as it can often allude to a larger health problem. Read on to learn about some of the potential reasons that dog vomit smells like poop, and what the next steps to restore the dog's health will be.
Why Does a Dog's Vomit Smell Like Poop?
There are quite a few different reasons that a dog's vomit can seem to take on the smell of poop. Below, find some of the disruptions to the digestive system that can lead to vomit that smells like excrement.
Eating Waste 
The reason that a dog's vomit may smell like waste could simply be because the dog has recently consumed poop. This could be their own feces or that of another animal, and the dog's digestive system has naturally decided that the excrement needs to make an exit from the body as soon as possible.
Coprophagia is the term that describes a dog's inclination to eat either their own feces, the feces of another dog, or that of another animal altogether, like poop right out of a cat's litter box. This inclination is completely normal, but that does not change the fact that it is disgusting for owners to deal with and can often lead to an upset stomach for dogs.
Beyond consulting a veterinarian, there are a few steps that owners can take to curb the dog's habit of eating poop. Some of these methods include:
Proper supervision, especially when the dog is outdoors
More enriching activities in the dog's environment
Ensure that the dog's diet is high in protein with adequate nutrients
Establish a more consistent feeding schedule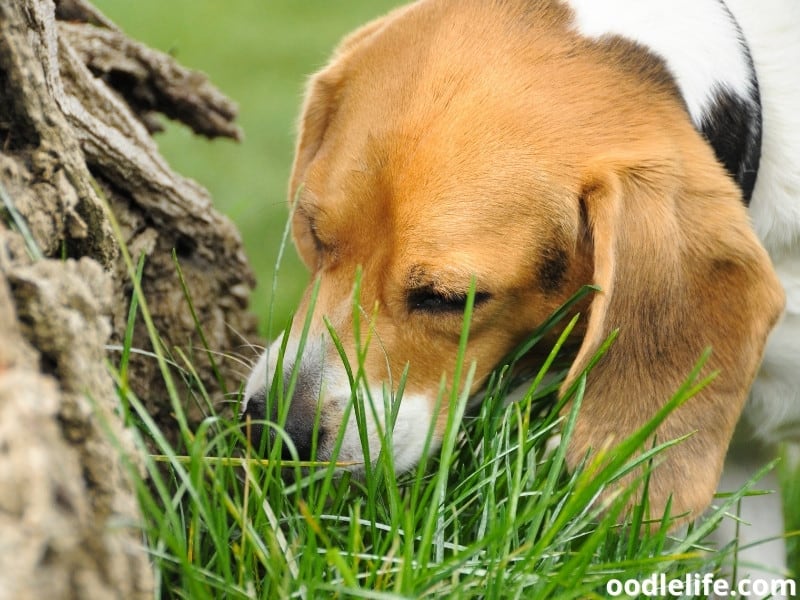 Eating Something Rotten
If your dog's vomit smells like poop, there is also a fair chance that they have recently eaten something rotten. This could refer to rotting food with an overgrowth of harmful bacteria, or it could also be the case that the dog found their way to something particularly repugnant, such as a decaying animal carcass.
The bacteria from rotting organic substances can lead the dog's vomit to smell like feces, which is also often riddles with strong-smelling bacteria.
Normally, a dog's body will bounce right back from consuming something dead. As a matter of fact, vomiting might be a good sign that the dog's body is beginning to purge all of that bad bacteria out of its system before it has the opportunity to travel deeper into the digestive tract.
If an owner suspects that a dog has consumed any sort of rotten substances that have resulted in an upset stomach and vomiting that seem to persist, then they should immediately call a veterinarian to explain the situation.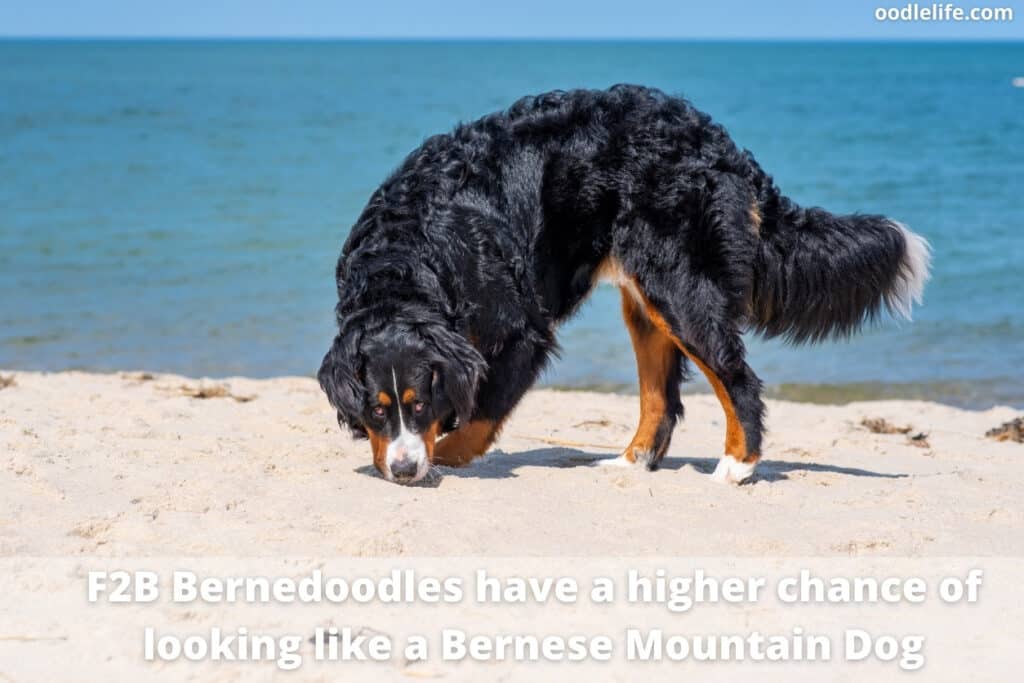 Intestinal Obstruction
One of the more dangerous causes of a dog's vomit taking on the smell of feces is a bowel obstruction. 
Bowel obstruction in dogs occurs when they eat something that they should not, such as part of a toy, sticks, or rocks. This causes a blockage in their intestinal tract that halts their digestion, preventing the contents of their system from making it all the way through as waste. 
So, when the body expels these contents as vomit rather than as feces, the vomit will often smell like feces. The longer that the obstruction has been in place, the worse the vomit will smell.
Bowel obstruction can occur in dogs of all ages, but it is especially important for owners to monitor puppies. Just like young humans, young dogs are more likely to put anything that they can get their paws on into their mouths.
To prevent intestinal obstruction, be sure to avoid toys that are too small for the dog, and to monitor them while they are both indoors and outdoors to ensure that they are not trying to eat anything except their standard dog food and treats.
If a dog begins to exhibit any signs or symptoms of intestinal blockage, it is crucial to visit the veterinarian to ensure that the dog does not need immediate surgery to remove the blockage.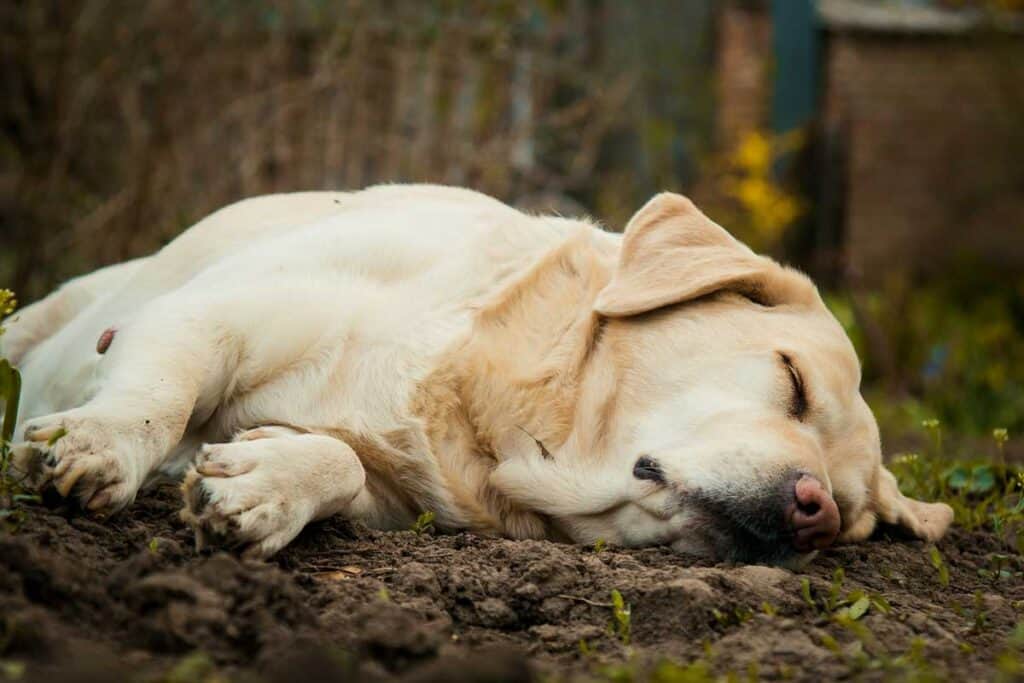 Parvovirus
When a dog's vomit smells like poop, the offender might be the parvovirus. The parvovirus is a potentially deadly viral infection that affects the dog's whole body by harming the white blood cells. The virus affects the gastrointestinal system the most heavily.
Parvo is known for causing the dog to produce feces with a sickening scent, and much of the time, the same scent may occur in the dog's vomit.
To prevent parvovirus, it is important to vaccinate dogs for the virus while they are puppies. If a dog begins to exhibit symptoms of the parvovirus, it must see a veterinarian immediately.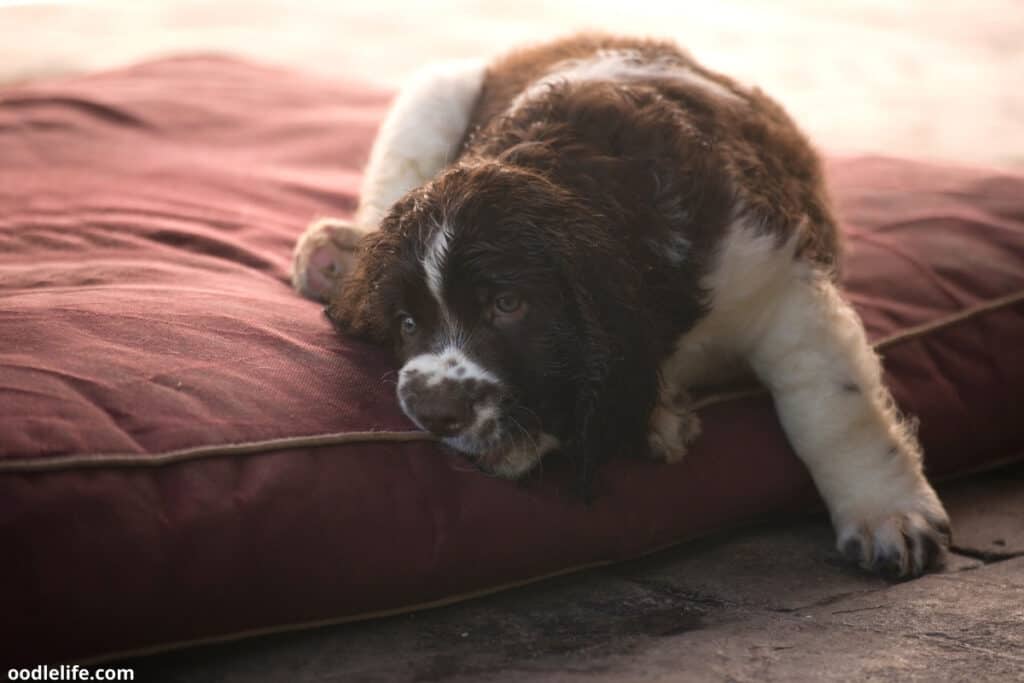 Final Word
When dog vomit smells like poop, it is a very unsettling debacle for the owners who are left to clean it up while also attempting to make sure that their dog's well-being is not at risk.
The scent may be due to the dog having consumed their own feces or that of another animal, or it may be that they have eaten something rotten such as a dead animal. 
In more serious cases, the dog could be suffering from an obstructed bowel or parvo. 
Regardless of what the owner suspects to be the cause of the dog's vomit smelling like poop, they should consult a veterinarian immediately for insight on the situation.
References